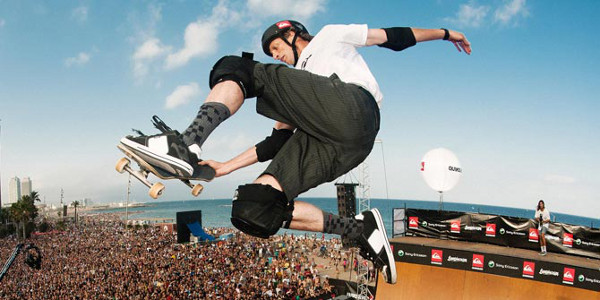 TODD RICHARDS NAMED OFFICIAL HOST OF THE EVENT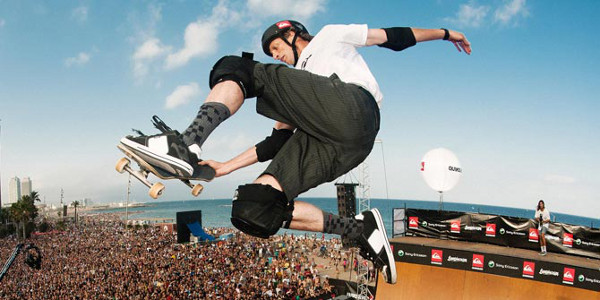 Press Release
Olympic snowboarder and extremely popular television commentator Todd Richards will host the inaugural Nitro World Games. Joining him as co-hosts are skate icon Tony Hawk and FMX legend Travis Pastrana. The Nitro World Games will air Saturday, July 16 on NBC at 8 p.m. ET / 7 p.m. Central from Rice-Eccles Stadium in Salt Lake City, Utah.
Richards has been a prominent figure in snowboarding and the wider action sports community for over two decades. A seven-time X Games medalist, World Snowboarding Champion and Olympian, Richards is also a rising media star, equally at home in the broadcast booth as he is on the medal stand. Richards has provided in-depth analysis for ESPN's X Games coverage and most recently served as NBC Olympics' snowboarding analyst for coverage of the 2014 Sochi Olympics, a position he has held since the 2006 Winter Games in Torino. He is also a published author and successful business owner.
With over 30 X Games medals between them, Hawk and Pastrana have redefined their disciplines, breaking landmark records, such as Hawk's seminal 900 and Pastrana's groundbreaking double backflip, previously thought insurmountable. Their achievements have blown away millions of fans and made action sports part of the pop culture conversation. Now Richards, Hawk and Pastrana will share their insights and experience with viewers during this action-packed three-hour event.
"Words can't describe how excited I am to have Todd and Tony host the Nitro World Games," said Pastrana. "Todd is an amazing snowboarder and has been a great ambassador for action sports. To have a passionate and knowledgeable action sports athlete who has experience hosting his own TV show in the past is exactly the personality the World Games was hoping for. I don't know if an event of this caliber has ever had a lead host with as much first hand knowledge as Todd. To have Tony Hawk, who is the all-time most influential athlete in action sports, backing him up will be icing on the cake. These guys are just as passionate about progression as I am and we all know firsthand how a world's first can change everything! It's going to be an honor working next to these guys! Can't wait to see what goes down in Salt Lake City."
"Todd, Tony and Travis bring a tremendous amount of knowledge, credibility and expertise to the Nitro World Games. Having athletes of their stature participating is fantastic," said Michael Porra, CEO and creative director for Nitro Circus. "They will inform, entertain and engage both core action sports fans and the wider mainstream audience."
"Having three of the most iconic action sports athletes serving as commentators for the Nitro World Games will provide the fans and athletes a unique experience and perspective on the event," said Jeff Robbins, president and CEO of the Utah Sports Commission.
The Nitro World Games' analyst and reporter lineup includes the most respected names in action sports. After opening the telecast, Pastrana will move to the stadium floor to give commentary from the thick of the action throughout the event. Hawk will offer his incomparable knowledge and perspective during Skate Best Tricks. Cameron Steele, a champion motorcycle and trophy truck athlete, will deliver play by play during the FMX competitions with Andy Bell, a former professional FMX and supercross rider providing analysis. Veteran TV personality Jimmy Coleman, who has covered action sports for more than a decade, will present the play by play for BMX while accomplished BMX athlete TJ Lavin will offer analysis. Laurette Nicoll, a very experienced host, reporter and announcer, will bring compelling athlete interviews to viewers.
A bold reinvention of action sports competition, the Nitro World Games will feature the best action sports athletes in the world in the category's most exciting disciplines including FMX, BMX, skate, scooter and inline. The initial list of athletes going to the semi-final round includes top riders such as 2016 X Games FMX medalists Josh Sheehan, Clinton Moore and Rob Adelberg, BMX riders Pat Casey, James Foster and Colton Satterfield, plus skate stars Elliot Sloan, Jake Brown and Mitchie Brusco, with additional competitors to be announced.
Nitro Circus, Utah Governor Gary R. Herbert and the Utah Sports Commission rocked the sports world in December 2015 when they unveiled the Nitro World Games. Created by Michael Porra and Travis Pastrana, the Nitro World Games will feature new formats and never before seen tricks. Each competition will be a final round with everything on the line, creating intensity on the track, energy in the stadium and must-see action for both digital and television viewers.
Nitro World Games is the next phase of Nitro Circus' multi-year partnership with NBC Sports Ventures. NBC Sports will present three hours of coverage airing in primetime on NBC. For fans outside of the U.S. and Canada, more TV broadcast details will be announced soon. In addition to NBC's televised coverage, fans outside the U.S. can also watch the July 16 final on Nitro Circus' worldwide webcast.
For more information about the #NitroWorldGames go to nitroworldgames.com. Fans can also follow Nitro Circus on Twitter: @nitrocircus and Facebook: www.facebook.com/NitroCircus.