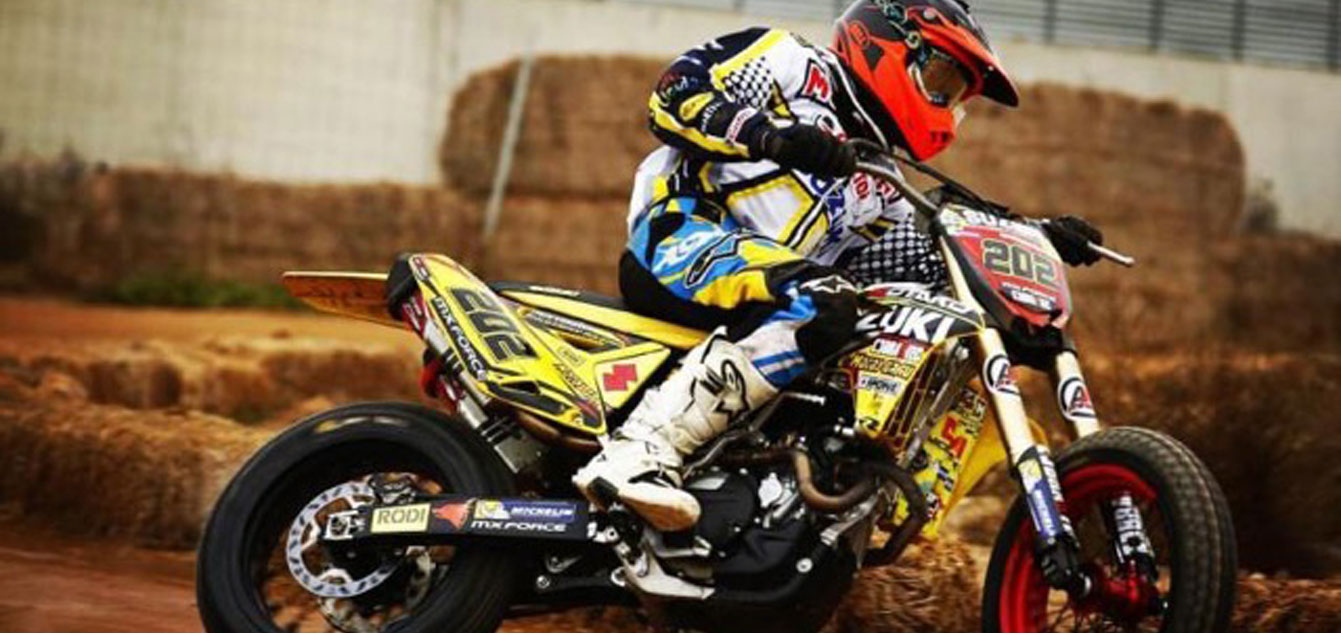 Press Release
Junior Champion motorcycle racer, Tom Edwards (15yrs), has just been given a dream start in the hugely popular Superprestigio Dirt Track event in Barcelona, Spain. The event attracts some of the best motorcycle racers in the world, including reigning MotoGP World Champion Marc Marquez, along with American Flat Track Champion, Brad "Bullet" Baker and Japanese sliding sensation Masa Masatoshi.
Tom recently travelled to Spain to train with friend Brad Baker and Spanish Champion Ferran Cardús, soaking in some European motorcycle experience after having spent much of his season competing in the Shell Advance Asia Talent Cup.
Initially, young Tom had hoped to have an opportunity to see his hero's race the highly competitive Superprestigio event before flying home to spend Christmas with family. Now he finds himself on the starting line with an opportunity to show his racing talents alongside the worlds best.
Tom is currently a guest of the Spanish Grau Suzuki Racing team who Ferran Cardus is the teams star rider. After attending training sessions with Ferran and Baker, Tom impressed the Spanish with his dirt track skills making a strong case to be included in the event. At fifteen​, Tom is possibly the youngest rider to be invited to compete at the Superprestigio and follows in the footsteps of another Australian, former Superbike World Champion, Troy Bayliss who raced the event two years ago.
Tom is extremely grateful to the Cardús family for hosting his stay along with Brad Baker for his guidance and support. He would especially like to thank Grau Suzuki for giving him a fantastic SUZUKI DTX race machine and to the organizer for making his dreams come true.
"I can't wait to ride with some of the worlds best. I'm really looking forward to working closely with my friends Brad Baker and Masa Ohmori. It will be the first chance to race alongside some European riders which is super exciting"
Tom Edwards
The race will be held on December 17th at the Palau Sant Jordi Stadium in Barcelona. Check event website for full details: dtxbarcelona.com
@tom_e_gun971 @alpinestarsaus @suzkuigrauracing @ridedunlopau @dtxbarcelona
Watch the Superprestigio Live on Fox Sports3 10am – 12pm Sunday 18th Dec.
Media enquires to tomedwardsracing@gmail.com or call Paul +61 438 693 525 Support by our sponsors Steeline and Inglis Plumbing.