Wilson Todd, on the Serco Yamaha YZ250F, signaled his presence in the MX2 division with an impressive second moto victory in his debut for the Serco Yamaha team.
Press Release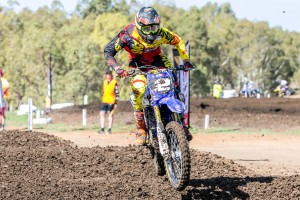 Todd, the 2015 MXD champion, moved to the MX2 class for 2016 and instantly showed he will be a threat in the championship hunt on an action packed day at the opening round.
But it wasn't all smooth sailing for Todd who overcame a big fall in moto one to rebound for the victory in race two. In the opening stages of race one, Todd was inside the top 10 and trying to move forward when a rider in front of him made a mistake causing the 17year old to hit the deck. In a double whammy for the Serco Yamaha team, team mate Wade Hunter was also an innocent victim in this multi-rider pile up.
Todd was able to scramble back to his battered bike and get going as the 40 rider field raced away. Wilson went to work and clawed his way back to a very respectable eighth place finish by race end.
Moto two and Todd was on a mission. Circulating in fifth place, Todd kicked another gear and started to move forward. He moved into second by lap seven and then hit the front on lap eight. With all sorts of pressure, Todd remained composed and took the race win by 2.6 seconds in an impressive display.
"Like most riders at the first round, you just want to get through with no real drama and get some good points on the board so I'm happy I was able to do that. The first race was tough because that crash bent my bike up pretty good and it took me a while to adjust but I thought I finished the race strong so I was confident for race two as long as I got a good start.
"Race two was just good fun and most of the guys up front were the same guys I raced in juniors so we all knew how each other rode. I was able to get passed them pretty quickly and it was an awesome feeling to get a race win for Serco Yamaha at the opening round.
"Thank you to Serco and all our team sponsors and hopefully there are a few more race wins to come," Todd ends.
Wade Hunter experienced a challenging day at the office. His involvement in the opening moto crash left him dazed and sore but the North Queenslander never gave up and battled his way through the day.
Once remounted, Hunter was in 37th position and a long way from where he wanted to be. Slowly but surely, he began picking his way past each rider and climbed all the way to 16th place by race end.
With a headache and some good bruising, Hunter lined up for race two determined to salvage his day and post some reasonable points. After an average start he completed the first lap in 17th position but was desperate to move forward.
He managed to charge his way forward to a ninth place finish for the race and his 16-9 results gave him 14th for the round.
"Not the start to the championship I was looking for," Hunter comments. "The first crash wasn't my fault and there was nothing I could do to avoid it but it rattled me pretty good.
"I gave it everything in race two but I wasn't feeling great and it was another tough race. We have two weeks before round two and Appin is a track I have done well at in the past so I will heal up and come out swinging there," Hunter ends.
The Serco Yamaha team will now shift focus towards round two at Appin.