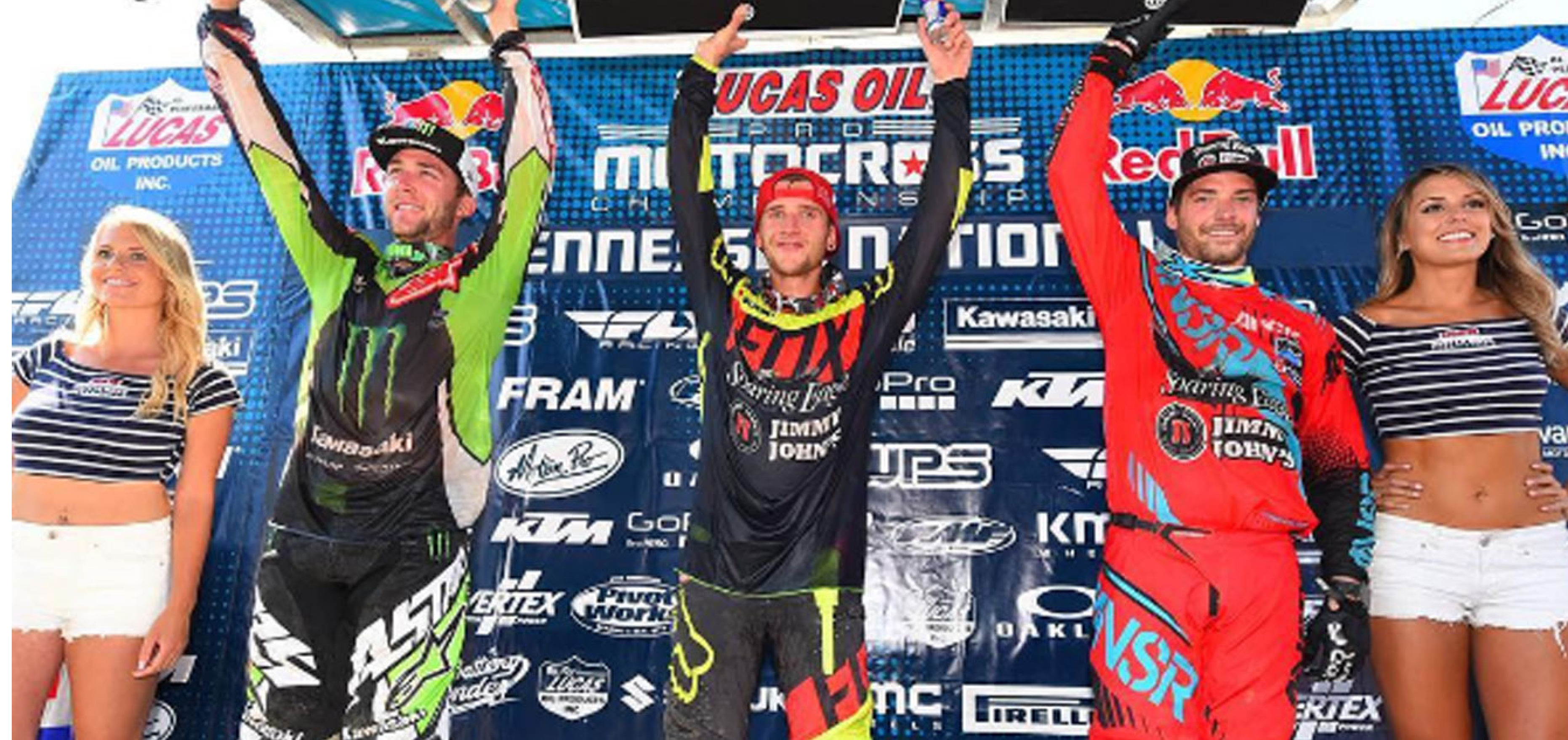 Hear from the riders following round five of the 2016 Lucas Oil Pro Motocross Championship.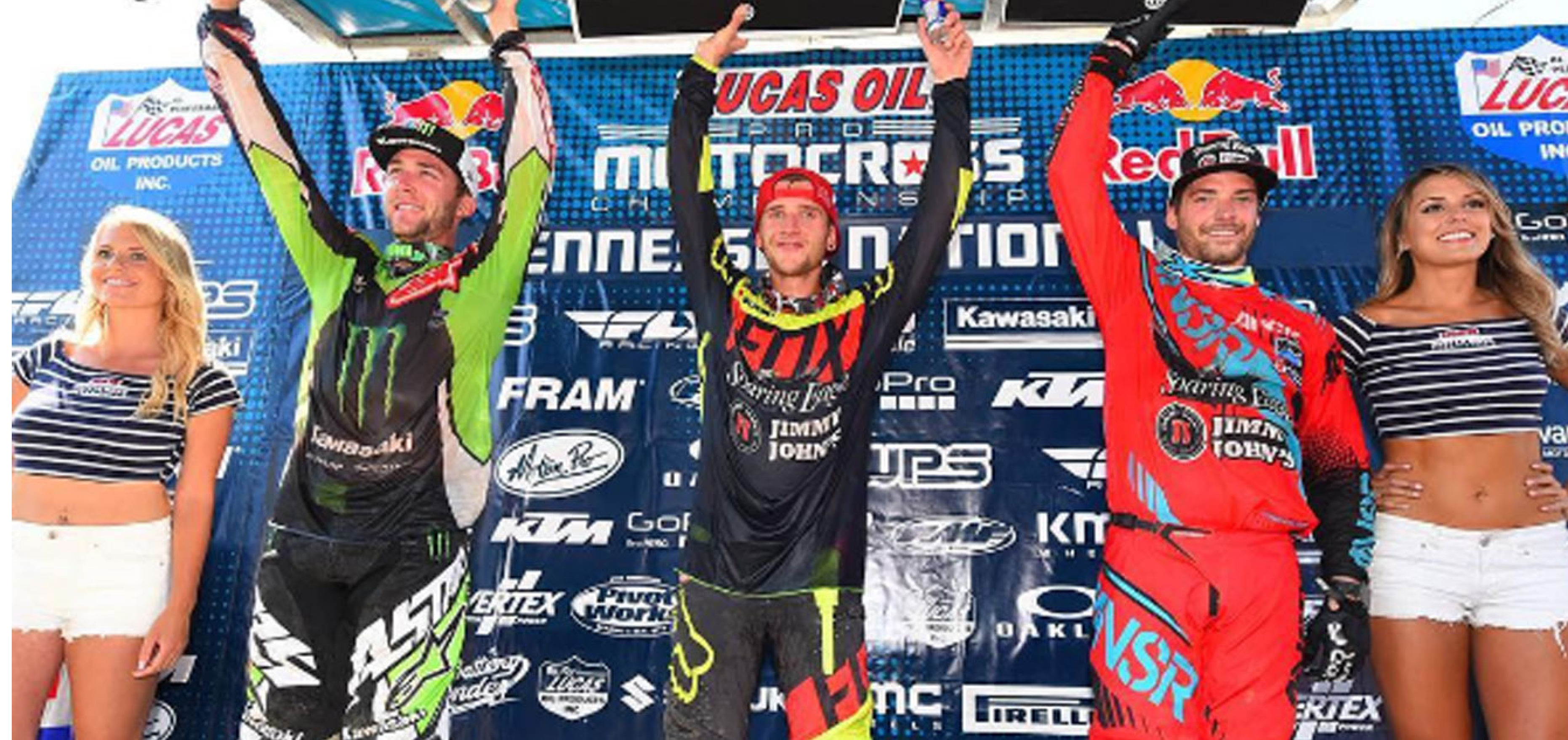 Ken Roczen: (1st in 450MX) "I feel like I rode good and obviously Eli [Tomac] crushed it today. For me it doesn't matter if I win by 20 seconds or a half-second. A win is a win for me. Even though he's been fighting hard, I was able to keep him behind me. That's really all I care about and all that matters. We're safe so I would say it was another awesome weekend for me, obviously going 1-1. I'm just as happy as I was at previous races where I had a bigger gap. It doesn't really matter to me. With him [Tomac] being behind me, obviously I knew he was going to be strong. He was pushing really hard and I was pushing really hard and we were going for it pretty much the whole moto. The track layout wasn't really my thing and I feel like I should have ridden better. I think I could have found better lines that would have made it easier on me but being the leader, its kind of tough. You take one wrong line and the guy behind you is catching right up, but it's all good."
Eli Tomac: (2nd in 450MX) We were both [he and Ken Roczen] in the zone. That's all you can really say about it. We were both nailing our lines and clicking our laps off. In the middle of the race he was a little ways ahead of me—I kind of got out of touch. I brought it back a little at the end, but he rode pretty flawless. He was in front of me right away and he got me. Ken's riding pretty awesome right now. We'll keep working—we're getting closer—and be back next week to fight another day.
Broc Tickle: (3rd in 450MX) "Obviously, I've been working hard and I haven't had an overall podium since 2012 so it's been a long time coming. The class is stacked right now so I can't take anything away from anyone else. I felt awesome. I feel like I've been gaining momentum since I came back from being hurt during Supercross. It seems like when I get hurt, I get more motivated to come back and be better. Obviously, it's not good to get hurt but I feel like I've finally gained that momentum I need. We need to finish the season strong and see what we can do. I just want to keep gaining momentum and see what I can do. It was awesome. I haven't ripped a holeshot and led a lap since Supercross 2011 so it felt awesome. It gave me a lot of confidence and made me feel like I can do this every weekend. I feel like I just have to keep doing what I'm doing to make that happen."
Cole Seely: (4th in 450MX) "It was a little bit of a bummer to not get on the podium after having such a good start to the day, but we've made our way into third in the points standings. I can't get down when the season overall is going well and we're racing up front. We'll just keep trying and hopefully get up there next weekend."
Marvin Musquin: (5th in 450MX) "Unfortunately I made a mistake on my own and went down on the start. I tried my best and passed a lot of riders to go from last place to 7th but I know I could have finished on the podium without that mistake at the beginning of the race."
Christophe Pourcel: (6th in 450MX) "My day went pretty well. I'm still trying to improve on myself and the bike. Overall it was good, and ending up sixth overall is not too bad. The goal is to be in the top five so I'm close. I'll try to get that next weekend. This morning was good – I got the fastest lap time. The first moto was decent, but I got a bad start in the second moto and got tangled up. I was almost last and had to push a little bit. I had two decent motos so that's good. I'll do better in the next few weeks – the goal is top five."
Justin Bogle: (10th in 450MX) "I really didn't have a good day, struggled with bike set up and with the track honestly. I kept having little falls all day and it was just super frustrating. So ended the day with a tenth. It's back to the drawing board because I'm better than what I did today."
Cooper Webb: (1st in 250MX) I'm just tired of losing. And these fans are fricken awesome! You could hear them in the background. This is like a home race, and I'd rather win this race over any race there is. I also really want to say sorry to Adam [Cianciarulo]. I didn't mean it to end like that. I thought he was going to the berm. I want to apologize, and I hope he's alright.
Joey Savatgy: (2nd in 250MX) "My first moto was great and I'm very happy with the result. In the second moto I made a couple minor mistakes that ended up costing me more than I'd like. I tipped it over two times and both times I spent a lot of energy trying to make sure I didn't stall the bike. The couple minor mistakes I made need to stop in order to keep the championship with the Monster Energy/Pro Circuit/Kawasaki team, I know it's something we can do and with a 1-7 on today a second place is good. We know what to do, now it's time to go home and get it done so we can come out at RedBud swinging."
 Shane McElrath: (3rd in 250MX) "I felt good despite the heat and a rough track, so I'm happy to get the good result, but felt like I should have had that win. It was really cool to have North Carolina represented on the podium. I had a lot of family and friends here so I'm happy to give them a good result."
Jordon Smith: (4th in 250MX) Oh man it feels so good, especially after the last few races, they've been tough. We've been doing some testing to try to figure things out. It feels good to have two good motos and to run up front both times. I led four or five laps there in the first moto. The only time I'd ever been in the lead outdoors was at Utah last year, and that time I was a little freaked out. This time I felt really comfortable up there and it was fun. I ended up getting a little bit of arm pump so I kind of had to salvage a fourth there. Arm pump in both of the motos so that kind of hurt. But it feels good to run up front. I feel like that's where I belong."
Zach Osborne: (6th in 250MX) "I qualified third today. I got third in the first moto from a top-15 start. The second moto was pretty frustrating. I went down on the start then crashed two more times after that. A 10th in the second moto was a really good ride, but it doesn't really show on paper. It's frustrating to have such a good first moto then kind of throw it away in the second moto – but it happens. I made up some ground on the people in front of me in points. I'm looking forward to RedBud next weekend. It's a track I really like and excel at."
Austin Forkner: (7th in 250MX) "This weekend was another good race. I didn't feel as strong as I would have liked in the first moto due to a poor start, but my lap times were pretty good. In the second moto I got off to a much better start and was able to ride my own race. I brought it home in the second moto for a fourth and I'm just going to keep building on these results. I'm looking forward to RedBud!"
Alex Martin: (9th in 250MX) [On 19th in moto 1] I'm seriously disappointed. In the first moto I wasn't really feeling it—I was flat—and was in sixth. My brother was right behind me for a long long time, and I had a little tip over with two laps to go. I lost a lot of points. In that second moto, I was sitting in second again—It's getting old for sure. To get that moto win, I think I'm going to need more fire under my butt. I'm not content with getting seconds and thirds and it's getting frustrating, but I just need a little bit more to get up there and take that win. I want it bad.
Arnaud Tonus: (10th in 250MX) "After my start it took a lot to get up through the pack in Moto 1. It took a little while to get a rhythm but I'm pretty happy with the 12th all things considered. In the second moto I had a great start and had my best moto of 2016. My speed was there, I spent some time with the leaders and I'm going to keep building off this momentum."
Martin Davalos: (14th in 250MX) "I was excited about Muddy Creek because I raced it during amateurs. I feel like I didn't put a good practice together, but I really did put in a good first moto. I got screwed up with another rider and almost went down then got passed by two people. I ended up seventh. First motos have been my weak point and I feel like I'm definitely starting to put things together better. I made a mistake in the second moto and got cross rutted and crashed really bad. My bike got messed up and I wasn't able to finish. I'm really looking forward to Red Bud next weekend. It's one of my favorite tracks. I'm ready to put two good motos together."
Adam Cianciarulo: (16th in 250MX) "Being fastest in qualifying was great. In the first moto I had the holeshot and was able to lead a few laps. The speed, the confidence and all the other pieces are coming into place and it feels good. In the second moto I was taken out pretty bad by another rider and fought as hard as I could for the rest of the race. I ended up 11-22 on the day for 16th, which isn't what we wanted, but I didn't give up today and I'm proud of that."