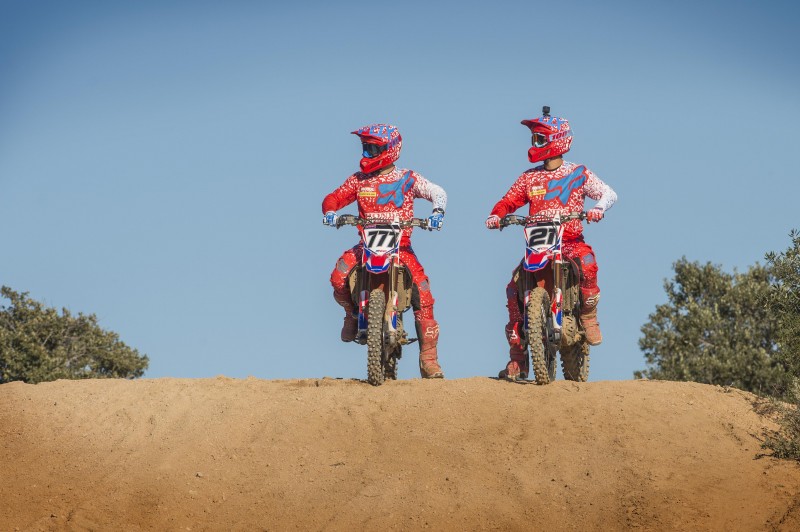 HRC will field a two rider lineup in the MXGP with Gautier Paulin and Evgeny Bobryshev.
By Hayden Gregory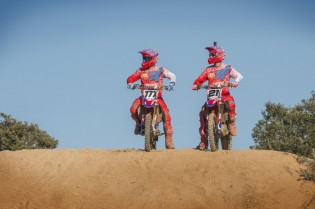 Gautier Paulin has been training for the opening round since late 2015 as part of the Bakers Factory. The Frenchman will no doubt be in peak physical condition having overcome the injury woes of last year. The opportunity to test with the great Aldon Baker has been a great experience for Paulin who will lineup for his second year as part of the HRC team.
"It's been great testing with Aldon in the US," Paulin enthused. "It's my first time spending the winter over there and it's been really good. As a consequence of my knee I couldn't race at 100 per cent for a while, so I've been working really hard to start again from zero. I want to prepare well and do it well so we're ready for this season. It's been great doing the boot camp out there and really helpful working with Aldon and all the facilities at the Baker Factory. 
"It's good to be back racing again and I'm feeling happy and ready to get behind the gate in Qatar. I've been training with some guys out in the US, but when it comes to racing I don't look at the entry list – I just focus on my own riding and where I want to be. Since the start of my career I've always done my thing and concentrated on me, and then we'll see where we are at the end of Saturday. But I'm excited and I'm ready."
Teammate Evgeny Bobryshev will return for his seventh year at Honda, with a pre season including victory at the Italian International MX. The Russian enjoyed his best result in the MXGP last year and believes he is miles ahead in terms of testing and fitness than where he started last years campaign.
"I think this is one of my strongest starts to a season. I've never felt like this before," the Russian said. "I changed my physical training over the winter and we've done a lot of testing with the team and the bike is really suiting me now so all of that is a great combination. I'm excited, but I try to be calm at the same time and to not get overexcited at this point because the season is long and you have to be smart. 
"I feel more motivated right now. When the season was over last year I was already motivated for more in 2016, and we have done good work during the winter preparation. I would say I'm a different person to this time last year. I'm more calm before races and now I have more control over my own race. I feel strong and comfortable and this gives me also lots more positives like mentality gets stronger so it's all coming together on another level at the moment.
"Last year of course it was great to finish third, but the more difficult part for me was to come back. After injury it was really difficult to get back to that level. By the end of the season I was really happy with my results and I felt refreshed because I could lift my head and keep improving, and now I feel better than ever.
"I feel easy after the win in the Italian International championship. I had really good races and I had to push myself also because I crashed and had to come back again. I had a good race with Jeremy so I know I'm well under pressure. I know my level and my condition so I know I'm ready for this season."
Both riders will look to make immediate impact on the 2016 championship as racing gets underway this weekend in Qatar.