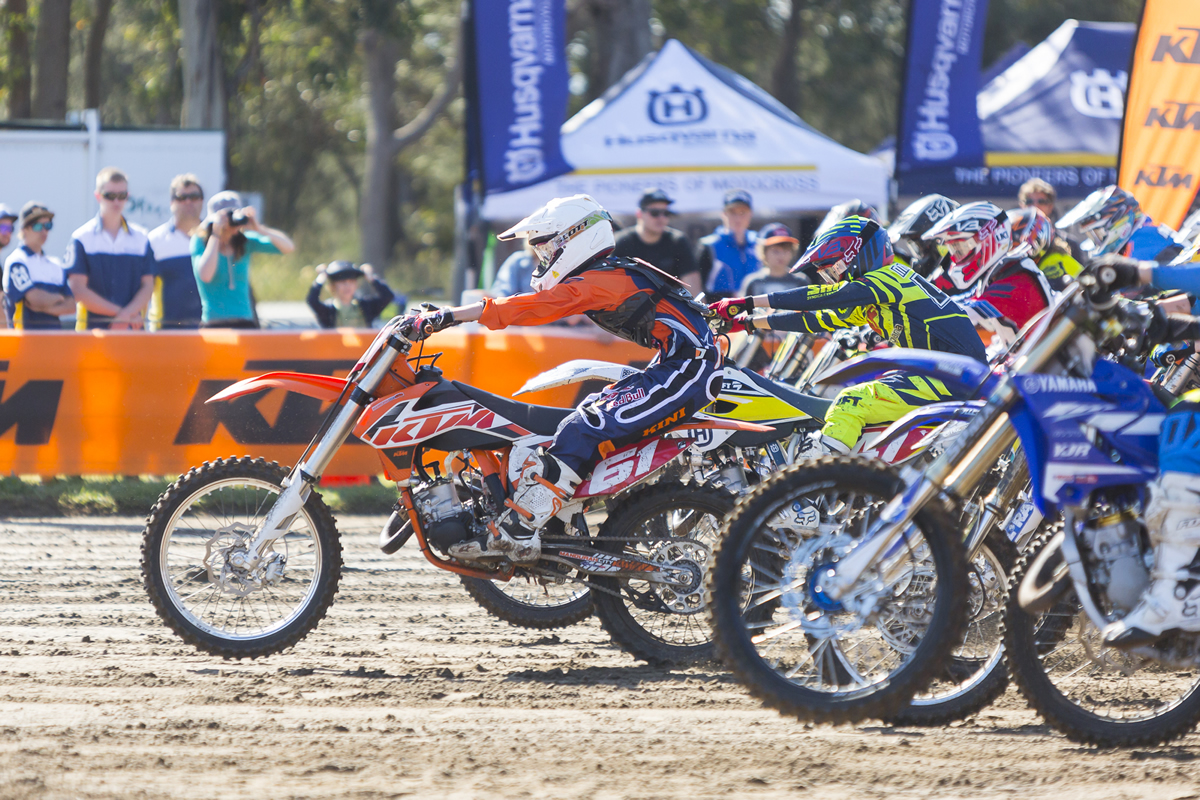 Press Release 07/10/2015
For the third year running, KTM Australia's sponsorship of the Australian Junior Motocross championships has yielded a spectacular show of professionalism, racing excitement and the promising future which lies ahead for Australian motocross.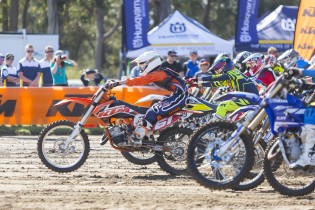 Custodians of this year's annual showcase, the Bunbury club and its fantastic volunteers drew wide praise for hosting a super professional show, with excellent presentation and a challenging, yet relatively safe track for the kids to race on.
A sensational awards night capped off the week-long event in fine style, and Australia's newest crop of junior motocross champions was officially crowned.
The event again took on a distinct shade of orange as it unfolded at Bunbury's Shrubland Park in Western Australia, as KTM Australia again poured a mountain of effort and energy into the development of the nation's motocross future.
The KTM Technical Service was again there providing setup advice and backup, with vastly experienced Racing Team Technicians Kevin Doyle and Mick Carusi as well as Dirt Bike Factory's former Mister Motocross Anthony Gunter willingly sharing their vast knowledge and experience with KTM owners.
With backing from Bunbury KTM, the KTM Spare Parts Service provided general consumables all week long to keep the young tackers in the fight and hard on the gas.
"The event ran like clockwork," said KTM National Brand Manager Tam Paul, "and it was a credit to the Bunbury club.
"I think there were 380-odd bikes there, which considering how many of those had to be driven from the other side of the country, was fantastic.

"The parts guys kept the wheels turning for everybody every day. It's an unparalleled service that only KTM offers and I think provides a lot of peace of mind for parents and competitors."
As it has in recent years, KTM again dominated the championship count, winning eight championships for the week.
"It was another fantastic week for us," said Paul. "Our team guys all finished on the podium bar one, and our dealer-backed guys were fantastic on a track many of them know well."
Moto Tech KTM's Danielle Foot kicked off the tally, winning two championships for the week; the Ladies Junior Lites, as well as the Women's 85/150cc.
Noah Smerdon, riding for Pro Motorcycles on the Sunshine Coast, won the 65cc Solo 9-U11 years Australian Championship.
Mandurah City KTM rider Kayden Minear claimed the 65 cc 7-U9, while second in the category went to Seth Burchell, who also heartbreakingly missed out on the 50cc Division 2 category after dominating proceedings until the final moto.
Mandurah City KTM's Cody Chittick took out the 65cc 11 years championship, while Regan Duffy (also Mandurah City KTM) dominated the 85cc/150cc 12-U14 years class ahead of KTM Motocross Racing Team rider Rhys Budd.
Mitchell Outram gave Mandurah City KTM its fourth Australian Championship when he took out the 85cc/150cc 14-U16 year's category.
KTM Junior Motocross Racing Team rider Jett Lawrence won the 85cc/150cc 9-U12 years Australian Championship, while his teammate Rhys Budd added a top-10 on the 125 to his runner-up behind Duffy in the 85cc/150cc 12-U14 year's class.
In his last junior Nationals appearance before powering into Under 19's for 2016, KTM Junior Motocross Racing Team rider Wade Kirkland took a second in the 15 years 250 cc class to add to his fourth in the 15 years 125cc class, while team mate Mason Semmens got fifth in class aboard the 250.
KTM Junior Motocross Racing Team rider Caleb Grothues got second in the 125cc U13-15, only losing by a point after going 5-1-1. The result was a spectacular comeback after Grothues suffered a severe hand injury in a racing accident several months back.
"We won eight classes out of the 13," said Paul. "The team put in a fantastic effort, we have a few guys finding their feet in some of the bigger classes now, and we didn't quite have the same amount of luck we had last year, but all in all we had a very strong titles, and are looking forward to even better next year.

"I'm just so proud of Caleb Grothues, to come back from such a major injury, to basically be within a point of winning the 125 championship. It was phenomenal. He's really hard on himself; he wants to win, but he needs time to build on what he's been through and I think next year, he is going to be an absolute force again in that 15 year age group. But for now it's just so good to see him back leading and winning races again."
At the end of a very successful initial three-year contract as major sponsor to the Australian Junior Motocross Championships, KTM Australia has extended its involvement to continue through to 2018.