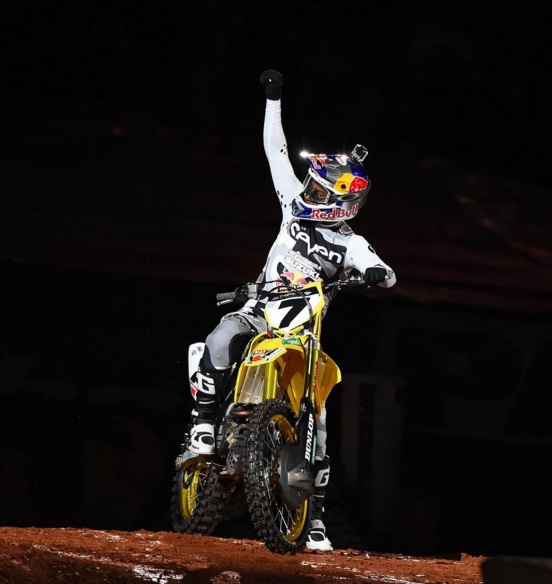 James Stewart remains positive after finishing his first supercross race in nearly two years.
By Hayden Gregory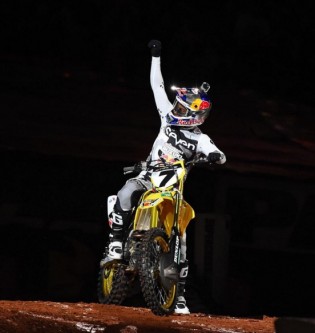 It has been a long time coming for champion James Stewart but the Suzuki rider has finally made a chequered flag. After serving a year's suspension, Bubba's return was premature coming back only to be knocked unconscious in the first round. Ongoing concussion symptoms have affected the rider since and a few repeated efforts to return to racing were cut short.
Fast forward to Atlanta and Stewart found himself back on the starting grid. Amidst his concussion symptoms and a jarred knee picked up in qualifying, Stewart was far from 100 per cent fit. The Suzuki legend did what he has become known for and soldiered on. While no one expected Bubba to light the world on fire he did manage to finish the race and that is a huge step in the right direction.
"I'm just happy to be back and playing in the dirt," Stewart said. "Today we worked on testing new pieces on the bike. We haven't had a lot of testing time, so we came here and we were making a lot of changes. We made the bike a lot better for the heat race, but unfortunately I went down on the next-to-last lap. 

"I went to the semi and was running third, all good, then I jumped in that dragon's back and jammed my knee pretty good. After that it was kind of survival mode. Even though in the Main Event it was kind of survival mode, I refused to pull off. I'm happy we got through the weekend. It's the first supercross race I've finished since April of 2014. I got 20 laps in and we'll build off that. We've got some work to do, but you've got to start somewhere." 
the right direction.
"We found some things that worked well on the bike here and I think that's going to make us better in the next few races," Stewart explained. "14th is not the finish I wanted, but it's better than a DNF. We'll get there." 
Stewart remains positive and will no doubt start to put in the work that will see him running back up the front by season's end.