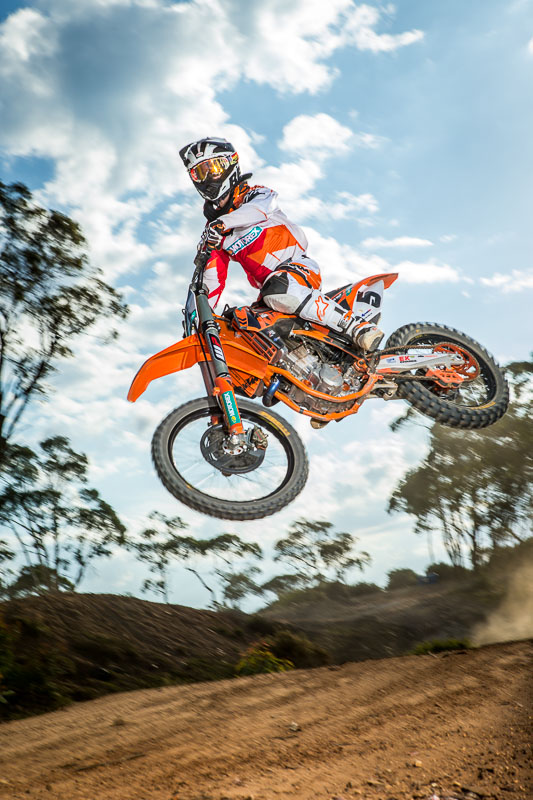 Motorex KTM Racing Team riders Todd Waters and Kirk Gibbs both excelled at round three of the New Zealand motocross championships at Pukekohe, on a day when starts became the platform for some impressive performances.
In just their third championship-level outings on their new mounts, Waters and Gibbs rode to round finishes of third and fourth respectively, behind Cody Cooper and Billy McKenzie. Gibbs' lightning trigger finger was the star of the day with the South Australian's two holeshots and one near-holeshot propelling the MX1 rookie to the front of all three motos.
Conversely Waters struggled to gate well in motos one and two, but in both cases showcased his ability to recover and knife through the pack to reach the pointy end when it mattered.
"Today was a great day for the boys with lots of good hard racing," said Motorex KTM Racing Team Manager Rob Twyerould. "We saw Kirk really step up a level.
"Todd was still experimenting with his starts and had a few early setbacks, but on a track which became quite hard-packed and difficult to pass on, he was able to move forward very effectively."
Gibbs showed he's starting to feel comfortable at race-leading speed and actually pulled away from Cooper at the start of Race One. "It takes a little while to get that pace on the 450 and it's really good to see him lift to that level," said Twyerould – "this week he was able to do it for five laps and next time it will be eight laps and eventually a full moto."
The Motorex KTM Racing Team would like to express its gratitude to KTM's New Zealand Team Manager Cannon Smith for his hospitality in the lead-up to the event.
The final round of the NZ championships takes place at Taupo on March 31.
Todd Waters: "It wasn't a good day for me with starts today, but my speed was pretty good and I had a good battle with Coops in the third moto. We learned a little bit more with the bike and our suspension setup and I had a lot of fun coming through the pack. It was only the third race that I got to battle with Coops. Gibbsy held us off for a few laps then I closed on Coops then he'd pull away again. Billy jumped on the back for a few laps then dropped off. It was a good race. I'm looking forward to the 30-minute races in the nationals when I can get the diesel engine (me) going! The track was really cool. So many cool features, jumps and whoop sections and just really tacky and grippy early in the day. A big thanks to all the boys in the team; Robbie T, Ryan, Danny and Kyle, and also my teammate and training buddy Kirk".
Kirk Gibbs: "It was a fun track today and I really felt I gelled with it a lot better and just flowed better on it. Last round with the concrete starts my starts weren't very good and today I didn't feel like getting roosted all day so I thought I'd better pull the finger out and have a go. I kept the front wheel on the deck a lot better and got it driving. Being up the front was great – you pick up on the areas where the other boys are faster. It might just be a tenth here or a tenth there but over a lap that might mean a full second. I need to work on my intensity off the start and in those first laps – them boys can turn it up and run away with it if you don't go with them. I feel like we're taking steps in the right direction and it's getting a lot easier. My confidence is improving and I hope to keep improving on the lead into the first round of the Aussies."
New Zealand Motocross Championships Rd.3, Pukekohe:
Qualifying: 1. C.Cooper, 2. B.McKenzie, 3. K.Gibbs, 4. T.Waters
Moto 1: 1. Cooper , 2. McKenzie, 3. Waters, 4. Gibbs
Moto 2: 1. Cooper , 2. McKenzie, 3. Gibbs, 4. Waters
Moto 3: 1. Cooper, 2.Waters, 3. McKenzie, 4.Gibbs
Round Result: 1.Cooper, 2. McKenzie, 3. Waters, 4. Gibbs
Overall: 1.Cooper 214, 2. McKenzie 183, 3. Waters 169, 4. Gibbs 158