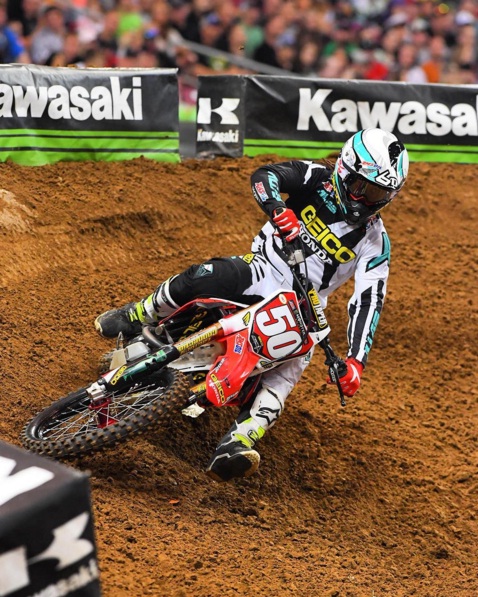 Hear from the stars of the show following round 14 of the AMA Monster Energy Supercross series.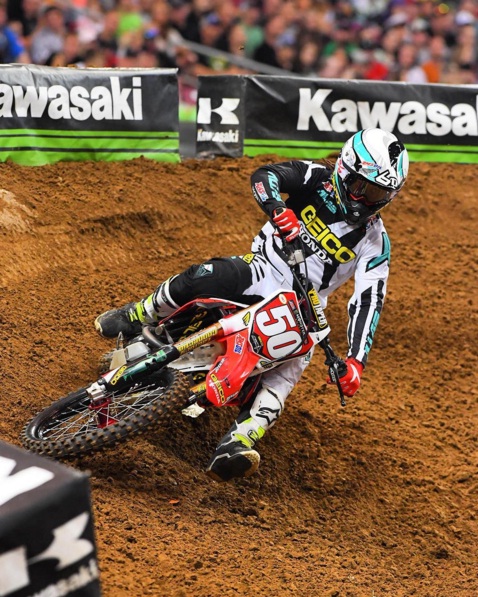 Ryan Dungey: (1st in 450SX) "To get a win here in St Louis tonight was definitely exciting—especially how the day went. The beginning of the day wasn't the greatest. It was a different schedule with it being a day race. So we had a little bit different schedule. Track walk was at 7am and we were done with practice by 11:30am. Usually we don't even start practice until 12:30. It was good, but we didn't qualify the greatest. Which was kind of tough and we ended up seventh [fastest in timed qualifying]. We got a decent gate pick in the heat race. I ended up making a mistake in that—went down—and had to go to the semi. I won out of that but it wasn't too bad. I'm glad I got the extra track time. The main event was good. I got a good start and was able to just kind of put some laps down. Obviously, Kenny was right behind putting the pressure on. We went back in forth and it was a good battle. We were pushing it and he was too and he was keeping things honest. He made a mistake and that allowed things to open up a little bit for me. I was able to manage my lead and get the win, so it was awesome. It was definitely exciting."
Ken Roczen: (2nd in 450SX) "Yeah, I've been really happy with my riding and the steps forward that me and the team have been making. Again tonight we were fighting for first place. I had a pass made, but he got me back. I came in a little bit too hot after the finish line and washed the front end. That sent me back to third and I made the pass happen [back to 2nd] in the last turn. I finished second again. I don't know if Ryan [Dungey] was just taking it easy or if we were reeling him in lap after lap. It was a tough race out there, the track was really really slow and technical."
Jason Anderson: (3rd in 450SX) "I started up front and once again finished on the podium. But I want more. I need to get holeshots, not just good starts, and I want to win races, not just be on the podium. I know I'm capable and I know my Husqvarna FC 450 is capable."
Justin Bogle: (4th in 450SX) "This was a career best finish and of the season. A good step in the right direction for me. I feel like I had a really good breakthrough this week and this weekend as well. I'm just making progress and that's the biggest thing. Last weekend was one my worst main events I've had, so it was nice to bounce back strong. Like you said, with #youngnoquit there is no excuses."
Eli Tomac: (7th in 450SX) "This weekend definitely had its ups and downs. I was fastest in qualifying and came out of my heat race in fourth. For the main I had a really good start until someone hit me from behind, pushing me into a tough block and bending my shifter. From that point on I put my head down and did as much as I could."
Josh Grant: (8th in 450SX) "My weekend was awesome I really like the day format, I've never done one before and it was a unique experience. I qualified directly from the heat race again which is always a plus. As for the main, I'm still adjusting to the pace up at the front of the pack but I'm really happy with my sixth place. I'm looking forward to Foxboro and another chance to keep moving forward."
Christophe Pourcel: (18th in 450SX) "I wasn't comfortable all day. The only problem was me. My body is still not 100% from my injury, but I'm working to get there. My bike was great, I just have to get myself better. That's my plan for the last 3 races; improve every time I'm on the bike so I can start outdoors strong."
Jeremy Martin: (1st in 250SX) "It feels great. St Louis has always been good to me. I finally got a holeshot tonight and I wasn't on the ground in the first turn of the main event. I think that dictated a lot. I just got to get good starts and not let other people dictate my race and I think I'll always be a threat."
Aaron Plessinger: (2nd in 250SX) "It's pretty exciting! I got off to a great start—I had to pass a couple of people—but once I got into second I just knew Jeremy [Martin] was gone. The track was really really sketchy so I settled for second. Now I'm one point behind, and we'll go into next weekend hoping for a win. [Did you know Malcolm Stewart crashed?] No, I was focused on myself. I didn't really look at the pit board that much. I knew that he stalled it in the sand, but other than that I didn't know anything.
Shane McElrath: (3rd in 250SX) "I know I'm getting stronger, but we're still working our way back to full strength in the wrist. It was a good night with great starts on my KTM. We're looking to stay up front the next few races and keep this momentum leading into outdoors."
RJ Hampshire: (4th in 250SX) "I felt much better this weekend. Practice went well, was just feeling good on the bike. The heat race I got a decent start and was just flowing, best I've felt on a dirt bike in supercross. Had the two fastest lap times out of both heats so I was pretty pumped on that. Main event came and I got caught up in that first turn garbage. [Tyler] Bowers and I starting around 20th again, nothing new. Made a lot of passes early then some lapper tried taking me out, almost went down in the sand from it and lost a couple spots. But I felt strong all moto and made a couple passes late in the race. Positivity all around this weekend, which was needed. I haven't been riding the best but this weekend we had the speed to be on the box. Now we just need to make it happen!"
Gannon Audette: (5th in 250SX) "It was another good weekend. We made progress in practice and went into the night show eighth fastest. Learned a bit more in my heat where I finished fourth. In the main I had another great start in second until a rider passed me and then almost immediately stalled in my line. While avoiding him I caught a tough block and ended up with a minor tip over. From there I just tried to put my laps together and came home with a fifth. Overall I feel it was a good weekend, not quite the podium I wanted but it's hard to complain about a top five. I'd like to give a special thanks to the Monster Energy/Pro Circuit/Kawasaki team for this incredible opportunity, I'm really looking forward to Foxboro next weekend."
Malcolm Stewart: (8th in 250SX) "My day at St Louis started really good. Was first in qualifying and was pumped for the night show. I got the heat race win and was ready to do the same in the main. Got a third place start in the main and thought it was my night. Then I had a couple falls, but you know what? That happens in racing. I was able to salvage an eighth and keep the red plate. Happy I'm safe and looking to redeem myself next weekend."
Tyler Bowers: (9th in 250SX) "My weekend started pretty good. Early in the day I was in the top three, my Kawasaki felt really good, and I sorted out a few minor issues in my heat. The big pileup in the first turn of the main completely stopped me and straight off I knew I had my work cut out for me. I put my head down and started clicking off passes. Unfortunately the hard push at the beginning of the race gave me arm pump towards the end and I wasn't able to finish where I feel I belong. Time to put it behind us and look towards next weekend."
Martin Davalos: (15th in 250SX) "Today was going ok. I rode pretty good in my heat race by the end and had a good gate pick for the main. The main event just started bad and it was hard to recover. I never rode how I know I can after that first turn crash and that was frustrating. The good news is we race again in 7 days and I am going to make sure I'm ready so I can get back on the box next weekend."