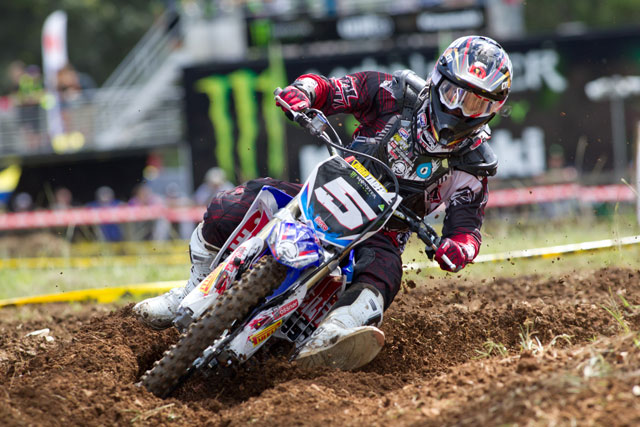 The Serco Yamaha Metal Mulisha duo of Kirk Gibbs and Luke Style kicked off their 2012 MX Nationals campaign in fine style taking a 1-3 result respectively in the MX2 class at the opening round of the championship held at Green Park, Conondale.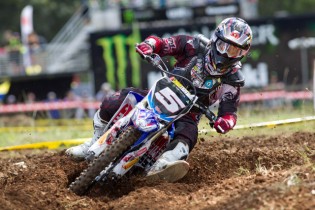 Gibbs entered the championship opener under an injury cloud after he sustained a damaged wrist at a race in Victoria a fortnight ago. A mid-week hit out didn't provide the reassurance Gibbs was looking for so the plan of attack on race day was to score some points and salvage what he could from the round.
With the help of the on track Race Safe team, he was not only able to compete, Gibbs exceeding all expectations winning the round on his YZ250F with 2-5-1 results in the three points paying races, one point clear of Ford Dale in second. It was a huge effort on the South Australian's behalf as the high speed, rough and rugged Conondale track is punishing on riders and machines.
"My plan today was nothing more to land inside the top five every race and ensure I didn't damage my wrist any more so to win today is amazing," Gibbs said from the top of the podium. "The bike worked perfectly all day and with myself and Luke both on the podium it shows how hard everyone at Serco has been working."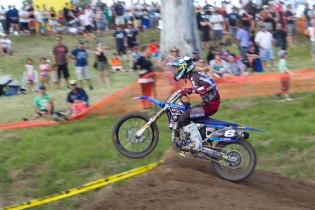 Luke Styke carded one of his best MX Nationals performances with a rock solid third place overall for the round. Styke was a front runner in all three motos and finished with 5-2-3 results in an impressive display.
Styke was able to out muscle and out ride some of his more fancied rivals and has now announced himself as a serious contender for the MX2 class in 2012.
"Third is a good result and I'm happy with it, but I still see a few things to work on. I need to pass riders faster and not get stuck behind them. I also need to be more aggressive on the opening lap and work hard to keep myself in contention early in the race. But, all up I will take third and try and improve on it at the next round," Styke offers.
Team owner Gavin Eales was on hand to watch his riders turn in an eye catching performance and was full of praise at the end of the day.
"The pleasing thing from my end is that the team and the riders were solid right across the board. Both guys got pretty good starts, showed good speed and plenty of race fitness. Our bikes also looked to be working well and it was a real team effort and something that we really aimed for early in the season," Eales said.
The MX Nationals now heads for Coonabarabran in New South Wales for round two on April 14/ 15. The Serco Yamaha Metal Mulisha Racing Team will be looking for a repeat performance of the opening round and keep the momentum flowing.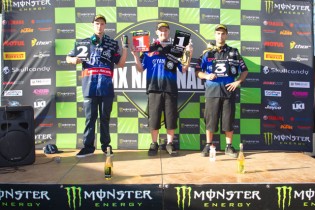 Results
MX Nationals – Round One
MX2
1. Kirk Gibbs 63 – Serco Yamaha
2. Ford Dale 62 – Honda
3. Luke Styke 57 – Serco Yamaha
4. Josh Cachia 56 – KTM
5. Adam Monea 50 – Suzuki
6. Justin McDonald 48 – Honda
7. Kade Mosig 44 – Kawasaki
8. Cheyne Boyd 35 – Honda
9. Lewis Woods 35 – Suzuki
10. Brock Winston 31 – KTM