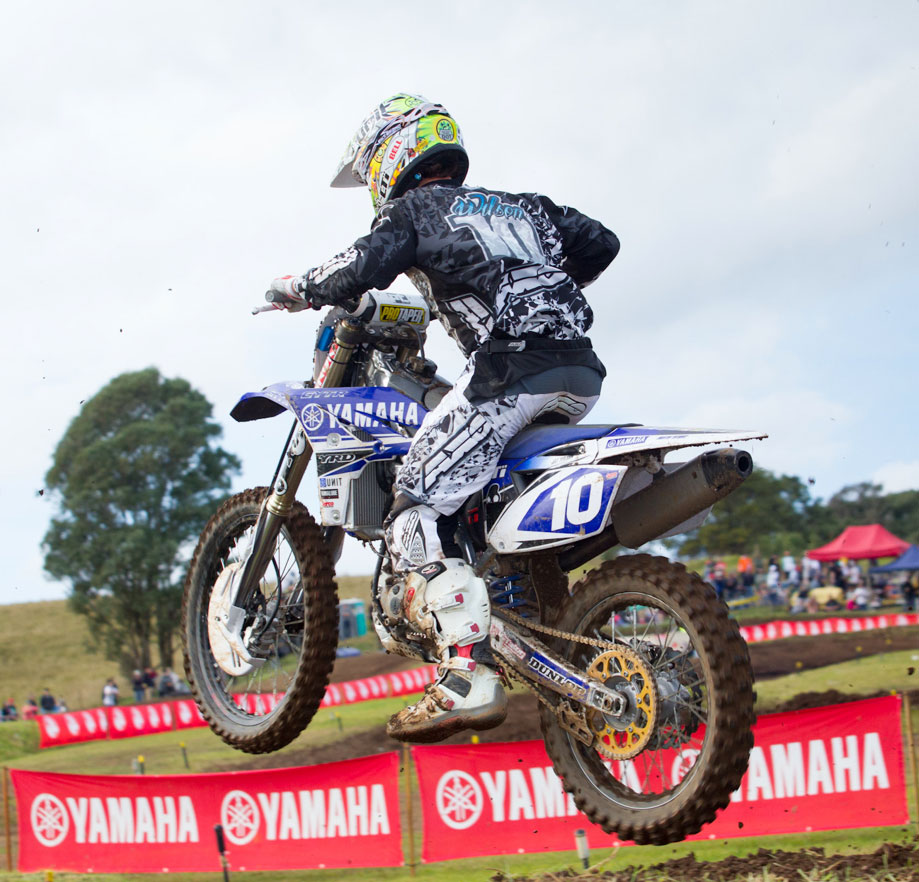 Wilson, who had been luckless during the first half of the series, came into round six with a fresh attitude and some confidence after a solid result as a wild card rider in the MX2 class at Conondale prior to the break.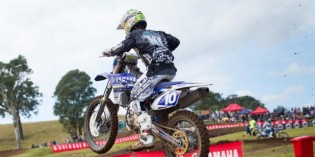 The new attitude was instantly rewarded with taking the second fastest lap in qualifying and he looked forward to an improved day.
Despite some very ordinary starts, Wilson picked his way through an enormous amount of riders to finish in third place in each of the two motos contested which landed him in second for the round.
The podium result has also seen him move to fifth in the championship and confident of a barnstorming finish with four rounds remaining.
"I'm not sure what went wrong during the first few rounds but I worked hard during the break and things are definitely better now. My starts were terrible today and I must have passed 15 guys in each race, so I will need to address that for the next round.
"But it's nice to be back up here on the podium and huge thanks must go out to the GYTR Yamaha team who have stuck by me and kept me going. Our bike was awesome today and it's only getting better from here on."
The day turned from triumph to tragedy for team mate Joel Dinsdale as he won the opening moto convincingly to make it four race wins in a row over the past few rounds in MXD but a big fall while contesting for the lead in the second moto meant he was unable to finish the race.
From the crash, Dinsdale had a small concussion and was taken to Hospital for checks and observation. He was cleared by hospital staff after all tests were done and is already back home at his Mackay base and preparing for the next round.
"I was just working on the leader and trying to find the best spot to make a pass," Dinsdale explains. "We came up to the step- up section at the top of the hill and I crossed behind him to try and get to the inside. As a result, we came together in the air I was flung from the back of my bike and my head hit the ground.
"My back has a few marks on it and I'm a bit sore now but I will be back for Hervey Bay and ready to do it all again."
The Appin round marked the halfway point of the MXD championship with four rounds remaining. The team currently sit in fourth and fifth place in the championship but are confident of a strong finish with both riders capable of winning races.
To follow the GYTR Yamaha team on Facebook; www.facebook.com/GYTRYamaha
Round Six Results – Appin
MXD
1st Jack Simpson – 63
2nd Jay Wilson – 60 (GYTR Yamaha)
3rd Hamish Harwood – 60
4th Jesse Dobson – 53
5th Joel Wightman – 49
6th Jordan Bissaker – 47
7th Corey James – 45
8th Dylan Wills – 44
9th Jake Emanuelli – 43
10th Logan Blackburn – 38
12. Joel Dinsdale – 35 (GYTR Yamaha)

Championship Standings – Halfway
1st Hamish Harwood – 244
2nd Jack Simpson – 225
3rd Jesse Dobson – 218
4th Joel Dinsdale – 194 (GYTR Yamaha)
5th Jay Wilson – 190 (GYTR Yamaha)
6th Corey James – 180
7th Joel Wightman – 179
8th Nick Scott – 176
9th Logan Blackburn – 166
10th Jake Emanuelli – 134