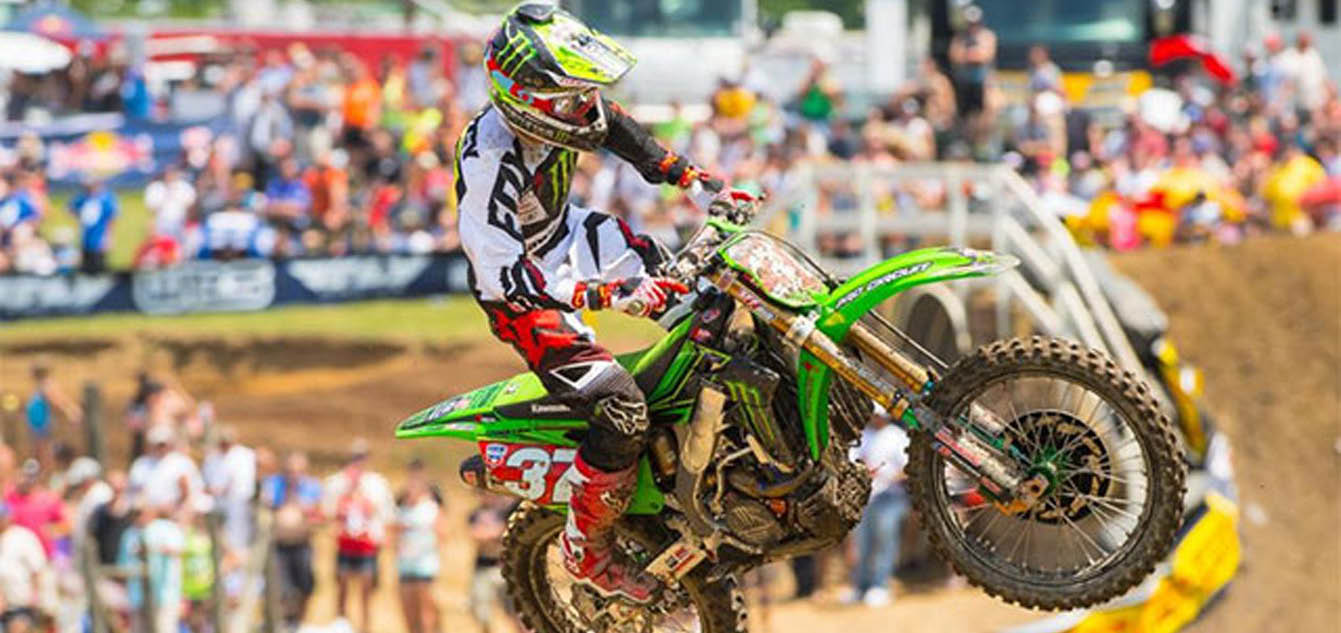 The Kawasaki rider extends his 250 championship lead.
By Hayden Gregory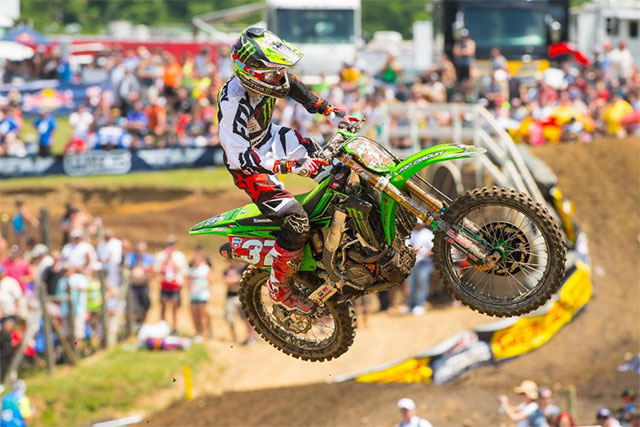 Racing got underway in moto one with a holeshot to Yamaha's Jeremy Martin closely followed by older brother Alex and Zach Osborne. By the end of the opening lap Jeremy had given up his lead falling to third place while Joey Savatgy was fighting back from a mid pack start.
The opening pair began to pull away from the pack embarking on a great two rider battle. On lap six a small mistake by Alex allowed Osborne to find the race lead, however Martin would remain within striking distance.
While mounting a chase Martin was dealt a cruel blow with engine issues reducing his speed dramatically. He was forced to roll obstacles and as a result brother Jeremy would pass back into second place.
Osborne would stretch away to claim the first moto win of his career ahead of Jeremy Martin while Cooper Webb made his way into third. Joey Savatgy climbed up to fourth place with Austin Forkner rounding out the top five. Alex Martin lost all power to his bike resulting in a DNF.
Adam Cianciarulo would score the hoelshot in moto two ahead of Jeremy Martin, Osborne and Savatgy. By lap three Savatgy had moved into second place before applying immediate pressure on Cianciarulo for the lead. A lap later and he had his man, moving to the front of the pack in impressive fashion.
Alex Martin had tailed Savatgy the entire way moving from fifth place up into second looking to make amends for his race one dramas. Jeremy Martin made a move on Cianciarulo for third, before amazingly running into similar engine problems like his brother encountered in race one. Martin would continue to drop through the pack before his bike stopped completely resulting in a DNF.
Savatgy held off constant pressure from Alex Martin out in front, going on to take the win by a bike's length. Aaron Plessinger would finish in third with Osborne in fourth place.
Savatgy and Osborne would finish the round on equal points following identical finishes however Savatgy was granted the win given a higher standing in race two.
"The first moto was not so hot. It was my fault, and if we're going to be in this for the long haul [battling for the championship] we need to eliminate those mistake," Savatgy said." But the second moto was great, my bike got off to a great start and my teammate, Adam [Cianciarulo], was finally up there with me and that was cool. It's a great feeling to have the red plate [as points leader] for another round."

A runner up result by Osborne equals his career best result.
"I feel great right now [finishing second]. It took me a bit in the second moto to get going, maybe I was a little nervous, and I let some guys get by me early," said Osborne. "That ultimately made the difference in the overall [results] and I just came up a couple seconds short [of another pass] for the win. It's been a huge day for me and a huge step in the right direction."
Savatgy now holds a 20 point lead in the championship over Cooper Webb with Jeremy Martin a further four points adrift in third.
250 Class (Moto Finish)
1 Joey Savatgy, Thomasville, Ga., Kawasaki (4-1)
2 Zach Osborne, Abingdon, Va., Husqvarna (1-4)
3 Cooper Webb, Newport, N.C., Yamaha (3-5)
4 Aaron Plessinger, Hamilton, Ohio, Yamaha (6-3)
5 Austin Forkner, Richards, Mo., Kawasaki (5-8)
6 Mitchell Oldenburg, Alvord, Texas, KTM (7-7)
7 Colt Nichols, Muskogee, Okla., Yamaha (13-6)
8 Alex Martin, Millville, Minn., Yamaha (30-2)
9 Jeremy Martin, Millville, Minn., Yamaha (2-33)
10 Adam Cianciarulo, Port Orange, Fla., Kawasaki (10-11)
250 Class Championship Standings
1 Joey Savatgy, Thomasville, Ga., Kawasaki – 166
2 Cooper Webb, Newport, N.C., Yamaha – 146
3 Jeremy Martin, Millville, Minn., Yamaha – 142
4 Alex Martin, Millville, Minn., Yamaha – 136
5 Zach Osborne, Abingdon, Va., Husqvarna – 121
6 Aaron Plessinger, Hamilton, Ohio, Yamaha – 116
7 Austin Forkner, Richards, Mo., Kawasaki – 109
8 RJ Hampshire, Hudson Fla., Honda – 79
9 Adam Cianciarulo, Port Orange, Fla., Kawasaki – 72
10 Mitchell Oldenburg, Alvord, Texas, KTM – 70