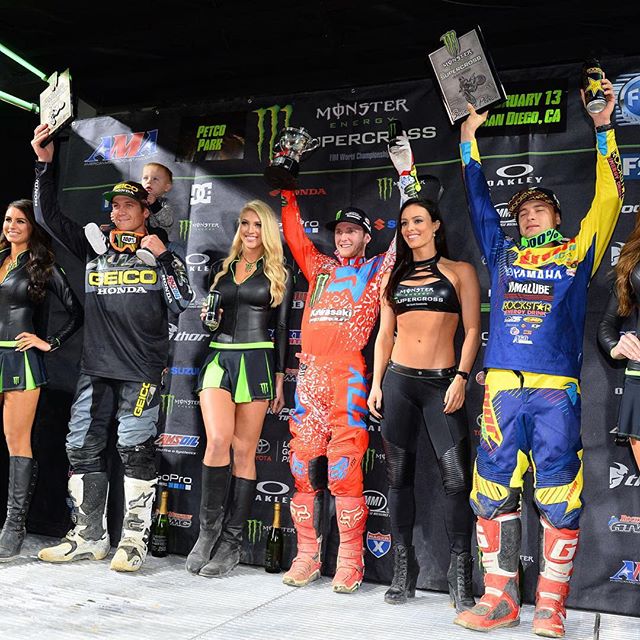 Monster Energy/Pro Circuit/Kawasaki's Joey Savtagy has topped his class in San Diego taking with him the red leader's plate.
By Hayden Gregory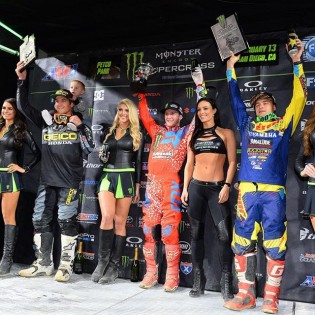 GEICO Honda's Jordon Smith exploded out of the gates in the main to take the holeshot before Kawasaki duo Chris Alldredge and Savatgy made their move to the front of the pack. Once again Cooper Webb was the victim of a poor start finding himself back in fifth place on the opening lap.
The start of the third lap saw Savatgy assume the lead as his team mate Alldredge lost power to his bike, ultimately having to withdraw from the race. In the blink of an eye Yamahas Webb had found himself in second showing impressive speed to find the tail of Savatgy.
On lap six, Webb looked set to make the pass before washing out his front tyre and ending up in the dirt. The costly mistake saw him drop a number of places with Christian Craig and Jimmy DeCotis taking advantage.
Savatgy was able to hold strong out front with his immediate threat now back in the field. Stretching away to his second career win the Kawasaki rider was ecstatic with the result meaning he now had the outright championship lead.
"It feels great to get another win," said Savatgy. "Cooper [Webb] tried to take credit away from my first win, so it feels great to get another one. I'm just so excited to be back here and in the points lead." 
Behind Savtagy, Webb once again made his way back through the pack showing speed that should have seen him easily pass Joey had he not fallen from his bike. It has been a frustrating last few weeks for Webb who looked unstoppable in the opening rounds, yet he is still able to take a few positives from a second place finish.
"I just tucked the front end. Just a mistake by me," explained Webb. "I was able to get up and not lose too much time. It was early in the race so I was able to get those spots back. I just need to stop crashing." 
Christian Craig won the battle for third place extending his stretch to four straight podiums, in a breakout year after calling it quits a few years ago.
Australian rider Hayden Mellross had another strong night qualifying straight for the main before claiming 13th after a fantastic final few laps.
The 2016 Monster Energy Supercross season will head South next weekend, visiting Arlington, Texas for round seven.
Western Regional 250SX Class Results
1 Joey Savatgy, Thomasville, Ga., Kawasaki
2 Cooper Webb, Newport, N.C., Yamaha
3 Christian Craig, Corona, Calif., Honda
4 Colt Nichols, Muskogee, Okla., Yamaha
5 Zach Osborne, Lake Elsinore, Calif., Husqvarna
6 Mitchell Oldenburg, Alvord, Texas, KTM
7 Jimmy DeCotis, Peabody, Mass., Honda
8 Kyle Peters, Greensboro, N.C., Honda
9 Cole Thompson, Brigden, Canada, KTM
10 Cole Martinez, Rimrock, Ariz., Yamaha
Western Regional 250SX Class Championship Standings
1 Joey Savatgy, Thomasville, Ga., Kawasaki – 123
2 Cooper Webb, Newport, N.C., Yamaha – 120
3 Christian Craig, Corona, Calif., Honda – 107
4 Colt Nichols, Muskogee, Okla., Yamaha – 99
5 Zach Osborne, Lake Elsinore, Calif., Husqvarna – 90
6 Jimmy DeCotis, Peabody, Mass., Honda – 85
7 Mitchell Oldenburg, Alvord, Texas, KTM – 81
8 Kyle Peters, Greensboro, N.C., Honda – 75
9 Kyle Cunningham, Willow Park, Texas, Suzuki – 64
10 Jordon Smith, Belmont, N.C., Honda – 63