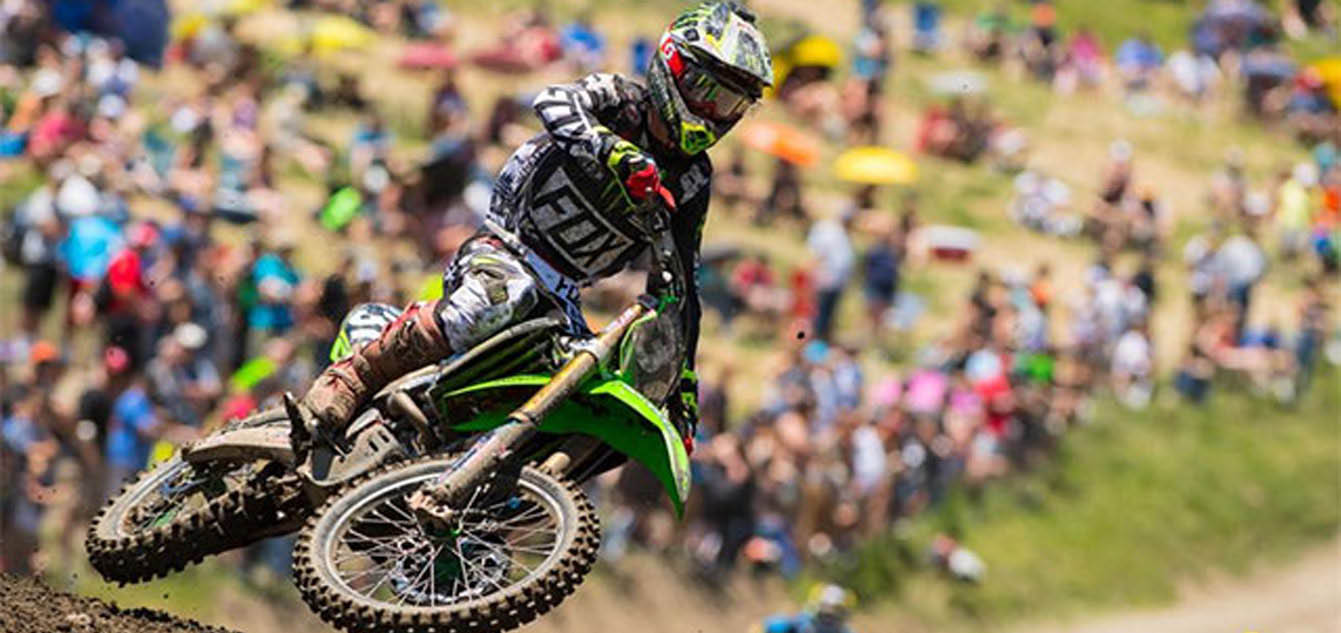 Joey Savatgy has reclaimed the leader's red plate after a 2-1 result.
By Hayden Gregory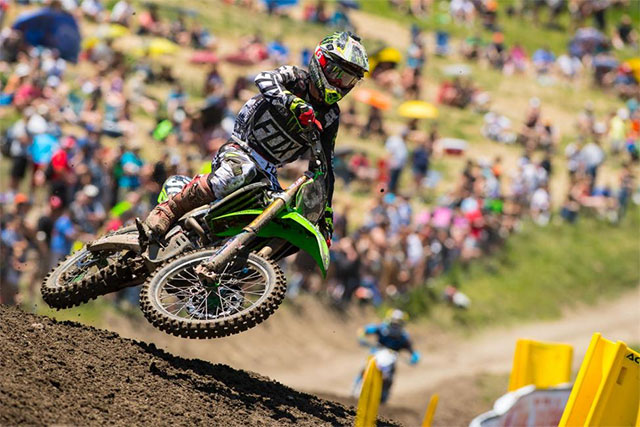 Yamaha's Cooper Webb claimed the first holeshot of the day ahead of teammate Jeremy Martin and GEICO Honda's Jordon Smith. A tight battle ensued out front before Plessinger collided with points leader Alex Martin, both riders going down and giving a buffer to the lead duo.
By lap four Jeremy Martin had assumed the lead with Joey Savatgy hopping right on the tail of Cooper Webb. The Yamaha rider held strong for a number of laps before Savatgy showed too much pace, effecting the pass and moving into second.
Two laps later the Kawasaki rider hit the lead and was looking to push on for race victory. With four laps left to race, Savatgy made a crucial mistake falling from his bike and handing the race lead back to Martin. The defending champ would kick on to take moto one, with Savatgy recovering in time for second. Cooper Webb enjoyed a strong finish in third.
In the second moto, Adam Cianciarulo scored the holeshot before Kawasaki teammate Savatgy burst into the lead. Martin Davalos quickly assumed third place with the Martin brothers hot on his tail.
Cianciarulo crashed out of the race on lap three giving a buffer to Savatgy out front. At the halfway stage, the running order continued before Alex Martin made the move on Davalos for second place.
A few laps later and Jeremy Martin also moved past Davalos. His older brother had been showing fierce speed slowly gaining on Savatgy till the pair were separated by less than a bike's length.
The last few laps provided much excitement yet it was Joey Savatgy who held on for the moto win, giving him his second round victory of the season.
 "It was almost a picture-perfect weekend. I qualified second and led first moto for long time, but I made a mistake. I had a motivational text from Ricky [Carmichael] waiting for me and I came back strong in the final moto," said Savatgy, who became the 10th different 250 Class winner at Thunder Valley in 12 seasons. "I got the red plate back [as points leader] and that's awesome. I'm pumped. I wasn't feeling great last weekend and was a little under the weather, but I went back to the [Carmichael] Farm and worked hard coming into this weekend. It's a good way to go into the break, so I'm pumped." 
Jeremy Martin finished a close second (1-3) while Alex continued to impress finishing third (8-2). It was the second consecutive week that the brothers had finished on the overall podium.
"It was a good day today. Those guys [Savatgy and Alex] were on it," said Jeremy Martin. "I heard my brother say 'woohoo' after he passed me, and he and Joey were just riding awesome. It's making for a good series. I love a challenge and I cannot wait until [the next race at] High Point." 

Savatgy now moves into the overall championship lead, just three points over Jeremy Martin who climbed up from fourth. Alex who held the red leader's plate was relegated to third, nine points adrift of the leader.
250 Class (Moto Finish)
Joey Savatgy, Thomasville, Ga., Kawasaki (2-1)
Jeremy Martin, Millville, Minn., Yamaha (1-3)
Alex Martin, Millville, Minn., Yamaha (8-2)
Zach Osborne, Abingdon, Va., Husqvarna (4-6)
Cooper Webb, Newport, N.C., Yamaha (3-8)
Martin Davalos, Ecuador, Husqvarna (7-5)
Jordon Smith, Belmont, N.C., Honda (5-12)
Shane McElrath, Canton, N.C., KTM (12-7)
Austin Forkner, Richards, Mo., Kawasaki (17-4)
Mitchell Harrison, Brighton, Mich., Yamaha (11-11)
250 Class Championship Standings
Joey Savatgy, Thomasville, Ga., Kawasaki – 123
Jeremy Martin, Millville, Minn., Yamaha – 120
Alex Martin, Millville, Minn., Yamaha – 114
Cooper Webb, Newport, N.C., Yamaha – 110
Aaron Plessinger, Hamilton, Ohio, Yamaha – 81
Austin Forkner, Richards, Mo., Kawasaki – 80
Zach Osborne, Abingdon, Va., Husqvarna – 78
Jessy Nelson, Paso Robles, Calif., KTM – 65
RJ Hampshire, Hudson Fla., Honda – 59
Jordon Smith, Belmont, N.C., Honda – 52