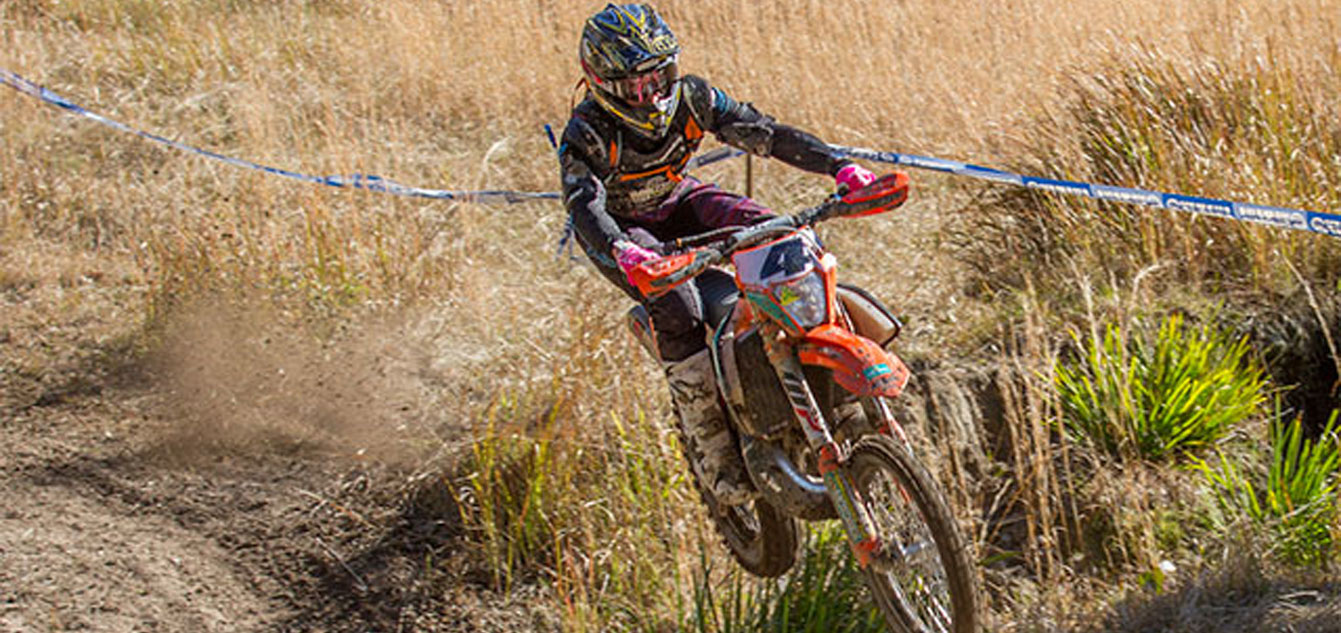 Daniel Sanders has gone from strength to strength in the 2016 Yamaha Australian Off-Road Championship.
By Hayden Gregory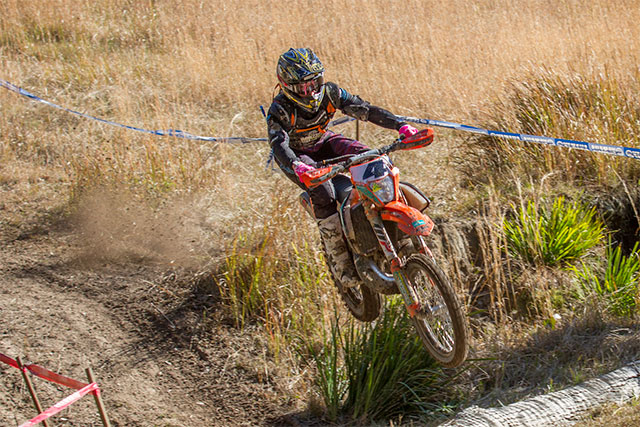 Rounds nine and ten were held over the weekend in Monkerai, NSW, and once again Sanders has strengthened his hold on the outright title. The KTM rider swept both rounds with a time of 1:00:38.547. With only two rounds left to race, Sanders comfortably leads the E3 class ahead of Beau Ralston and Lachlan Stanford.
KTM stalemate, Tye Simmonds, crossed the line in second place outright with Broc Grabham only a few seconds back in third.
Husqvarna Racing's Glenn Kearney was the standout rider in the E1 class showing great speed to finish ahead of Scott Keegan and Riley Graham.
Simmonds and Grabham scored first and second respectively in the E2 class with CDR Yamaha's Chris Hollis in third.
Jemma Wilson was the pick of the women clocking a time of 1:09:57.965 to also strengthen her championship points lead ahead of Emelie Karlsson and Jessica Gardiner.
Riders now get three weeks off before the final two championship rounds take place in Victoria on September 10-11.
Sprints Round 10 Results:
Championship E1:
Glenn Kearney 1:02:30.250
Scott Keegan 1:02:35.957
Riley Graham 1:02:38.463
Jack Simpson 1:04:26.748
Tom Kite 1:05:37.143
Brad Hardaker 1:06:32.498
Baylee Davies 57:08.475
Championship E2:
Tye Simmonds 1:01:40.454
Broc Grabham 1:01:55.907
Chris Hollis 1:01:57.564
Tom McCormack 1:03:11.511
Geoff Braico 1:04:34.898
Luke Tisdale 1:09:28.047
Peter Clark 1:11:46.485
Jarrod Wilson 1:13:02.994
Nicholas Stockwell 1:13:27.426
Scott Dunn 1:14:05.523
Championship E3:
Daniel Sanders 1:00:38.547
Beau Ralston 1:02:06.401
Lachlan Stanford 1:02:43.615
Lyndon Snodgrass 1:03:14.043
Mitch Bowen 1:05:18.530
Brayden Zillman 1:17:34.862
Transmoto Championship EJ:
Wil Ruprecht 1:03:45.973
Jonte Reynders 1:05:02.547
Andrew Wilksch 1:05:10.541
Ben Kearns 1:05:23.460
Fraser Higlett 1:05:41.590
Jake McGlashan 1:07:07.460
Dalton Johnson 1:07:08.940
Jacob Peacock 1:07:47.672
Jesse Lawton 1:08:44.304
Kade Dorrington 1:09:04.254
Championship Veterans:
Damien Smith 1:06:17.220
Anthony Greene 1:13:41.533
Bjorn Osborne 1:14:41.571
Scott Campbell 1:16:46.277
Jason Pearce 1:17:23.919
Kurt Broomhall 1:18:12.417
Guy Wade 1:19:31.511
Jarrod Eveleigh 1:20:01.446
Trevor Duncan 1:23:53.244
Shane Coffey 1:35:05.149
Championship Women's:
Jemma Wilson 1:09:57.965
Emelie Karlsson 1:11:42.044
Jessica Gardiner 1:13:54.189
Sophie Coldicutt 1:15:54.468
Karina Bailey 1:23:40.751
Brittany Rubie 1:26:36.723
Irene Vasilas 1:45:07.382
Kate Norman 13:30.326
Championship Masters:
Derek Grundy 1:13:59.448
Robert Bailey 1:16:10.037
Peter Schaper 1:16:30.990
Andrew Cais 1:19:24.278
Rod Kearns 1:19:49.233
David Pratten 1:19:57.345
Mal Dalton 1:19:58.211
Danny Gunning 1:25:20.698
Craig Hale 1:26:11.002
Scott McClean 1:26:36.764