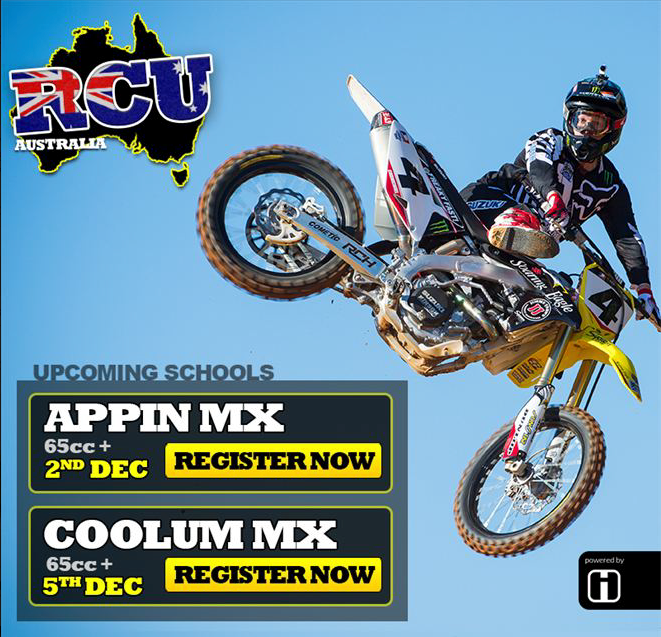 Ricky Carmichael's one of a kind outdoor motocross riding school – Ricky Carmichael University (RCU), will head to Australia in early December.
By Hayden Gregory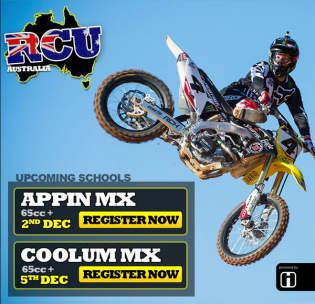 It has been announced that Australia will host RCU in Appin on the 2nd of December before heading up to Coolum on December 5th. There are limited spaces available so it is advised that you register as soon as possible if interested. You can register at: http://4goat.com/RCUAustralia2015
Carmichael will be joined by an all star coaching lineup, including Jeff Emig and Jeff Stanton. The schools will provide for riders of all ages and skill levels and is a huge opportunity for up and coming Australian riders to be mentored by the very best.
"Everyone is pumped about how 2015 is shaping up for Ricky Carmichael University and the Carmichael Camps at my property. We're also excited to take RCU to Australia for the first time," Carmichael said.
"Australia has a great motocross scene and I've never been down under before so that makes it even more special. I'm stoked to have Fro (Jeff Emig) and Jeff Stanton come along as part of the faculty again and we'll have a couple special guest instructors to announce pretty soon."
Emig, a four-time AMA National Champion, has been a staple at RCU since it's inception and will continue his role as not only an instructor but as a key member of Carmichael's advisory committee with an eye towards the future.
"Ricky has put together a really cool, one-of-a-kind, opportunity to not only ride with an incredibly talented group of instructors, but to interact and socialize with those guys," explained Emig.
"It's really an amazing opportunity. It also offers me the opportunity to see and work with a lot of riders who will be moving up the ladder and possibly competing at the professional level. As a broadcaster, that's a pretty neat opportunity to get to know and work with some of the guys who will be competing in Supercross and professional Motocross before long. There are so many cool elements. That's a big reason why I'm always glad to help Ricky with these programs."