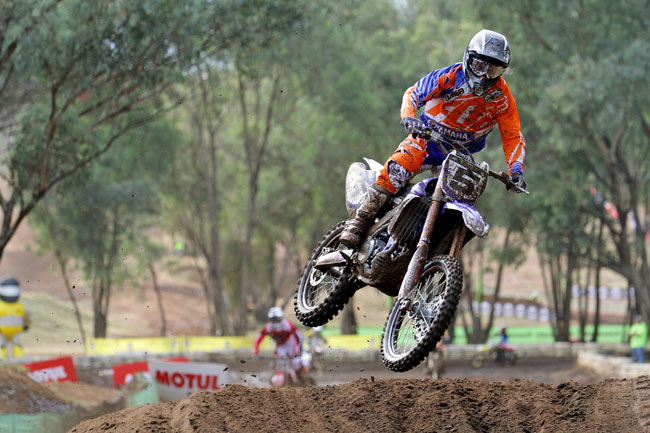 Coppins, Styke and Leary claim Monster Energy MX Nationals wins at Coonabarabran
For Immediate Release: Sunday, 15 April 2012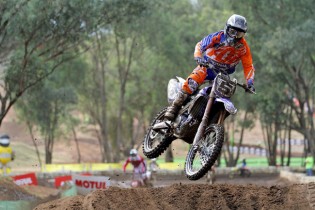 New Zealander Josh Coppins has taken a vital victory in round two of the Monster Energy MX Nationals, Australian Motocross Championship, at Coonabarabran in New South Wales on Sunday, 15 April.
The CDR Yamaha rider took control of the championship lead just a fortnight after finishing second at the season opener, winning the round at Goanna Tracks overall with 4-3-1 finishes in the trio of premier MX1 motos.
"It feels good to win because I felt like I struggled on Saturday and didn't really ride that well today," former world number two Coppins said. "I just had to be patient and the first five-lap races weren't long enough for me. I knew the last longer moto would suit me, so I focused on winning that one. It's been a great start to the season for me so far."
Coppins' triumph came late in the day after Australian class returnee Jake Moss took two spectacular moto wins to start the round, proving himself once again as a surprise threat for this title chase in 2012.
Moss' day turned pear-shaped in the final moto however, when an early moto fall meant that he was forced to settle for 16th in the race and third overall for the round.
The round saw two Honda privateers rise to the podium, with Bourke's Tye Simmonds scoring a satisfying second for the round after forming his own team just weeks out from round one. Simmonds raced to 5-4-2 finishes at Coonabarabran.
Fourth overall was defending four-time champion Jay Marmont for Monster Energy Kawasaki, a sign that he's gaining momentum on the KX450F. Marmont was in the box seat for a final moto victory while leading early, but finished up third and was bumped off the overall podium.
Fifth for the weekend was British champion Brad Anderson, Carlton Dry Honda Thor Racing's lone championship hope piecing together a top five result despite a challenging round in his first visit to Goanna Tracks.
Round one winner Ben Townley was forced out of the weekend following a disastrous practice crash on Saturday that saw him transferred to hospital with a hip injury after being stabilised by Suzuki RACESAFE at the circuit.
The Motul MX2 class saw Serco Yamaha Metal Mulisha Racing's Luke Styke take a spectacular clean-sweep of the proceedings, dominating the round with a trio of first place finishes.
"It was a perfect weekend for me this weekend," Styke reflected. "Everybody was working good, the team was good, my YZ250F was unreal and it all paid off. The track was unbelievable, really suited my style, and the Pirelli tyres definitely did their job. It's all good and I'm really happy to be leading the championship with Serco Yamaha."
Styke takes over the series lead from teammate Kirk Gibbs, who finished in the runner-up position at Coonabarabran with a consistent effort of 5-4-2 finishes.
Completing the podium for the round was Monster Energy Kawasaki's Kade Mosig despite getting caught up in the start gates in the third and final moto. Mosig raced to 2-5-6 results in his first podium for Kawasaki.
A resurgent Cheyne Boyd (DPH Motorsport Honda) was fourth and just a point short of the podium, living up to pre-season expectations after stepping across from the MX1 class in 2012. The top five was rounded out by Ford Dale (Carlton Dry Honda Thor Racing).
The Pirelli MXD class for Under 19s riders was won by 18-year-old Tasmanian talent Dylan Leary (KTM), riding his 250 SX two-stroke to the overall in a tight race for the victory.
"It's a really good result and I had to borrow a bike for this weekend after practice," Leary explained. "It's a surprise because last year I did the final three rounds and my best race result was something like ninth, but this off-season I worked hard and it's all about consistency. If I can stay in the top five every race in should work out well."
Leary won the round by a single point ahead of Axis Kawasaki's Mitch Norris, who suffered a flat tyre while leading the third and final moto of the weekend. Norris won the second moto in a breakthrough performance. Completing the top three was another KTM privateer in Joel Milesevic.
The opening moto victory went to former junior world champion Jay Wilson aboard the Raceline Pirelli Suzuki, however he was forced to settle for seventh overall. Round one winner Dylan Long maintained his championship lead with fourth overall for Choice Motorsports KTM.
The series will continue at Wonthaggi in Victoria on 28-29 April, marking round three of 10 for the 2012 season.
2012 Monster Energy MX Nationals
Round Two – Coonabarabran, NSW
MX1 Overall Results:
1. Josh Coppins 63
2. Tye Simmonds 56
3. Jake Moss 55
4. Jay Marmont 54
5. Brad Anderson 50
6. Cody Cooper 49
7. Lawson Bopping 48
8. Daniel McCoy 40
9. Daniel Reardon 39
10. Todd Waters 35
MX2 Overall Results:
1. Luke Styke 75
2. Kirk Gibbs 56
3. Kade Mosig 53
4. Cheyne Boyd 52
5. Ford Dale 48
6. Scott Columb 48
7. Errol Willis 46
8. Justin McDonald 40
9. Ryan Marmont 39
10. Josh Cachia 36
MXD Overall Results:
1. Dylan Leary 59
2. Mitch Norris 58
3. Joel Milesevic 58
4. Dylan Long 52
5. Kale Makeham 51
6. Sam Martin 50
7. Jay Wilson 41
8. Kayne Lamont 36
9. Dylan Wills 35
10. Jarrad Davis 33
MX1 Championship Standings (after 2 of 10 rounds):
1. Josh Coppins 125
2. Jake Moss 101
3. Jay Marmont 95
4. Brad Anderson 94
5. Tye Simmonds 94
6. Lawson Bopping 89
7. Todd Waters 89
8. Cody Cooper 87
9. Ben Townley 75
10. Daniel Reardon 72
MX2 Championship Standings (after 2 of 10 rounds):
1. Luke Styke 132
2. Kirk Gibbs 119
3. Ford Dale 110
4. Kade Mosig 97
5. Josh Cachia 92
6. Justin McDonald 88
7. Cheyne Boyd 87
8. Adam Monea 80
9. Errol Willis 76
10. Ryan Marmont 67
MXD Championship Standings (after 2 of 10 rounds):
1. Dylan Long 124
2. Dylan Leary 106
3. Mitch Norris 101
4. Sam Martin 99
5. Kale Makeham 96
6. Kayne Lamont 94
7. Joel Milesevic 92
8. Jay Wilson 89
9. Dylan Wills 58
10. Mitch Budd 54