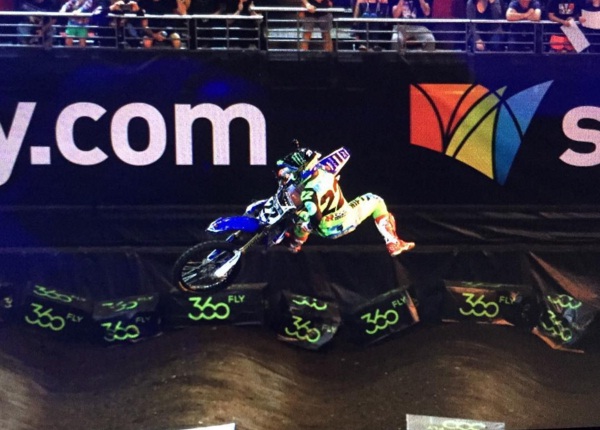 The familiar number 22 Yamaha stormed to victory at the inaugural AUS-X Open Supercross on Saturday night.
By Hayden Gregory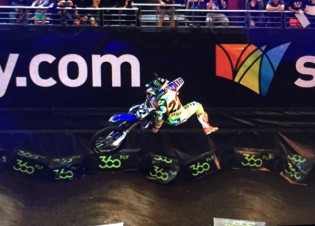 In a night of endless entertainment, it was Australian legend Chad Reed's effort in the SX1 final that took the cake much to the excitement of the sold out Sydney crowd. The 33 year old held off the pack leading from start to finish in the much anticipated event.
"That feels awesome!" enthused Reed.
"I always love coming back home to Australia and racing in front of so many fans, and tonight was great.
"The new AUS-X Open event was a total blast and I'm just so happy to be back on a Yamaha and back atop the podium again in Australia.
"I've got to say thanks to everyone who made this ride possible, and in particular thanks to the guys who have made the whole AUS-X Open event happen – this event has been so good so far, and we get to go racing again tomorrow!"
Behind Reed, American Gavin Faith was able to show why he is reining SX2 champion. Overcoming a series of bad luck and poor results, Faith raced to a 2015 best taking second place while holding off fast finishing series leader Dan Reardon.
"So to finally get a great start and put together 20 solid laps feels really good, I'm stoked," said Faith.
"It's been a while coming and I'm just rapt for the Penrite Honda Racing team, who have stuck by me and kept working so hard to achieve the result we all knew was possible."
SX1 series leader Dan Reardon had another strong showing to finish third and extend his championship lead. Defending champion Matt Moss had a cruel night in which he experienced the highs and lows of the sport.
Moss ran the fastest practice lap of the night before going on to take out heat one ahead of Chad Reed. Unfortunately when it came to the main, Moss went down twice, crashing out before racesafe assisted him from the track.
From a championship standpoint, Moss' misfortunate has left Reardon with a 31 point lead heading into the final round. Therefore it seems like Reardon will only have to qualify for the final and finish the race in Melbourne to be crowned 2015 ASX champion.
"I'll take the third spot on the podium tonight," said Reardon, "because that was a tough race as Chad and Gavin both made great starts and got out in front and we all got into a consistent rhythm and just kept knocking off the laps.
"But to come away with a 31 point lead in the Championship, well, I couldn't ask for much more. That's a great position to be in with just one more round to go next weekend.
"2015 has been an awesome season for me, and to now be so close to the Supercross Championship feels so good."
American young gun Cooper Webb finished fourth in his first Australian outing whilst Privateer Daniel McCoy rounded out the top five.
Following the SX1 final a special head to head race between the Goat – Ricky Carmichael and Chad Reed ignited the Sydney crowd. Reed led into the first turn before RC made the pass and held onto first place for the three lap spectacle. While the riders may not have been going at full throttle it was still a highlight of the night and the Goat was able to keep #22 honest in their first meeting on Aussie soil.
In SX2 racing, American superstar Jimmy Decotis rode to another impressive victory. The series leader hit the front after Serco Yamaha's Luke Clout crashed out of race contention and Wade Hunter was unable to maintain first position.
"I got a bad start but I felt like I rode strong all race and once I got in front, I just kept at it and rode clean and smart and brought it home," said Decotis,.
"All the team at Penrite Honda Racing have been working so hard to make this possible and I just hope I can wrap up the Championship at the final round in Melbourne next weekend."
Hunter was able to hold onto second position making amends for his misfortunate suffered at Queensland last round.
"Finishing second tonight feels so good," pumped Hunter.
"The whole night and the whole event has been awesome and I'm rapt to get this result as I came into this ride with the DPH Motorsports Peter Stevens Yamaha team pretty late, so to be up on the podium is a great result for the team, who have put so much support behind me."
Penrite Honda Wilson MX rider Jackson Richardson recovered from a bad start to finish in third place.
"I got a bad start and was a fair way back to begin with," explained Richardson.
"So to be able to come through and make the podium in third is pretty good overall, I'm happy."
With one round remaining Decotis holds a 21 point lead over Richardson meaning like Reardon in the SX1 class, Jimmy should only need to finish the final to be crowned 2015 SX2 champion.