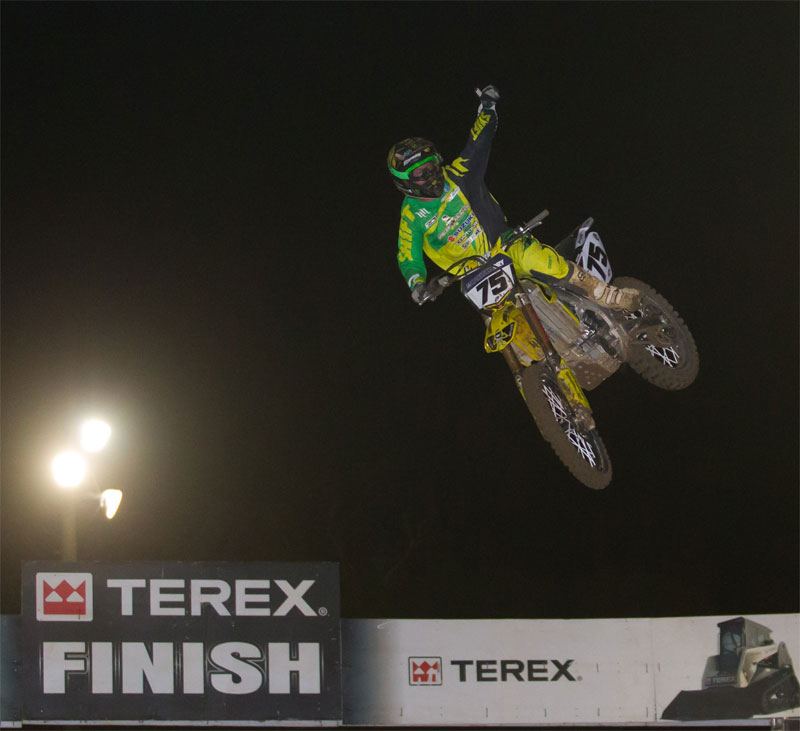 Mt Gambier's Borderline Speedway played host to a thrilling weekend of Supercross action, which saw race favourites come to grief in both the Pro Open and Pro Lites class of Milwaukee presents the Terex Australian Supercross Championship.
Hart and Huntington / InsureMyRide / DPH Motorsports rider Josh Hill scored his first podium of the season, winning the Pro Open final ahead of Carlton Dry Honda rider Weston Peick and Campbell Mining Suzuki rider Jake Moss.
"It feels good to come out here and get the win," Hill said. "We worked really hard in the month break since Darwin to get the bike where it needed to be.
"My mechanic really went to town on the bike. I told him what I wanted and he made me a bike similar to what I have back in the states motor wise.
"I can't thank him enough I was a lot more comfortable this weekend because I had confidence in the bike," Hill admitted.
Fellow American, Weston Peick was also pleased with the improvements made by the Carlton Dry Honda Racing team but said they weren't quite there yet.
"I had a good night," Peick said. "I tried to stay as consistent as possible but the track really started to break up towards the main event.
"I think we have a few more changes to make before we can get up there on the number one spot on the podium.
"The championship has definitely tightened up with moss boys going down, but consistency is going to be the key," Peick continued.
Team Motul Pirelli Suzuki's Matt Moss led Hill over the early laps of the 20-lap final before crashing heavily and dropping back through the order.
Moss worked his way back to fifth and heads to Round 4 and 5 of the series at the Australian Motorcycle Grand Prix with a four-point lead over his twin bother Jake.
In the Pro Lites class Serco Yamaha's Luke Styke extended his championship lead after being gifted the race win when Carlton Dry Honda Racing's Gavin Faith washed out on the final lap of the 15-lap final.
"It's not over until it's over," Styke said. "I stuck in there and rode my own race.
"I made a few silly mistakes in the back half of the race and Gavin was doing a really good job but made a mistake right at the end and I was there to capitalise."
In just his second race meeting in two years, Choice Motorsports KTM mounted Brendan Harrison stood proudly on the second step of the dais.
"I really can't thank my team enough," Harrison said. "Hard work does pay off, it is hard to believe I was lying in a hospital bed not long ago. My fitness was pretty good, this is only my second race meeting in two years I can't wait for the next event now."
The Under 19's final was won by GTYR Yamaha rider Jay Wilson with Raceline Suzuki's Jake Emanuelli second and Berry Sweet Yamaha rider Corey James third.
Rounds 4 and 5 of the Terex Australian Supercross Championship will be run alongside the Moto GP at next weekends Tissot Australian Motorcycle Grand Prix.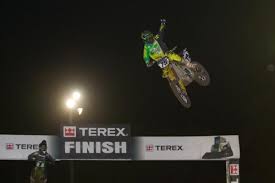 Top Ten Pro Open Round Results – Mt Gambier
1. Josh HILL (Suzuki) 25,
2. Weston PEICK (Honda) 22,
3. Jake MOSS (Suzuki) 20,
4. Daniel McCOY (KTM) 18,
5. Matt MOSS (Suzuki) 16,
6. Sam MARTIN (Suzuki) 15,
7. Kade MOSIG (Yamaha) 14,
8. Jay MARMONT (Kawasaki) 13,
9. Jacob WRIGHT (Honda) 12,
10. Hayden MELLROSS (Honda) 11
Top Ten Pro Open Championship Standings (After Rd 3 of 6) 
1. Matt MOSS (Suzuki) 66,
2. Jake MOSS (Suzuki) 62,
3. Weston PEICK (Honda) 58,
4. Josh HILL (Suzuki) 56,
5. Daniel McCOY (KTM) 49,
6. Jay MARMONT (Kawasaki) 48,
7. Kade MOSIG (Yamaha) 40,
8. Sam MARTIN (Suzuki) 34,
9. Kirk GIBBS (KTM) 31,
10. Lawson BOPPING (Yamaha) 28
Top Ten Pro LiItes Round Results – Mt Gambier
1. Luke STYKE (Yamaha) 25,
2. Brenden HARRISON (KTM) 22,
3. Ryan MARMONT (Suzuki) 20,
4. Gavin FAITH (Honda) 18,
5. Taylor POTTER (Honda) 16,
6. Nickolas SUTHERLAND (KTM) 15,
7. Luke ARBON (Yamaha) 14,
8. Dylan LONG (KTM) 13,
9. Kayne LAMONT (KTM) 12,
10. Tristen CACHIA (Honda) 11
Top Ten Pro Lites Championship Standings (After Rd 3 of 6)
1. Luke STYKE (Yamaha) 72,
2. Gavin FAITH (Honda) 65,
3. Ryan MARMONT (Suzuki)58,
4. Luke ARBON (Yamaha) 48,
5. Dylan LONG (KTM) 48,
6. Nickolas SUTHERLAND (KTM) 42,
7. Taylor POTTER (Honda) 40,
8 Kayne LAMONT (KTM) 39,
9. Brenden HARRISON (KTM) 31,
10. Kale MAKEHAM (KTM) 31
Images courtesy of Shayne Rice