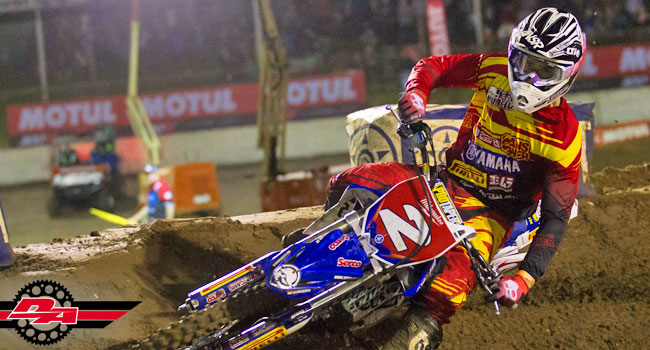 On board his Serco Yamaha YZ250F, Styke took the win in the competitive Pro Lites class and extended his lead in the championship to seven points.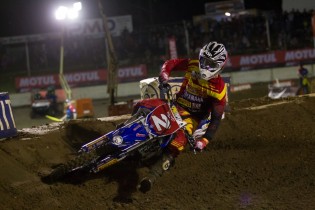 US Import and reigning champ, Gavin Faith, took control of the race in the early stages and looked to be on his way to victory. Styke mounted a late race charge and closed in on Faith but not close enough to make a pass. With less than half a lap to go, Faith made a small mistake and fell, allowing Styke to sneak by and take the win.
"I got lucky tonight," Styke explains. "Gavin was riding exceptionally well and even though I was able to get close to him, it was unlikely I was going to get passed. Then as we came into the corner after the start, he lost the front and fell and I was able capitalise on his misfortune.
"Sometimes things go your way, sometimes they don't and tonight luck was on my side.
"Thanks again to the Serco Yamaha team and to everyone at Mt. Gambier that turned up and supported the event," Styke signs off.
Team mate, Luke Arbon raced to a seventh place finish in his home state race and holds down fourth in the Pro Lites championship after round three.
Arbon was well placed at the start of the 15 lap final but took several laps to settle into the race and get a good flow going. He finally found his groove late in the race but was forced to settle for seventh and now looks forward to the following rounds at Phillip Island.
"I was a bit flat early in the final and made some mistakes that allowed some riders to get by me. I'm not happy with seventh, but fortunately I'm still in fourth in the championship and I'm out to improve that standing at this weekend's event at Phillip Island."
Rounds four and five of the ASX take place this weekend at Phillip Island in conjunction with the MotoGP. The double header weekend can be a game changer with 50 points to be won and lost in the championship.
Australian Supercross Championship – Round Three
Pro Lites
1st Luke Styke (Serco Yamaha)
2nd Brendan Harrison
3rd Ryan Marmont
4th Gavin Faith
5th Taylor Potter
6th Nick Sutherland
7th Luke Arbon (Serco Yamaha)
8th Dylan Long
9th Kayne Lamont
10th Tristan Cachia
Championship Standings – After Round Three
1st Luke Styke – 72 (Serco Yamaha)
2nd Gavin Faith – 65
3rd Ryan Marmont – 58
4th Luke Arbon – 48 (Serco Yamaha)
5th Dylan Long – 48
6th Nick Sutherland -42
7th Taylor Potter -40
8th Kayne Lamont- 39
9th Brendan Harrison – 31
10th Kale Makeham – 31