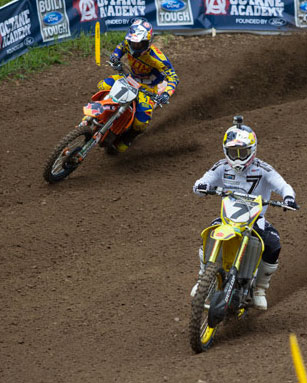 Dungey Wins 450 Moto 2 at Spring Creek, Stewart Holds on for Overall
Ryan Dungey won the second moto at Spring Creek but James Stewart finished third, good enough to take the day's overall top spot.
Stewart won the Motorcycle Superstore holeshot and was followed by Dungey and Josh Grant.  Grant passed Dungey but had a hard crash shortly after, knocking him out of the race.  Dungey battled with Stewart, taking the lead from him 4 laps into the race after being held off on several pass attempts. Stewart managed to regain the lead but was passed again by Dungey about a minute later, and the Red Bull KTM rider managed to build up a small gap and take the victory in his home state of Minnesota.
Trey Canard passed Stewart with 2 laps to go and the two had yet another incredible battle. Canard managed to keep Stewart from getting by him even as Stewart was able to pull slightly ahead on a pass attempt. At one point in the battle, Canard was forced off the track and re-entered a bit ahead of Stewart, but the re-entry appeared to be legal. Canard looked impressive and finished the day 2-2 for his best run of the season. Stewart has come on strong as of late, finishing in the top three overall at Redbud and Washougal and finally taking the overall win at Spring Creek.
Ryan Villopoto came in 4th after having his second rough start of the day, finishing his first lap in 10th place.  Suffering a crash in both motos, Villopoto didn't win a moto at this round and finished off of the podium, the first time either has happened this season.  The season points leader still has a large gap in the standings between him and Dungey even as the 2012 champ was able to finish two spots ahead of him on the day.
Justin Barcia finished 5th to go 3-5 and take 4th overall for the day.  Mike Alessi improved on his 11th-place finish in the first moto, coming in 6th in Moto 2 and 7th overall.  Alessi finished 5th overall at Washougal but had his points revoked as a result of penalties from the laser incident.
Chad Reed finished the race in 7th place followed by Andrew Short, Jake Weimer, and Broc Tickle. Reed has now posted top ten finishes in his last five motos and is quietly going through a slight resurgence.
Special recognition to Zack Freeberg, riding in the 450 Class this week, on locking down a career-best 12th-place finish in this moto. With top 20 finishes in both motos, Freeberg lands a very respectable 15th overall.
James Stewart will try to keep up his momentum going into Unadilla two weeks from now, but he's got his work cut out for him if he wants to keep the two Ryans out of the top spot.
Spring Creek 450 Moto 2 Results
1. Ryan Dungey
2. Trey Canard (-2.7 seconds)
3. James Stewart
4. Ryan Villopoto
5. Justin Barcia
6. Mike Alessi
7. Chad Reed
8. Andrew Short
9. Jake Weimer
10. Broc Tickle
11. Phil Nicoletti
12. Zack Freeberg
13. Tyla Rattray
14. Ben LaMay
15. Malcolm Stewart
16. Jake Canada
17. Broc Schmelyun
18. Justin Brayton
19. Evgeny Mikhaylov
20. Michael Byrne

Stewart's last overall victory was at Round 2 of the 2012 season. (Photo: George Crosland)
Spring Creek 450 Class Overall Results
1. James Stewart (1-3)
2. Trey Canard (2-2)
3. Ryan Dungey (5-1)
4. Justin Barcia (3-5)
5. Ryan Villopoto (6-4)
6. Andrew Short (7-8)
7. Mike Alessi (11-6)
8. Chad Reed (10-7)
9. Jake Weimer (9-9)
10. Broc Tickle (8-10)
11. Josh Grant (4-35)
12. Tyla Rattray (13-13)
13. Malcolm Stewart (12-15)
14. Ben LaMay (16-14)
15. Zack Freeberg (19-12)
16. Jake Canada (15-16)
17. Phil Nicoletti (32-11)
18. Justin Brayton (14-18)
19. Broc Schmelyun (27-17)
20. Michael Byrne (18-20)
Updated 450 Class Point Standings
1. Ryan Villopoto, 413
2. Ryan Dungey, -34
3. Justin Barcia, -106
4. James Stewart, -144
5. Trey Canard, -150
6. Mike Alessi, -218
7. Andrew Short, -222
8. Jake Weimer, -229
9. Broc Tickle, -230
10. Josh Grant, -237