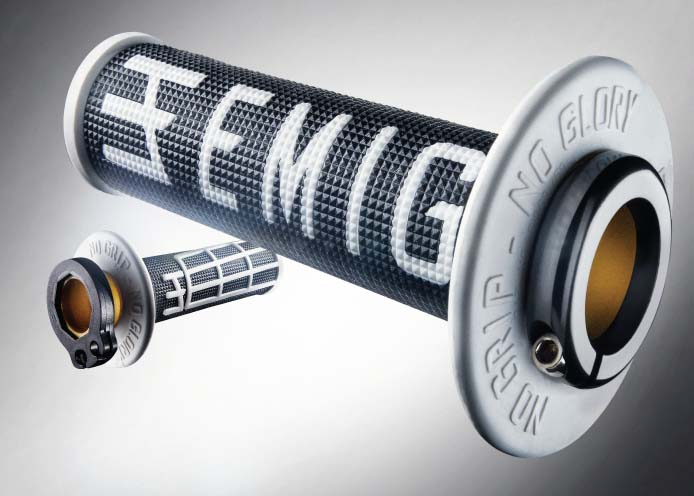 ODI EMIG Racing V2 Lock On GRIPS
Replacing grips can go to plan or go to hell. Everybody knows the feeling of the grip glue setting when the grip is still halfway on. It doesn't always happen but that's a fun killer right there.
By Damien Ashenhurst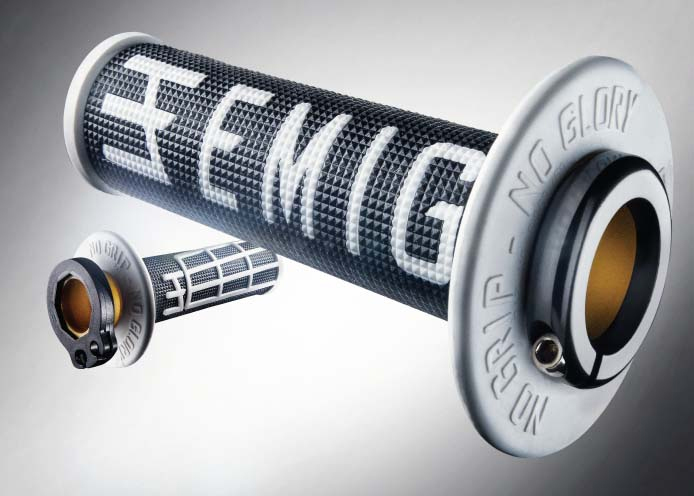 I tried the Emig Racing grips because I love it when something that's been done the same way for years finally gets a viable alternative. The Emigs are clever. The throttle side includes a throttle tube so it requires you to rout the throttle cables, which takes about two minutes. The clutch side also has the grip mounted on a tube; you simply slide the tube over the bars then use an Allen key to tighten the collar and bang, your work is done.
The half-waffle grips are on the hard side and even though I prefer a softer feel I like these and I also love the feel of a new throttle tube. I'm thinking these will be my go-to grips from here on. It's just so easy and I like the feel. The only test now will be to see how they last.
Product Features
100% slip-free performance guaranteed
Simple installation and removal without waiting for glue to dry
Throttle tube included with snap-on cam to match more models
Knockout ends easily accommodate handguards
No safety wire required means longer grip life, even in the event of a crash
Medium-diameter knurled pattern Emig design includes specially designed half-waffle pattern with thumb relief
CONTACT: www.lustyindustries.com