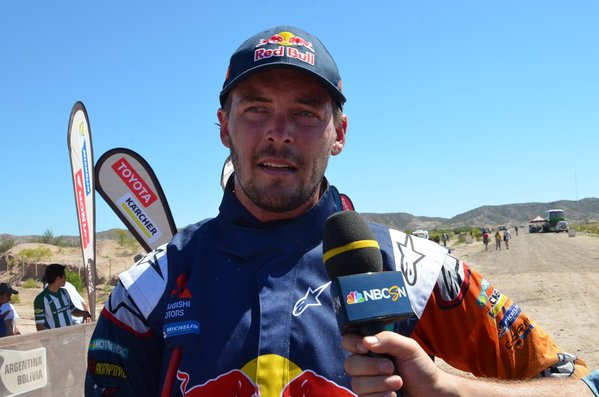 Australia's Toby Price has won a shortened ninth stage with final standings still yet to be confirmed.
By Hayden Gregory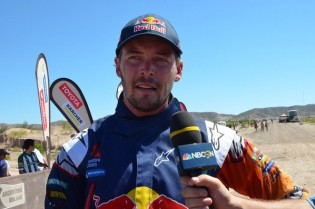 At the time of reporting, it is unclear the lead Price has accumulated following another dominant showing in the Dakar. Organisers halted the race at check point two, due to heat issues which may allow for a group time for the final stage.
Unaffected by the stoppage Price alongside 14 other riders made it to the end of the race with the Australian clocking in seven minutes ahead of closest rival Benavides. Amongst the riders stopped at check point two include Paulo Goncalves who was Price's closest challenger in overall standings.
The Portuguese rider punctured his radiator during the ride causing mass problems and at this stage it seems like he will be credited with a lifeline should a group time be allocated. As this stage marked the first of a two round marathon stage, Goncalves will not have the assistance of a mechanic meaning he will have to rely on his own skills to fix the problem.
Without notice of the official group time, Price provisionally sits an incredible 24 minutes ahead of second placed Svitko and a further eight minutes in front of third placed Quintanilla.
"I haven't heard too much on the navigation and it all as yet on the stage." Price explained.
"We've got through pretty good. We made a couple of little mistakes around the 100-km mark. We got a little bit lost but luckily we found the way point and got ourselves back on track and going again. Other than that, we've had a fairly decent day, a fairly solid day. It was just good that we didn't get lost. 
"It was definitely tricky navigation today. I still feel solid, I still feel really good. It's definitely hot right now at the moment, but we'll suit up again, get going, get some air flowing and it shouldn't be too bad. It's been a good day, I can't complain.
"I get to the finishing line and then they cancel the rest of it… That's a bit of a shame, but that's the way it is. We'll just have to wait and see and see what call they come up with. It's a bit of a bummer for me… I have to get to the finishing line and I've done that, but they've called it. I guess that's just the way it is.
"It's job done today, but everyone's got lucky since we've stopped at CP1 and CP2. We'll see if it will be all good. The bike seems really good, really strong and still going really well. The mechanics have done a really good job over the lead-up to the race and during the event. I think we're cruising along alright, so we can't complain.
"For the lead over Paulo, maybe; maybe not… we'll just have to wait and see for the decision".
Stage 9 Results: (Provisional)
1. PRICE (AUS) – 02:24:19
2. BENAVIDES (ARG) +00:07:10
3. SVITKO (SVK) +00:10:33
4. QUINTANILLA (CHL) +00:10:48
5. BRABEC (USA) +00:11:03
6. MEO (FRA) +00:11:53
7. VAN BEVEREN (FRA) +00:14:23
8. FARRES GUELL (ESP) +00:14:38
9. RODRIGUES (PRT) +00:16:00
10. MONLEON (ESP) +00:16:38
Standings After Stage 9: (Provisional)
1. PRICE (AUS) – 29:53:15
2. SVITKO (SVK) +00:24:47
3. QUINTANILLA (CHL) +00:32:14
4. BENAVIDES (ARG) +00:33:05
5. MEO (FRA) +00:40:37
6. RODRIGUES (PRT) +00:46:51
7. FARRES GUELL (ESP) +00:52:10
8. BRABEC (USA) +01:02:42
9. VAN BEVEREN (FRA) +01:08:10
10. BOTTURI (ITA) +01:17:17