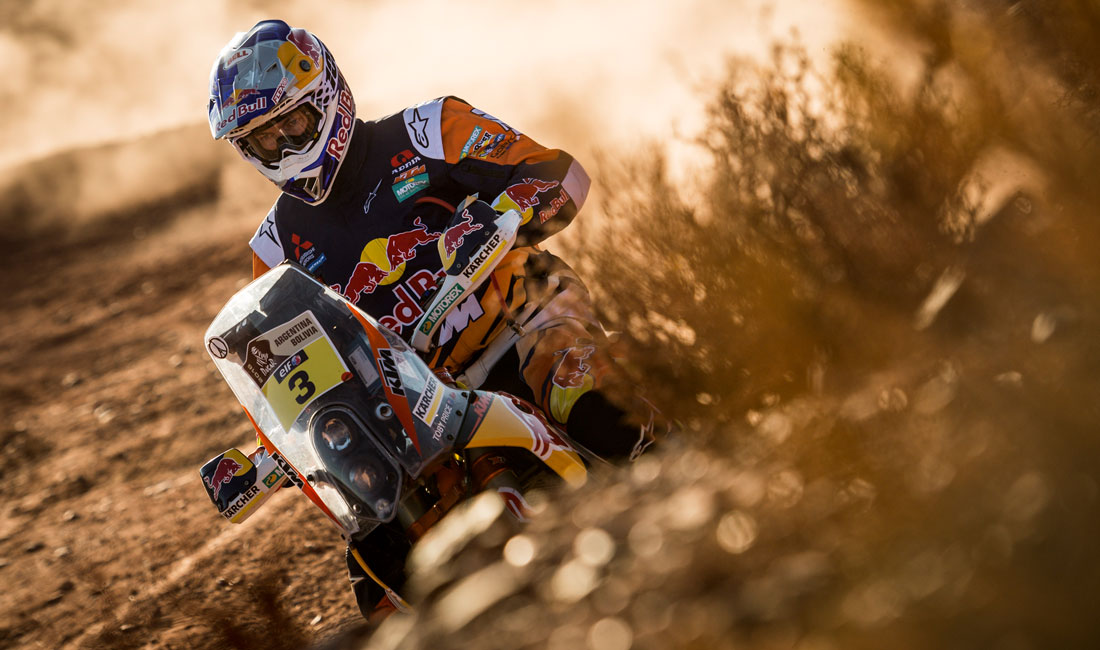 Australia's Toby Price remains in second place for the 2016 Dakar Rally following seven stages of competition.
 By Hayden Gregory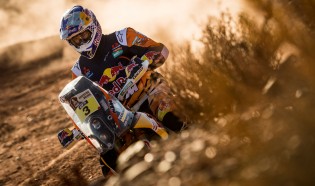 A shortened seventh stage was won by five-time Enduro World Champion Antoine Meo. It was a debut stage victory for the Frenchman who has impressed since making the enduro transition.
Drama unfolded during the stage after Matthias Walkner suffered a horrific crash causing a number of riders to stop and assist until further aid arrived. Overall leader Paulo Goncalves was one of these riders, showing great race spirit, stopping for over 10 minutes to help his fellow rider.
Race officials later deducted the time from Goncalves meaning he holds on to overall victory at the halfway stage. Australia's Price ended the day in fifth place and now sits three minutes and 12 seconds behind the Portuguese rider.
With the eighth stage being a sole rest day Price was able to reflect on the week that was and look ahead to the remaining stages.
"My goal is to finish the race and get a podium spot," Price said. "The Australian flags at the finish were great to see. It's nice to get support when you're racing so far from home."
"We had a good first week, no significant mistakes, and our objective was to get to the rest day in a good position."
"I'm happy with the work we've done so far but it's far from over, a mechanical or a navigational mistake can destroy everything," Price said.
STAGE 7:
1st – MEO // KTM
2nd – BENAVIDES
3rd – GONCALVES
4th – METGE
5th – PRICE // KTM
6th – QUINTANILLA
7th – ARANA
8th – FARRES GUELL // KTM
9th – SVITKO // KTM
10th – BRABEC
19th – SANZ // KTM
36th – VILADOMS // KTM
GENERAL STANDINGS (After Stage 7)
1st – GONCALVES
2nd – PRICE // KTM
3rd – SVITKO // KTM
4th – QUINTANILLA
5th – BENAVIDES
6th – MEO // KTM
7th – RODRIGUES
8th – FARRES GUELL // KTM
9th – DUCLOS
10th – PEDRERO GARCIA
15th – SANZ // KTM
17th – VILADOMS // KTM