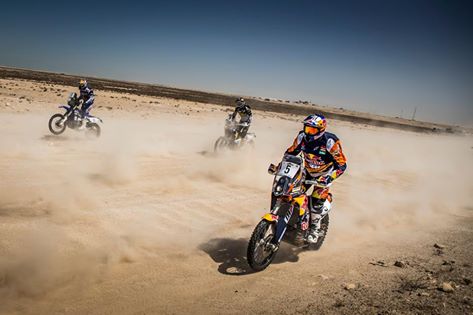 The Red Bull KTM rider is on the attack for the second round of the FIM Cross Country Rallies World Championship.
By Hayden Gregory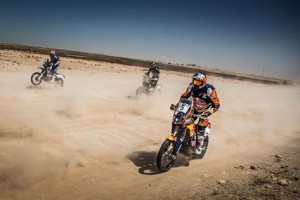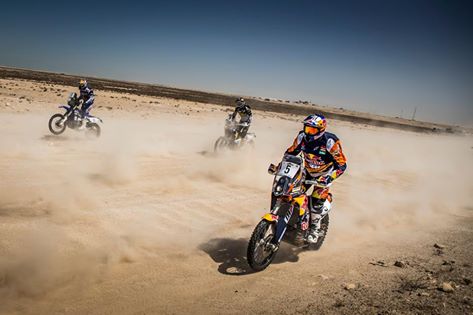 After recording victory at the opening round in Abu Dhabi, Toby Price is looking for a repeat performance in Qatar.  The Aussie rider impressed in the opening stage finishing less than three seconds behind leading pair Pablo Quintanilla and Sam Sunderland.
The trio of riders once again look the benchmark of the competition with an all too familiar sight of them leading the pack. While Abu Dhabi consisted of sweeping soft sand dunes, Qatar features a much different stony terrain with navigation of upmost importance.
"It's definitely much different to racing in Abu Dhabi and the navigation is very difficult. This is hard and rocky, dusty and harsher on the bike wheels but we're getting in the groove and it's going to be good," Price said.
The Rally will continue until Thursday with four more rounds and hundreds of timed kilometres facing the riders.
Results Stage 1 Sealine Cross-Country Rally 2016 (Standings after 1 of 5 stages)
1. Pablo Quintanilla (CHI), Husqvarna, 2:27:17 h
2. Sam Sunderland (GBR), KTM, +1 sec
3. Toby Price (AUS), KTM, +3 sec
4. Pela Renet (FRA), Husqvarna, +1:35 min
5. Juan Carlos Salvatierra (BOL), KTM, +2:23
7. Laia Sanz (ESP), KTM, +11:48