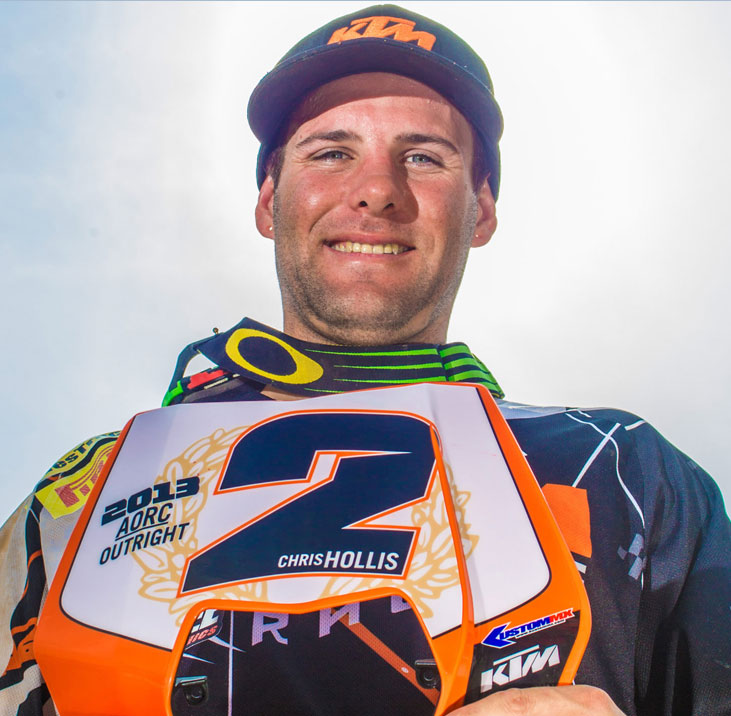 The Motorex KTM Off Road Racing Team is celebrating tonight after taking two class championship wins and a podium finish in a third class as the Australian Off Road Championship season concluded at Dungog.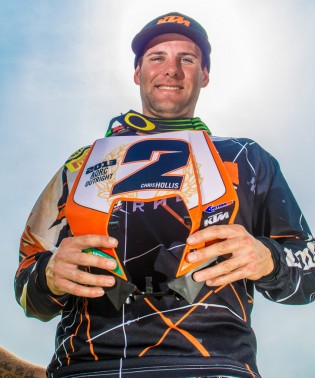 Geoff Braico became the team's first AORC champ when he used his powerful KTM500EXC to wrap up the E3 championship on Saturday, before Chris Hollis used his KTM450EXC to place the E2 championship out of reach on Sunday.
On top of this Hollis claimed second outright in the AORC standings, while Ben Burrell powered his KTM250EXC-F to third in the very competitive class.
Motorex KTM ORT Manager Brad Williscroft: "We've won two of the three major championships here and come away with a podium in the E1 championship, so I'm very happy with how the boys went, they rode really well and it was great to see them get those two titles.
"It's been an up and down season for us with Chris and Toby dominating the first four rounds, then we lost Toby with injury, then we were still in with a good chance until Chris had a couple of back issues mid season, then we  pushed really hard and are still able to come away with two championships. I'm real happy with Geoff Braico who got the call up to replace Toby Price earlier on. He's been a real professional, done everything he's been asked and been a great addition. Benny too deserves recognition – he's had his ups and downs but has kept plugging away and had a good finish in a really competitive class."
Chris Hollis (E2: 1, 1 – O/R:2, 2) "I had a good one – I'm pretty happy with it. Things went pretty smoothly both days, Daniel was pretty good here, but I was on par or close to it most of the time so I was happy with my performance. It was a really good event here, a little dusty but that's out of the organiser's control, but heaps of hills here and a nice place to end the series. My AORC season started off pretty well, until unfortunately I had a back issue which threw everything out of whack and Dan grabbed the opportunity with both hands. We have the ISDE next up and it should be a lot of fun, we've got a real good team which, fingers crossed can be on the podium for sure."
Geoff Braico (E3: 2, 2 – O/R:7, 9) – "I had 33 points going in and just had to get through with clean laps. I had a good battle with Jarrod for much of the weekend, just in the last couple he pulled out a solid gap. But I felt I rode pretty decent in this event, I think pretty much all my times were in the top ten. It was hot and dry like we thought so it was pretty tough but the bike was great, my suspension guy Charlie Costanzo did a great job for me. We came away with two second places and the championship which was exactly what we wanted and I'm pretty pumped about it. Next year I'd really like to stay in the KTM / Husaberg family if possible because I like the bikes and the team, it's been a good relationship all year round."
Ben Burrell (E1: 3, 5 – O/R:9, 12) – "Everything went pretty well for me and I've come home with third in the E1 which I'm stoked about. Saturday went really well for me but today I had a few crashes and struggled with the track dry in the spots where it was dusty and really slippery but I managed to hold onto third which is not too bad.
When you don't win you always wish you could have done better, but I'm really happy for the team, the boys and everyone."
Yamaha Australian Off-Road Championship final standings after 12 rounds:
1. Daniel Milner 268,
2. Chris Hollis 235,
3. Glenn Kearney 198,
4. Stefan Merriman 193,
5. Jarrod Bewley 175,
6. Josh Green 174,
7. Lachlan Stanford 144,
8. Geoff Braico 137,
9. Scott Keegan 128,
10. Tom McCormack 126,