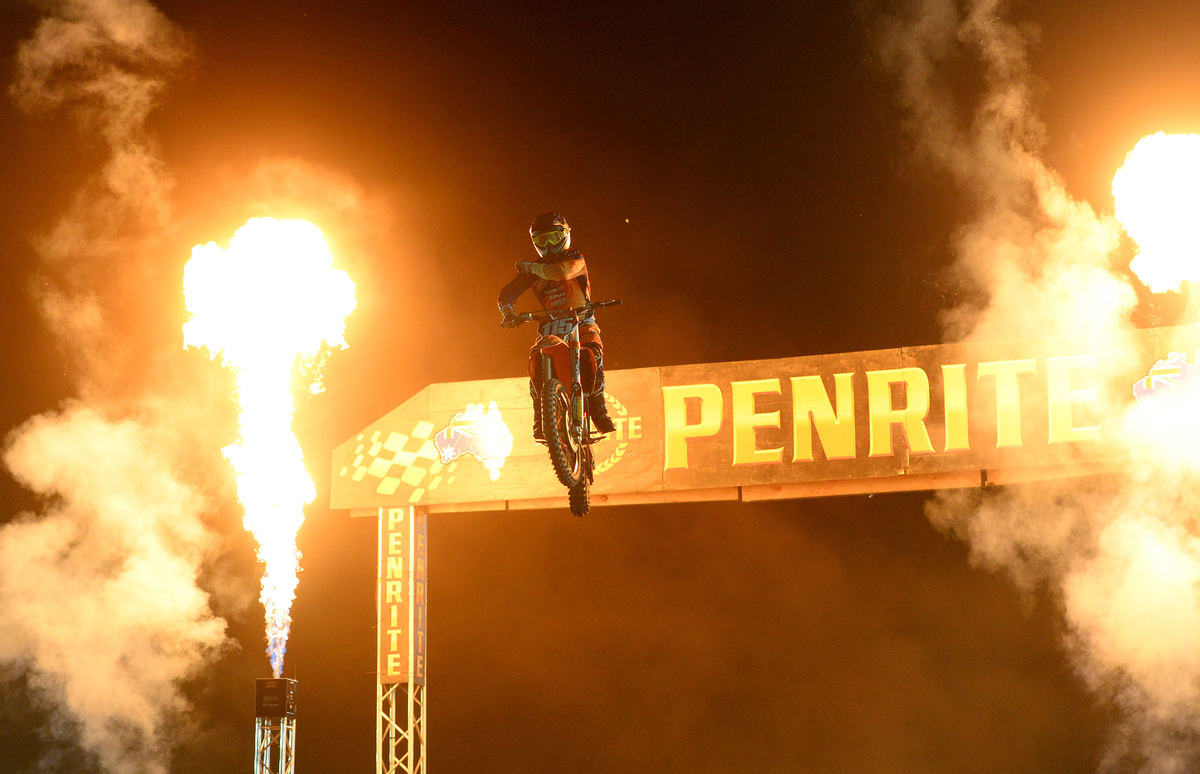 Davey Motorsports KTM rider Lewis Woods has stunned the field to take out round four of the SX2 Australian Supercross Championship.
By Hayden Gregory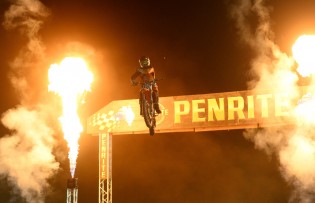 The young Victorian rider impressed at J2 exploding out of the gates to show early race intent. Alongside Newcastle KTM's Dylan Wills the pair opened up a gap on the rest of the field including that of red plate holder Jimmy Decotis.
While Decotis maintained a top five placing the crowd looked set to witness another one of his mid race comebacks as he began to make his move through the field. This time however the American ace was unable to make the all important final pass as Woods held him at bay to take his first race victory of the season. The win made the night all the sweeter for Woods who had already landed the best whip title earlier in the night.
"It's been a great night," Woods smiled.
"Getting a great start in the final makes all the difference and then all I had to do was get into a rhythm and just keep it going.
"I knew late in the race Jimmy would be coming, because that's what he does, but I just kept at it and that's what got me the win and it feels awesome."
Decotis was full of praise for Woods despite failing to take the win for the first time in the series.
"Lewis rode so good tonight," Decotis offered.
"I got close there at the end but not close enough, simple as that.
"Second tonight keeps me right at the top of the Championship, and I'm happy with that, but that's not to take anything away from Lewis, as he absolutely earned that win tonight."
South Australian SD3 Husqvarna rider Luke Arbon finished in third place overall with Geran Stapleton and Dylan Wills rounding out the top five.
SX2 championship runner up Luke Clout had a horrid night crashing twice to record a DNF, dropping in overall standings to sixth place.
SX2 Round 4 Results
1. LEWIS WOODS
2. JIMMY DECOTIS
3. LUKE ARBON
4. GERAN STAPLETON
5. DYLAN WILLS
6. JOEL WIGHTMAN
7. LUKE WILSON
8. TOMAS RAVENHORST
9. JESSE MADDEN
10. JACKSON RICHARDSON
SX2 Championship Standings
1. Jimmy DECOTIS
2. Jackcons RICHARDSON
3. Luke ARBON
4. Lewis WOODS
5. Geran STAPLETON
6. Luke CLOUT
7. Dylan WILLS
8. Jesse MADDEN
9. Joel WIGHTMAN
10. Wade HUNTER –