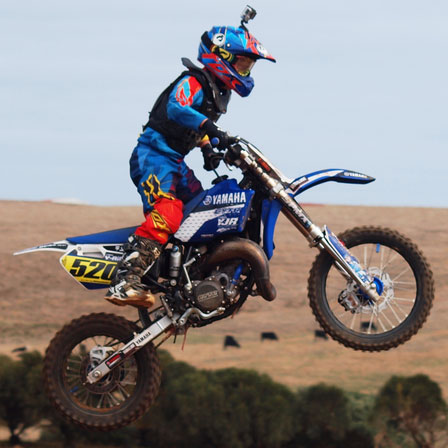 With the Racing in South Australia still a month away, the SA-YJR team headed across the Victorian border to compete in Round 1 of the Victorian State Titles held at the Warrnambool MX track.

This would be a great warm up plus a good opportunity for the boys to race some of Australia's finest young MX stars.
The team consists of Nick Day (YZ125 and YZ250F), Thomas Larwood (YZ85LW) and Alex Larwood (YZ85SW and 65cc). This is young Alex's first year in the team.
Nick raced the YZ250F on Saturday and his YZ125 on Sunday.
"I struggled with my starts on the 250 which put me back in the pack on a wet track," Day said. "I rode hard and caught back up for 10-8-9 results.
"The 125 was better off the start, keeping me in the top five each race. I rode consistent all day and finished with 5-3-4 which gave me 3rd overall, which I'm stoked with. Both my bikes handled great and run perfectly so I can't thank our sponsors enough," commented an excited Nick Day.
Alex Larwood also competed on two bikes and raced over both days. Saturday saw him tackle the YZ85 and Sunday on his 65cc.
"I enjoyed riding my YZ85SW in A Grade at Warrnambool last weekend. I ended up getting 4-5-3 results, so I was pretty happy with that. On my 65 on Sunday, I got 4-4-1 results for 4th overall. After hole-shotting the last race I managed to get a gap and win it, that was awesome. I enjoyed the weekend and looking forward to SA State Titles this year," stated young Alex.
Thomas had to wait until Sunday to get his first taste of the action, his first big event on the Big wheeled YZ85.
"I felt really nervous and felt like I was racing back at the Junior Nationals with a near full gate. It was nice to be riding deep ruts but I need to concentrate on my starts to give myself more of a chance of being up the pointy end," Thomas said.
The first round of SA MX kicks off on the 3rd of May at the Motocross Riders Association, Gillman