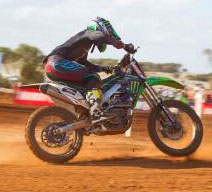 Monster Energy Kawasaki will look to regroup quickly after a tough second round of the 2013 MX Nationals at Murray Bridge, SA yesterday.
The team's championship aspirations suffered a setback with both riders forced out of the top ten following DNF's in the first moto. However with 8 rounds to go and more than 400 points still up for grabs, Jay Marmont and Adam Monea remain in championship contention and the team is looking forward to an improved result this weekend.
Jay Marmont got off to a brilliant start in the first moto quickly finding 3rd place on the opening lap however in an unfortunate turn of events; he came together with his team-mate Adam Monea just a few turns later. Marmont was forced to withdraw from the moto with severe pain in his lower back and needed a lift back with the crew from RaceSafe. Marmont fought through the pain and raced the second moto. The move could prove valuable to the gutsy rider later in the series with a handful of points earned for his efforts thanks to a 13th place finish. Jay Marmont currently sits in 13th place in the championship.
Jay Marmont was bitterly disappointed with the day but by no means down or out, saying, "It's probably one of the worst days of racing I've had for a long time. I thought all of the boxes were ticked coming into the round but it just wasn't to be. I got off to a good top three start in the first moto and then came together with my team-mate. I went a bit wide on the turn and Monz came up on me and took the line and blew me off my bike. I wasn't able to get back on my bike, my back was really sore. I raced the second moto in a lot of pain, I got a bad start and worked my way up a little bit but couldn't get into the top ten so I'm pretty disappointed. I can still take positives away though. I'm still walking and I'm not badly injured."
"I'm in a tough position now in the championship. I'm outside the top ten but the championship is not gone. It's a really disappointing day. We have to go out there at Wonthaggi, stamp our authority and start clawing our way back. There are still a lot of points up for grabs, it's only round two. I've had my bad round now so I need to move on. We'll come out swinging at Wonthaggi."
After sitting in 4th place on the opening lap right behind Marmont, Adam Monea was forced to retire from the opening moto with a damaged water pump sustained in the collision with his team mate. Monea came out strong in the second moto and tried to capitalise on a decent start however his rear brake lever copped a knock and was badly bent rendering it near useless. Monea did his best to finish the race in 6th place. Adam Monea sits just behind his team-mate in the points standings in 14th place.
Adam Monea say's, "It was a tough day. Getting that DNF straight off the bat was not what I wanted. I had to regroup and get back into a good mind frame and focus on the last race. I got a decent start in the second and pushed as hard as I could. I was right on the back of Kirk (Gibbs) and was riding well, I thought I had a decent pace then I had a rear brake mishap. I had to ride most of the moto with next to no rear brakes. To salvage a 6th after such a hard day was OK. I'm looking forward to a home race in Wonthaggi."
Kawasaki MX2 rider, Zero Seven Motorsport's Kade Mosig also had a day he'd rather forget with a first race DNF due to a mechanical issue. Then a first turn crash in the second moto prevented him from advancing any further than 11th place. Thanks to a strong opening round a fortnight ago, Mosig still sits inside the top ten in the championship in 10th place.
MX1 Kawasaki rider Cody Mackie (Zero seven Motorsports) finished the round in 10th place and currently sits in 9th place in the championship.
Kawasaki was also well represented in the Pro Quads class with numerous KFX450R ATVs taking to the track. Hardiman Kawasaki's Paul Worth took a pair of 7ths for his efforts.
Monster Energy Kawasaki are looking forward to putting this tough round behind them and will come out refreshed and ready for battle at the 3rd round of the 2013 Monster Energy MX Nationals at Wonthaggi, Victoria this weekend.
2013 Monster Energy MX Nationals, Australian Motocross Championship
Round Two – Murray Bridge, SA
MX1 Overall Results:
1. Todd Waters – KTM 66
2. Billy Mackenzie – Yamaha 64
3. Jake Moss – Suzuki 60
4. Lawson Bopping – Yamaha 59
5. Matt Moss – Suzuki 54
6. Tye Simmonds – Yamaha 46
7. Jacob Wright – Honda 45
8. Cody Cooper – Suzuki 45
9. Ford Dale – Honda 42
10. Cody Mackie – Kawasaki 42
19. Adam Monea – Monster Energy Kawasaki 25
MX1 Championship Points:
1. Todd Waters 141
2. Billy Mackenzie 122
3. Lawson Bopping 109
4. Jake Moss 107
5. Matt Moss 107
6. Cody Cooper 105
7. Tye Simmonds 98
8. Ford Dale 85
9. Cody Mackie  83
10. Jacob Wright 80
13. Jay Marmont 72
14. Adam Monea 71