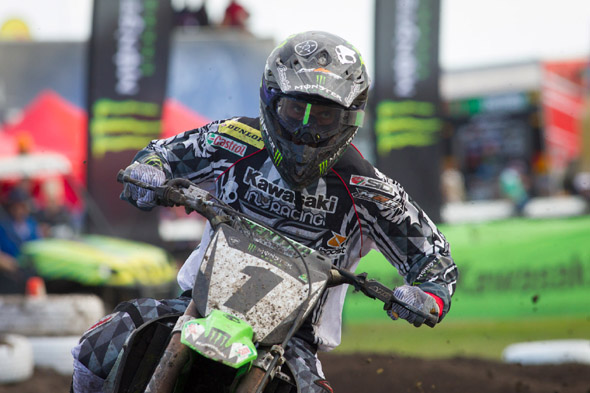 The 3rd round of the 201 32 Monster Energy MX Nationals at Wonthaggi, Victoria didn't yield the results Monster Energy Kawasaki was hoping for however Jay Marmont and Kade Mosig's 7th place finishes in the MX1 and MX2 classes respectively keep their championship aspirations alive in a long 10 round series.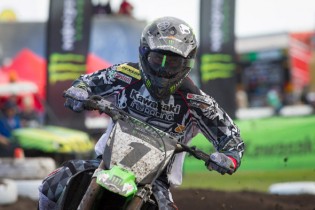 Filling in for the injured Billy Mackenzie, Dylan Peterson enjoyed a successful debut with the team finishing 9th overall in the MX1 class.
Jay Marmont started extremely well on his KX450F in each of the three races at Wonthaggi and bagged the hole-shot in the second moto however it just wasn't to be the reigning champion's day with 6-6-7 results leaving him in 7th overall for the round. Although an off day at Wonthaggi struck a blow to Jay Marmont's bid to earn his 5th consecutive Australian motocross championship crown, his consistency and ability to step up when it really matters means he can not be written off in a long 10 round series where 7 rounds remain and hundreds of points are still up for grabs.
A disappointed Jay Marmont say's, "I'm in a hole at the moment and I need to dig my way out of it. We can only go up from here. I'm injury free and a lot of other guys out there have a lot worse problems than me. I've just got to go out there and have fun on my dirt bike again and enjoy myself next week and turn it around. The team's been awesome, everybody's trying really hard to get me up there and we're not far away, there's a race win around the corner".
Tough starts put Kade Mosig on the back foot in each MX2 moto. Having to battle through the pack in each race, Mosig rode well to post 7-8-5 results for 7th place overall at Wonthaggi. With some good starts, Mosig's current pace will get him back on the podium and further up the championship leader-board where he currently sits in 5th place.
Kade Mosig say's, "First race, I got a good jump out of the gate then I came around the first turn and made a little mistake and dropped back then I mumbled the second start. It was sort of a tough day at the office but solid points so I can't really complain. I know I've got the fitness, I know I've got the pace, there are just a few little things here and there I have to work on and I'll get them."
Dylan Peterson stepped confidently up to the plate at Wonthaggi to post outstanding results in his debut ride on Billy Mackenzie's KX450F. Peterson didn't get the best starts in each moto however he rode fast and consistently to post 9-10-9 results for 9th place overall. Peterson could've been placed even higher at day's end if a small crash in the second moto didn't cost him a possible top 5 finish.
Dylan Peterson was happy with his first outing with Monster Energy Kawasaki, saying, "I'm really pumped with this opportunity. I got some good results today but I really struggled off the starts but I came through. Mackenzie's KX450F is awesome, it's so quick. The bike's running really good, it's just perfect so a big thanks to my mechanic. I think I can build on these results at Perth and come out swinging".
Queenslander Blake Colleton flew the flag for Kawasaki in the Rookie 85cc class at Wonthaggi. Blake rode his KX85 to the podium taking 2-4-2 for 3rd place overall.
Monster Energy Kawasaki Team Manager, Troy Carroll say's, "It was a tough weekend but we learned a lot. Jay had an off day but we'll work with him and he'll be OK. We'll fly to Perth early and do some prep there and he'll bounce back next round. We had bad starts with Kade all day so we'll send him home to practice a few things. Dylan was great, a fantastic ride for a privateer. From a Monster Energy Kawasaki point of view, we're really happy that we gave a young guy like that the opportunity to show his true potential."
"Things are getting better and better. The results aren't showing it yet but they will".
Monster Energy Kawasaki put a tough round 3 behind them and now look forward with anticipation to the 4th round of the 2012 Monster Energy MX Nationals at Wanneroo, WA on 12-13 May.