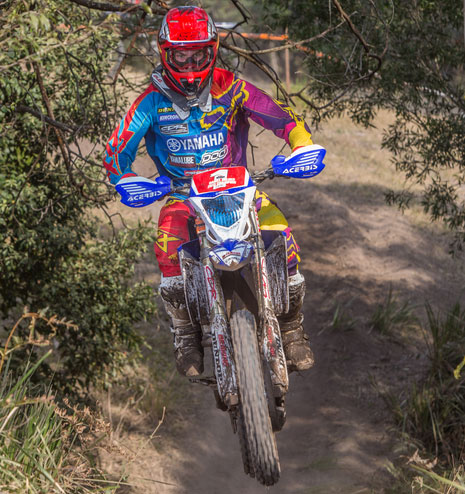 CDR Yamaha off Road racer Daniel Milner finished his 2013 AORC campaign in sensational fashion taking the double round victory at rounds 11 and 12 held at Dungog, NSW over the weekend.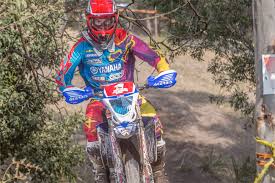 After claiming the championship win after round 11 on Saturday evening, Milner had nothing on the line to race for other than pride and he certainly showed plenty of that to take the final round win and celebrate his 2013 success in fine style.
The double header victory was simply the icing on the cake for Milner who has had an unforgettable 2013 racing season and continues to be the star of off road racing in Australia.
Milner is the Outright 2013 AORC champion as well as the E1 class victor on his Yamaha YZ250F. The likeable Victorian won six of the 12 rounds outright, finished on the podium another five times and his worst result for the season was fifth. His season really caught fire at the halfway point and he stormed home to win six of the final seven rounds and cement his place in AORC history.
"I didn't want to lose focus after winning the championship on Saturday so after a couple of down hours, I got my mind back on the job and prepared like it was just another round. To not be 100% only increases the chance of injury and with the ISDE coming up, there is still plenty to race for this year.
"On top of that, we have a good culture at CDR Yamaha and nothing really changes. A race was there to be won, so I tried my best to win it and I was fortunate enough to make that happen.
"Craig Dack and the CDR Yamaha team have really changed the off road scene and their professionalism is amazing. I have really enjoyed working in an environment like this and the team have played a huge part in my results this year," Milner ends.
Team mate Stefan Merriman also finished the AORC season out on a high with two impressive performances over the weekend. Merriman raced to third Outright, second in the highly competitive E2 class on Saturday and returned identical results on Sunday.
Merriman is a warrior of the off road game and continues to put in a huge effort at each and every round and these results don't surprise anyone. On board the WR450F, Merriman continues to show up his younger and more fancied rivals and out races them with knowledge, experience and dedication.
"I wanted to finish the championship strongly and with this event not that far from where I live, it was nice to do it with some friends and family around.
"Congratulations to Daniel, he has had a great year, been a great team mate and deserved his success. Together with the CDR Yamaha team, it's been an awesome year and I'm still enjoying racing."
Pulling the reins on both the CDR Yamaha MX and Off road teams has made for a busy year for team owner Craig Dack, but one he says is more fulfilling than most.
"When Yamaha came to me with the idea to run both teams, it all seemed a bit overwhelming," Dack explains. "But as the year wore on and the CDR staff continued to work hard things started to progress and in the last month we have seen our MX team end up on the podium in the MX Nationals and now Daniel has won both the AORC and the A4DE. On top of that, Stefan has also finished on the podium in his class and done extremely well to finish fourth in Outright honours.
"So, it's been a lot of hard work for everyone but when I look back at it, it's been quite an achievement and something that everyone in CDR Yamaha can be proud of. We have a great group of riders, fantastic sponsors and a working relationship with Yamaha that continues to breed success.      
"Daniel has worked enormously hard for his results this year and has grown as a rider and person in 2013. He deserves his success and I couldn't be prouder of him. Stefan is a machine. I'm in awe at some of the things he can do and his commitment to racing despite doing it for so long. He has my total respect and to finish where he has is a credit to him," Dack signs off.
With the 2013 off road season now complete, Daniel Milner now looks forward to representing Australia in upcoming International Six Day Enduro (ISDE) starting late September in Italy.
Round 11 Results – Dungog
Outright
1st Daniel Milner (CDR Yamaha)
2nd Chris Hollis
3rd Stefan Merriman (CDR Yamaha)
4th Lachlan Stanford
5th Glen Kearney
Round 12 Results
Outright
1st Daniel Milner (CDR Yamaha)
2nd Chris Hollis
3rd Stefan Merriman (CDR Yamaha)
4th Josh Green
5th Glen Kearney
Final Championship Standings
1st Daniel Milner – 268 (CDR Yamaha)
2nd Chris Hollis – 235
3rd Glen Kearney – 198
4th Stefan Merriman – 193 (CDR Yamaha)
5th Jarrod Bewley – 175
Class- E1 Final Standings
1st Daniel Milner – 297(CDR Yamaha)
2nd Glen Kearney – 246
3rd Ben Burrell – 210
Class – E2 Final Standings
1st Chris Hollis – 264
2nd Stefan Merriman – 243 (CDR Yamaha)
3rd Josh Green -210 (Active8 Yamaha)