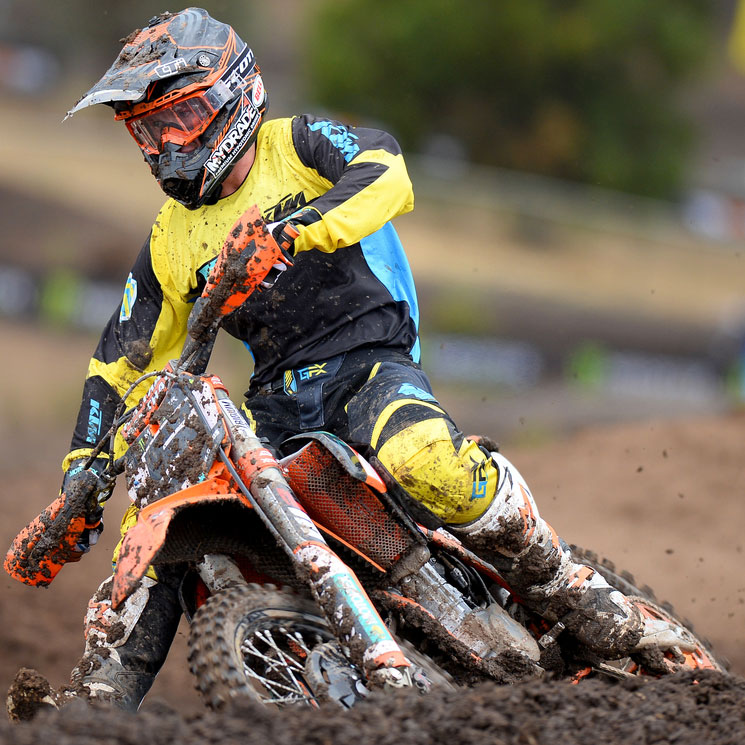 Mixing it on a motocross track against the best MX1 riders in Australia while carrying a broken hand may not be everybody's idea of a perfect Sunday, but KTM Motocross Racing Team rider Kirk Gibbs certainly got his Monster Energy MX Nationals campaign off to a near-perfect start.
National number five Gibbs powered his KTM 450 SX-F around the Broadford, Victoria circuit to qualify fastest, pick up two extra points from SuperPole, then come away with 3-3-5 scores for a richly deserved third on the day behind defending champion Matt Moss and Adam Monea.
Gibbs chipped the knuckle of his right pinky finger after qualifying fastest for the final round of the New Zealand Motocross Championships at Taupo a little over a week ago but was determined to ignore the pain and see what rewards a well spent pre-season would deliver.
With his right hand weakened, Gibbs had to hang on extra hard with his left, and by the final Moto, fierce blisters slowed the progress of the Queensland-based South Australian, who was the sole rider under the KTM Motocross Racing Team awning after team mate Ford Dale broke his arm in a practice accident two weeks ago.
Rob Twyerould: "It was a really good start for us. Kirk started great being fastest in qualifying, but I think he felt the pressure of one hot lap and didn't quite put it together. Our first race wasn't a great start, but Kirk came from seventh through to fourth pretty quick and just worked on third and got through. In the second race he almost had the holeshot but got a little excited and ran wide giving away a couple of places. He had Monea pressuring him the whole race and toward the end of it caught Jake and finished third. Race three he was fifth or sixth off the start and worked his way through pretty quick, but you could see by halfway he was struggling. Because of his hand he was hanging on tight and he got a huge blister which burst, but he toughed it out to the finish and got a bit lucky at the end to pick up fifth place. I'm very happy; to come away 12 points off the championship lead is a brilliant start. You can't win the championship at the first race but you can lose it here, that's why I'm always a bit nervous for the first round of the year, but he did well."
Kirk Gibbs  MX1- Q:1, SuperPole: 4th, R1:3rd, R2: 3rd, R3: 5th O/A: 3rd  "It was a pretty good day today, obviously a tough one with my hand which was pretty sore all day but it was just about trying to manage it. To do so I had to compensate which meant that I was holding on harder with the other side and I ended up with a pretty massive blister on my left hand, so I was barely hanging on in that last race, which was disappointing. But in saying that, still it was a decent day. Any day you can walk away with a podium is pretty good. There are probably five or six of us who are going really well – a couple had a bit of bad luck today which got me on the podium, but today was about damage control for me and it came out good. Hopefully over the next few rounds I'll just get better and better."
In MX2 Racing, the combination of great depth of talent and the desperation that typifies the class, meant that consistent days were something of a rarity, however comeback hero Brenden Harrison made the best of the ups and downs to finish second on the day behind Kayne Lamont. Harrison powered the Instant Security KTM to 10-1-5 scores to lead home another KTM 250 SX, that of Hamish Harwood. Other notable orange riders included youngster Wade Hunter (5-4-16), who was an impressive sixth on the day, two places ahead of last year's runner-up Kale Makeham on the Tune Tech KTM (6-3-29). Hamish Dobbyn and Dylan Long (BBS Motorsports KTM) battled to 12th and 14th respectively.
Brenden Harrison: MX2- R.1: 10th, R.2: 1st, R.3: 5th, O/A: 2nd "Not a bad day, though my first race today was no good, I got caught in a pileup in Turn Two, but made a lot of good passes after that on a very one line track, which was positive. Then in the second race I got the holeshot and just led from start to finish, so that was great and helped the confidence a lot. In the third one I got a bit of a so-so start, but ended up fifth so I was pretty happy with the day overall and will just look to build on that for the next round.
It's a really deep field in MX2 this year – so many good and fast guys. It's going to be real good racing and a good season. I can't wait.That's the first MX national season I've been able to start for two years, so it's great to get that out of the way, especially with a win. I'll just go home now and keep on working hard, and look to come out at Appin swinging."
In MXD racing, Jack Simpson was well in the mix on his Bolton's KTM Kyeton 250 SX, finishing with two podiums in the first two Motos before a sixth place in the third dropped him to fourth overall ahead of another two KTMs, those of Wayde Carter and Jayden Rykers.
For more information on KTM Motorcycles, visit www.ktm.com.au or www.facebook.com/KTMAustralia
Monster Energy MX Nationals MX1 class after Rd.1 of 10:
1. Matt Moss 97
2. Adam Monea 95
3. Kirk Gibbs 86
4. Kade Mosig 76
5. Billy Mackenzie 75
6. Rhys Carter 74
7. Jake Moss 67
8. Brad Groombridge 67
9. Jay Marmont 66
10. Hayden Mellross 65
MX Nationals MX2 class after Rd.1 of 10:
1. Kayne Lamont 102
2. Brenden Harrison 82
3. Hamish Harwood 81
4. Luke Clout 81
5. Nick Scott 72
6. Wade Hunter 69
7. Ryan Marmont 63
8. Kale Makeham 57
9. Caleb Ward 55
10. Errol Willis 51
12. Hamish Dobbyn 49
14. Dylan Long 49
MX Nationals U19 class after Rd.1 of 10:
1. Jed Beaton 96
2. Egan Mastin 94
3. Nathan Crawford 91
4. Jack Simpson 85
5. Wayde Carter 77
6. Jayden Rykers 72
7. Wilson Todd 71
8. Brock McLeary 68
9. Jarrod Kelly 67
10. Daniel Price 52