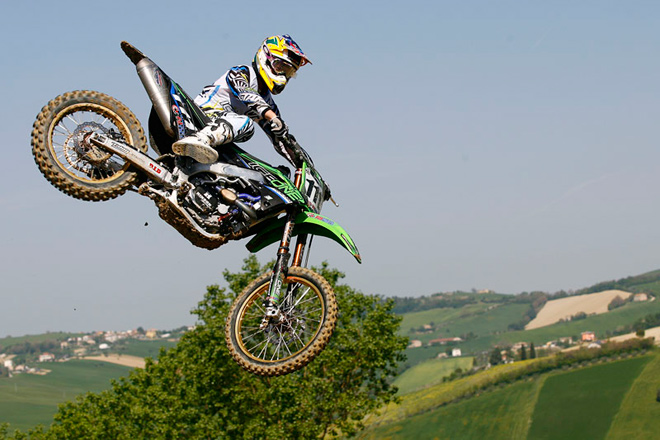 The third GP of the motocross season was raced on the hard pack track of Fermo.
The bad start of the first moto didn't keep Dean Ferris, who finished 17th away from the GP-points. Santtu Tiainen rode a clean moto by finishing 24th. The good start of the second moto boosted both ICE1RACING riders to their season best. Ferris was 10th and Tiainen got his first GP-points by being 19th.
ICE1RACING riders Dean Ferris and Santtu Tiainen were able to get clean races to both motos.
"Dean found his speed in the second half of the first moto and his lap times started to be close to the speed of the top riders", commented team's head technician John Luotonen after the first moto. "I believe that if he can keep up with the momentum the result will enhance in the second moto."
The first moto was won by Christophe Pourcel (Kawasaki), second was Gautier Paulin (Kawasaki) and third in the home race was Antonio Cairoli (KTM). Ferris finished 17th and Tiainen 24th.
In the second moto both ICE1RACING riders were able to get a good start and performed their season best. Both riders took GP-points: Ferris broke into the top ten and TIainen was 19th.
"I'm very satisfied with my riding. I didn't do anything crazy, I rode consistently.", commented Ferris after the second moto. "I want to thank the team from the hard work and the new set up."
"Dean was able to keep the speed even though the track was very hard on the riders. The ruts built in very deep and the take offs to the jumps were very difficult", commented team manager Kari Tiainen.
Team's Finnish rider Santtu Tiainen was very satisfied with his day, "I got a very good boost from the start. I was able to keep the attitude through out the whole moto and it really helped my riding. I am very satisfied – the personal best on the hardest track I've ever ridden."
The second moto was won by Antonio Cairoli (KTM), second was Christophe Pourcel (Kawasaki) and third was Clement Desalle (Suzuki).
The next GP will be races in two weeks in Guadalajara, Mexico.