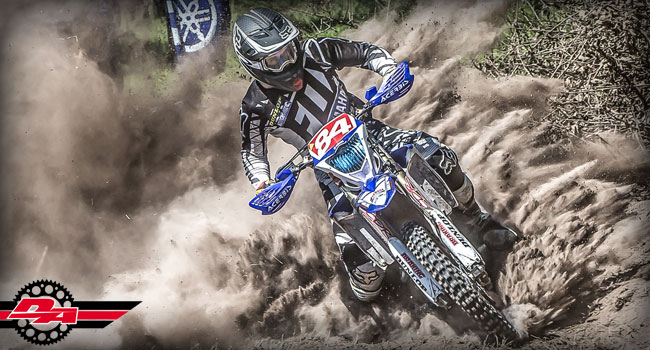 CDR Yamaha Off Road teamster Chris Hollis, put together a well-crafted and consistent weekend of racing at the opening weekend of the Yamaha Australian Off Road Championship (AORC) to be the club house leader after the first two rounds.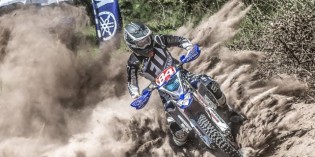 Ran in hot and dusty conditions at Bulahdelah, NSW, Hollis on his WR450F proved to be too smart and too consistent for his rivals and his second place outright in both Saturday and Sunday's competition sees him lead the field as well as head class honours in the E2 division.
Saturday
During a controversial days' racing that saw the program altered due to course marking and conditions, Hollis piloted his WR450F in the E2 class to a podium position and the perfect start to the 2014 series. He finished around 1 minute behind the leader on the day but was satisfied with his days' work which gave him second outright and second in class.
Team mate Daniel Milner experienced a trying day with crashes hampering his chances at a top result for the day. Several falls saw Milner round out the day in 13th outright and fifth in class but he vowed to get back on track the following day.
OUTRIGHT – Round 1
1. Toby Price
2nd Chris Hollis (CDR Yamaha)
3rd Glenn Kearney
4th Josh Green (Active8 Yamaha)
5th Lachlan Stanford
Sunday
After a good nights' rest and some team discussion, the CDR Yamaha Team were back on track and out for a better day at round two.
This time it was Daniel Milner and his YZ450F that made the statement as he took Outright and the E2 class victory honours for the round. Gone were the crashes and mistakes of the day prior and Milner motored to an impressive win and put his title defence back on track.
Hollis did what Hollis does and that's pound out relentless laps in a consistent fashion and again found himself in second place in both Outright and class when racing concluded. In fact, it was a class dominated by Yamaha with the top four riders in the E2 class on Sunday Yamaha mounted.
OURIGHT – Round 2
1st Daniel Milner (CDR Yamaha)
2nd Chris Hollis (CDR Yamaha)
3rd Josh Green (Active8 Yamaha)
4th Beau Ralston (Active8 Yamaha)
"The weekend went pretty well for me and it was just the start to the AORC I was looking for," Hollis said. "The dust, heat and course made things difficult but we all had to ride it and it was imperative to make smart decisions out there.
"The team did a great job and the bike was in great shape so we can now look forward to round two," Hollis ends.
Milner's weekend left him with mixed emotions but happy to leave on a high after Sunday's performance.
"Saturday was frustrating as I made some mistakes and took some heavy falls," he explains. "I had to regroup a bit on Saturday night and refocus for Sunday and claw some points back.
"Sunday was much better purely as I was able to stay on the bike and not throw it away. It was good to get the round win and at least get myself back in the hunt. I have to keep the momentum rolling for the next few rounds.
"Also, on the behalf of the CDR Yamaha team, we all hope Toby Price is ok after his fall and he is back on the bike in no time."
The CDR Yamaha team now look forward to rounds three and four at Boyland in Queensland on April 19-20.
OUTRIGHT Standings – After Round 2
1st Chris Hollis – 44 (CDR Yamaha Off Road) – E2
2nd Josh Green – 36 (Active8 Yamaha) – E2
3rd Glenn Kearny – 34 – E3
4th Daniel Milner – 33 (CDR Yamaha Off Road) – E2
5th Jarrod Bewley – 30 – E3
6th Lachlan Stanford – 29 – E2
7th Tom McCormack – 26 (Active8 Yamaha) – E1
8th Stefan Granquist – 26 (Active8 Yamaha) – E3
9th Toby Price – 25- E2
10th Beau Ralston- 23 (Active8 Yamaha) – E2
Class Standings- E1
1st Chris Hollis – 44
2nd Daniel Milner – 41
3rd Josh Green – 40
4th Lachlan Stanford – 34
5th Beau Ralston – 33