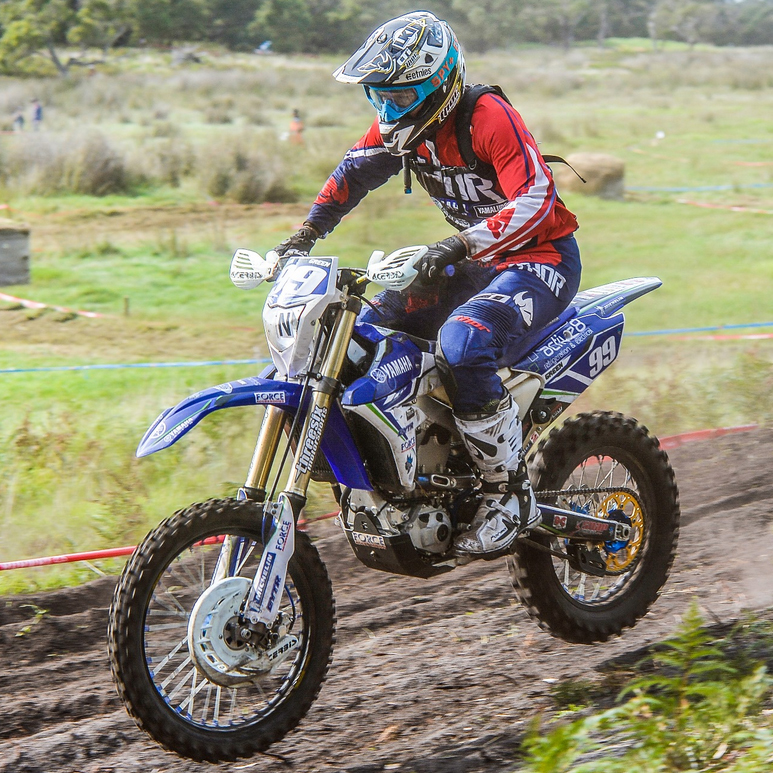 Active8 Yamaha's Josh Green put in his best performance of the year so far, at rounds five and six of the Australian Off Road Championship to move into second place in the championship and take over the E2 class lead, held at Headley, in Victoria, over the weekend.

The double round saw competitors compete in the three hour Cross Country format on Saturday and then return to the more traditional enduro format on Sunday, with Green featuring prominently in both events.
Despite a bad start in the Cross Country, Green charged his way forward over the next three hours of racing to finish the event in an impressive second place on his Yamaha YZ450F. In a rush to get a good jump, Green mis-kick started his bike and left the start line behind the pack and with plenty of work to do. But he was more than up to the task and clawed his way to second, posting his fastest lap on the ninth and final lap of the day.
He returned confident of another good showing on Sunday and again he put his Active8 Yamaha on the podium, again in second place. It was a drama free run for Green and the good points haul over the weekend has moved him to second Outright, but has now moved into the lead in the premier E2 class.
"Saturday was good, although I made myself work for it. I came from a long way back but I knew if I kept focussed, I would get back up near the front. In fact, I would have loved for it to keep going, I was feeling that good.
"Sunday was good and no real issues. I feel like my riding is getting back to where it needs to be and we have only just hit half way in the championship," Green ends.
Stefan Granquist turned in his best result of the year on Saturday with a fifth Outright on his WR475F, second in the E3 category. The long, three hour event is perfect for a rider like Granquist, and his fitness came to the fore as the hard working Granquist continued to motor along all day.
Sunday saw Granquist finish the round 10th Outright in another good performance. He currently sits equal 10th Outright and second in class.
Tom McCormack also enjoyed success on the weekend, taking the class win in E1 on board his Yamaha YZ250F on Saturday and then consolidated his weekend with a second in class on Sunday. McCormack has been ultra consistent all year and as a result leads that E1 class at the half way point and sits inside the top 10 Outright in ninth place.
"I had some issues on Saturday with my brake that made me come in and get it looked at after the first lap but we got it fixed and I was able to fight my way back to the front of the class from there, so it was a good result.
"Sunday was good without being great but second is good and it's important that I keep consistent at each and every round."
Beau Ralston continues his climb up the off road ladder and again took steps forward over the weekend. He nailed down a very respectable eighth place on Saturday in the Cross Country and then was eighth again on Sunday after running inside the top five for much of the day. Ralston is adapting quickly to off road racing and improves with each and every round.
"It was a good weekend all round for the team," states Active8 team manager, AJ Roberts. "It wasn't all smooth sailing but as a team we were able to overcome any issues and the riders put in a huge effort on the track so it was a well-deserved result all round.
"At the half way point, we have Tom and Josh leading their classes, Stefan in second in the E3 and Beau top five in E2 and all guys inside the top 12 Outright, so things are looking good. If we continue to work hard, then I'm sure we can finish the season strongly and be in contention for class and Outright championships," he ends.
There is now a five week break before the action picks back up in South Australia for rounds seven and eight of the Australian Off Road Championship. For more information on the AORC, www.ma.org.au
Round Five Results – Outright
1st Toby Price
2nd Josh Green (Active8 Yamaha)
3rd Glenn Kearny
4th Chris Hollis (CDR Yamaha)
5th Stefan Granquist (Active8 Yamaha)
6th Daniel Saunders
7th Lachlan Stanford
8th Beau Ralston (Active8 Yamaha)
9th Tom McCormack (Active8 Yamaha)
10th Scott Keegan
Round Six Results – Outright
1st Toby Price
2nd Josh Green
3rd Glenn Kearny
4th Daniel Saunders
5th Chris Hollis
6th Jarrod Bewley
7th Lachlan Stanford
8th Beau Ralston
9th Peter Boyle
10th Stefan Granquist
11th Tom McCormack
Outright Standings – After Round Six
1st Toby Price – 119
2nd Josh Green – 114 (Active8 Yamaha)
3rd Glenn Kearney – 114
4th Chris Hollis – 95
5th Lachlan Stanford – 90
6th Daniel Milner – 85
7th Daniel Saunders – 82
8th Jarrod Bewley – 74
9th Tom McCormack – 71 (Active8 Yamaha)
10th Beau Ralston – 66 (Active8 Yamaha)
11th Stefan Granquist – 66 (Active8 Yamaha)
Class Standings – After Round Six
E1
1st Tom McCormack – 141
2nd Scott Keegan – 127
3rd Peter Boyle – 114
E2
1st Josh Green – 120
2nd Toby Price – 119
3rd Chris Hollis – 116
E3
1st Glenn Kearney – 147
2nd Stefan Granquist – 124
3rd Jarrod Bewley – 111