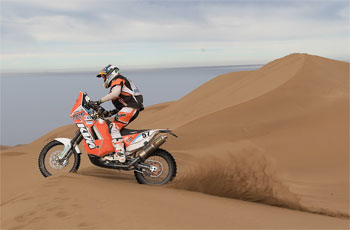 It might have been the longest Special Stage of the rally, but HSE Motorex KTM Desert Racing Team rider Ben Grabham posted another excellent result as Stage 9 of the Dakar Rally unfolded today between Tucuman and Cordoba, Argentina.
Media Release – 15/01/2013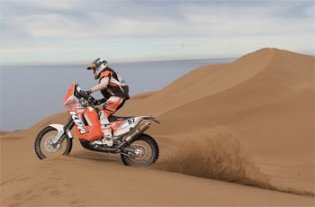 Freshened somewhat after yesterday's rest day which marked the mid-point of the event, Grabham was 16th quickest in the 593-kilometre Special Stage, but was credited with 30th after he opted to take his fresh engine for the final week of the race.
The HSE Motorex KTM Desert Racing Team's plan to conserve and acclimatise during the first week, then press forward into the second continues according to plan.
Even with the associated time penalty, 31 year-old Grabham still advanced in the overall rankings for the sixth consecutive stage to move to 18th overall in what is his maiden effort in the world's biggest off-road race.
As Team Manager Garry Connell tells however, the performance was hampered slightly; "Ben likes the long days and generally had a good run with no issues and was able to press hard," says Connell, "but he was frustrated due to the start's seeding order which put him well back behind quite a few quads and slower riders.
"It was very dusty and twisty which made it hard for him to pass. Things will be similar tomorrow with more WRC-style tracks but he should be able to press hard given he is starting 16th."
French rally ace Cyril Despres won today's stage from Spaniard Joan Barreda Bort and Italy's Alessandro Botturi while Portuguese rider Ruben Faria takes over  the lead of the race.
For more information on KTM motorcycles visit www.ktm.com.au or www.facebook.com.KTMAustralia
DAKAR Rally Stage 9 from San Miguel de Tucuman to Cordoba, Argentina:
1. Cyril DESPRES (FRA) KTM 05:41:36
2. Joan BARREDA BORT (ESP) HUSQVARNA 05:45:39     00:04:03
3. Alessandro BOTTURI (ITA) HUSQVARNA 05:46:50     00:05:14
30. (16th). Ben GRABHAM (AUS) KTM 06:18:05     00:36:29     (00:15:00)
Motorcycle Overall:
1. Ruben FARIA (PRT) KTM 25:57:12
2. Cyril DESPRES (FRA) KTM 26:02:35     00:05:23     00:15:00
3. Francisco LOPEZ (CHL) KTM 26:06:15     00:09:03
18. Ben GRABHAM (AUS) KTM 27:28:11     01:30:59     00:15:00