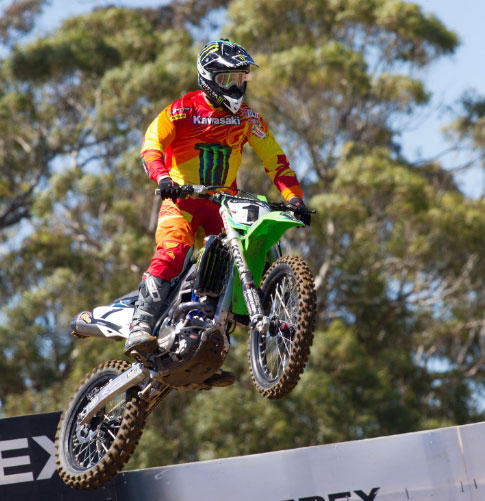 After showing good pace and form during practice at the 3rd round of the 2013 Terex Australian Supercross Championship at Mt Gambier, SA, Monster Energy Kawasaki rider Jay Marmont had to settle for an 8th place finish after crashing on the slick track that took many riders down. Team mate Adam Monea is still sidelined with a shoulder injury.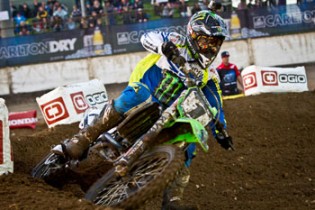 Jay Marmont was hoping to capitalize on his podium finish from the series opener in Darwin and was on track to do so with good form and speed in SA however it wasn't to be his day.
A tough start left Marmont back in 8th place at the start however he rode valiantly to claw his way as far forward as 4th with the 3rd placed rider firmly in his sights when he crashed on the greasy track. With the win knocked from him, Marmont was unable to do any better than 8th place once he'd remounted.
Jay Marmont's 8th place finish at Mt Gambier leaves him in 6th place in the championship with another 3 rounds left to race.
Jay Marmont say's "Overall I'm pretty disappointed. After putting in so much effort and training, it was hard to come away with the result that I did but it was pretty slick out there and a lot of riders were crashing. I cross rutted and came unstuck and got winded pretty good. It was a stupid crash and frustrating because I haven't crashed in ages. After I remounted I just couldn't close the gap. There are still 3 more rounds to go though so I just have to focus on those, stay positive and come away with the best results I can."
Jay Marmont and Monster Energy Kawasaki next head to Phillip Island, Victoria where the 4th round of the series will be run in conjunction with the Australian MotoGP.
2013 Terex Australian Supercross Championship
Round 3 – Mt Gambier, SA
SX-Open 450:
Josh Hill – Suzuki
Weston Peick – Honda
Jake Moss – Suzuki
Daniel McCoy – KTM
Matt Moss – Suzuki
Sam Martin – Suzuki
Kade Mosig – Yamaha
JAY MARMONT – MONSTER ENERGY KAWASAKI 
Jacob Wright – Honda
Hayden Mellross – Honda
Australian Supercross Championship – Overall Standings (after 3 of 6 rounds):
1. Matt Moss – Suzuki 66
2. Jake Moss – Suzuki 62
3. Weston Peick – Honda 58
4. Josh Hill – Suzuki 56
5. Daniel McCoy – KTM 49
6. JAY MARMONT – MONSTER ENERGY KAWASAKI 48
7. Kade Mosig – Yamaha 40
8. Sam Martin – Suzuki 34
9. Kirk Gibbs – KTM 30
10. Lawson Bopping – Yamaha 28