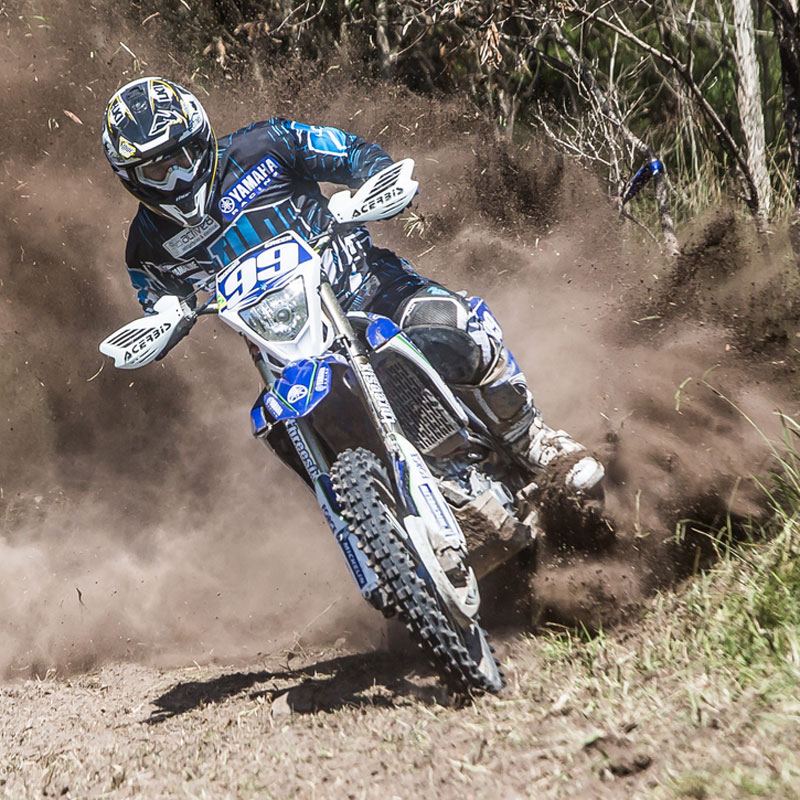 The Active8 Yamaha team hold down four spots in the top 10 and have started the new season strongly.

Team E1 rider (Tom McCormack) picked up his first ever class victory on day 2 of the weekend and combined with his second place finish on day one, he sits atop of the E1 leader board and entrenched in the top 10 Outright, in seventh place.
Mounted on his 2014 YZ250F, McCormack was out to redeem himself after a tough start to the year in Enduro X and he did just that with two solid days racing and rewarded his team with the class honours over the weekend.
"It wasn't perfect out there for me on the weekend, but it a good start to the championship and I feel I can ride much better. With the dust, it was hard to really push hard so remaining consistent was the key and I was able to do that throughout the weekend.
"It does feel good to get the win and reward the team for an off season full of hard work, but one weekend doesn't make a championship and more work is to come," McCormack ends.
It has been just seven weeks since Josh Green crashed while testing in central Australia and doctors gave him little hope of being able to ride the opening rounds. Green proved them wrong and not only rode, but raced well and after two rounds is right in the thick of the action.
Green currently sits second outright on his YZ450F and third in the E2 class after an encouraging weekend.
"When I crashed while testing for Finke, my mind instantly thought of whether I would be able to be fit enough to race this weekend. I got stuck into my rehab and did whatever it took to be right and I was even able to get a couple of weeks of riding in prior to the opening rounds.
"It was a positive start and I couldn't really ask for more. I have about a month to the next round so hopefully with some more fitness and bike time I can go even better," he explains.
Active8 Yamaha's E3 warrior, Stefan Granquist also put his WR450F on the podium and currently sits third in class and eighth outright. Granquist result is a typical blue collar performance and one that has him well placed as the championship rolls on.
"It was a good start to the championship with no major problems. The bike was working well and now it's my job to build on this result at the coming rounds."
Ex-motocrosser, Beau Ralston is also racing with Active8 Yamaha support and jumped headlong into the E2 class on his YZ450F. For a rider with limited bush experience, Ralston acquitted himself extremely well over the weekend and sits fifth in class and 10th Outright in an impressive off road debut for Active8 Yamaha.
"While I have ridden in the bush over the years, racing is another thing. I learned a lot over the weekend and gained valuable experience that will only help at future rounds. Having the support of the Active8 crew made life much easier," Ralston said.
Boyland, just east of Warwick in southern Queensland will host rounds three and four of the Yamaha AORC in April. For a full rundown of results www.mylaps.com or information on the championship, www.ma.org.au/aorc
OUTRIGHT Standings – After Round 2
1st Chris Hollis – 44 (CDR Yamaha Off Road) – E2
2nd Josh Green – 36 (Active8 Yamaha) – E2
3rd Glenn Kearny – 34 – E3
4th Daniel Milner – 33 (CDR Yamaha Off Road) – E2
5th Jarrod Bewley – 30 – E3
6th Lachlan Stanford – 29 – E2
7th Tom McCormack – 26 (Active8 Yamaha) – E1
8th Stefan Granquist – 26 (Active8 Yamaha) – E3
9th Toby Price – 25- E2
10th Beau Ralston- 23 (Active8 Yamaha) – E2
Class Standings- E2
1st Chris Hollis – 44
2nd Daniel Milner – 41
3rd Josh Green – 40
4th Lachlan Stanford – 34
5th Beau Ralston – 33
E1
1st Tom McCormack -47
2nd Peter Boyle -47
3rd Scott Keegan – 40
E3
1st Glenn Kearny – 47
2nd Jarrod Bewley – 45
3rd Stefan Granquist – 42