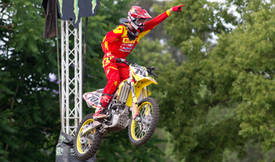 Motorcycling Australia (MA) is pleased to announce the dates for the 2012 Australian Supercross Championship. 
Media Release: 19 June 2012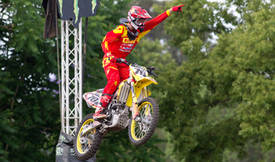 The Championship will be run by International Entertainment Group (IEG) over four rounds in New South Wales, Victoria and Queensland.
Round

Date

State

Location

1

13 – 14 October

NSW

Dubbo

2

27 October

VIC

Phillip Island
(alongside MotoGP)

3

17 November

NSW

Newcastle

4

24 November

QLD

Toowoomba
Motorcycling Australia CEO David White is excited about the opportunities the calendar will deliver for riders and spectators alike.
"Supercross is an exciting element of Australian Motorcycle Sport, and MA is thrilled that the 2012 calendar will bring that excitement to crowds throughout New South Wales, Victoria and Queensland," White said.
"We are also thrilled that, for the first time, Motorcycle Sport fans attending the MotoGP will get the opportunity to witness this great Championship in action.
"MA is looking forward to watching the 2012 Championship unfold across these four locations throughout October and November."
IEG Managing Director Yarrive Konksy is looking forward to taking the sport of Supercross to audiences across the country.
"Our goal is to increase our audience ship and profile the sport to new customers, whilst maintaining traditional values by making it affordable to our existing ones," Konsky said.
"The sport of Supercross is amazing and our Australian talent is dynamic and fast. The 2012 Championship will provide thrilling racing and entertainment at affordable prices."
For all the latest news and information in the lead up to the 2012 Australian Supercross Championship, make sure to visit www.ma.org.au.