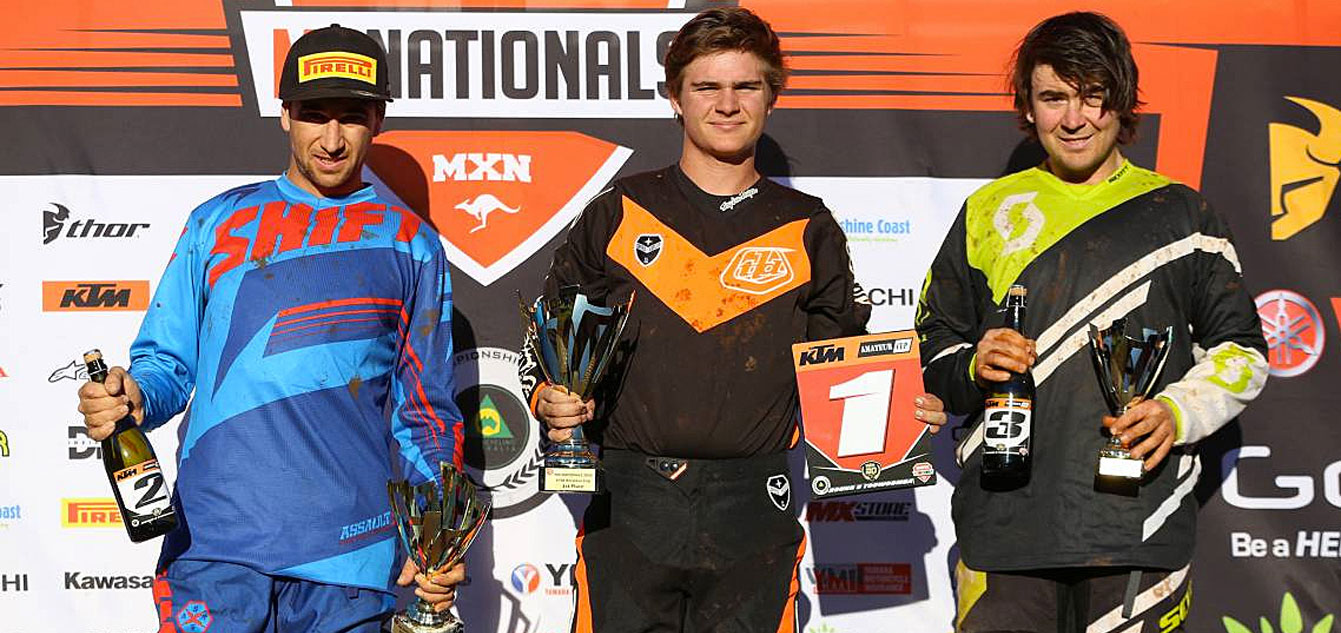 The 2016 KTM Australian Amateur Cup was run and won at Round 9 of the Motul MX Nationals at Toowoomba yesterday, with KTM's very own Brad Polsoni collecting the championship honours in front of a full house of spectators at Echo Valley.
Press Release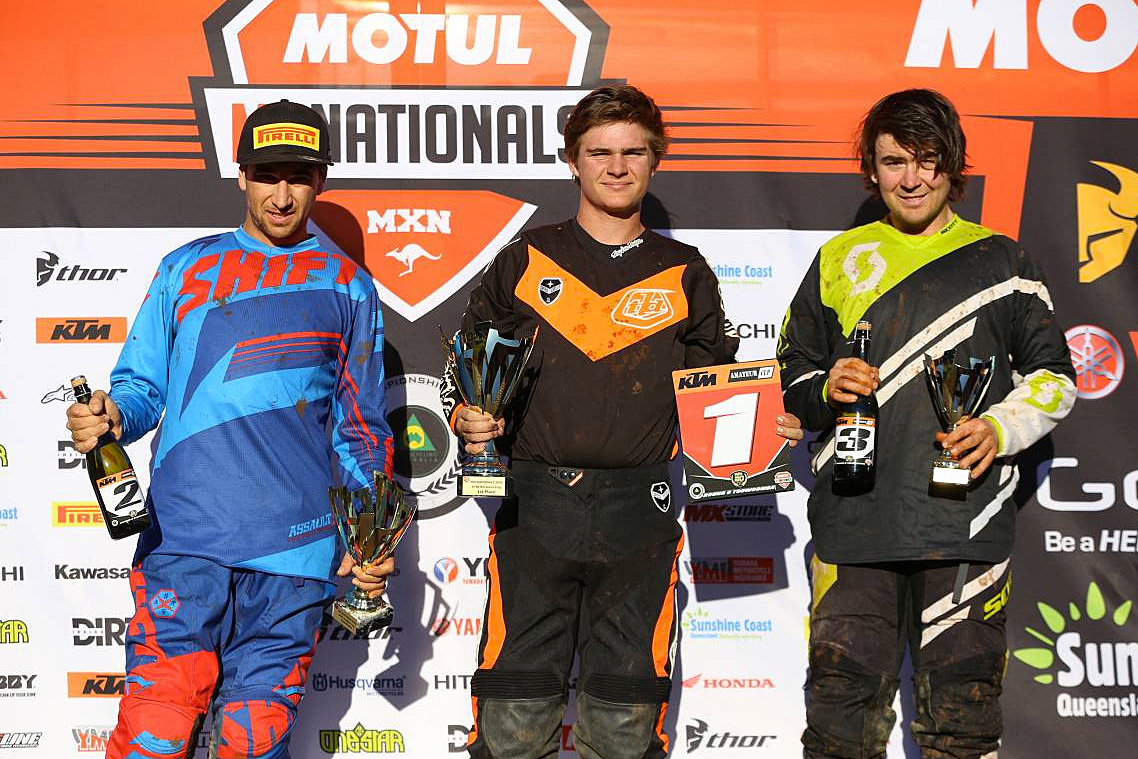 Polsoni was unstoppable from the minute he headed out onto the picturesque Toowoomba circuit yesterday morning, setting himself up with the fastest qualifying time, (1:52.369) leaving the likes of Callum Wastell (KTM) and Jesse Bishop (KTM) to chase his tail more than six seconds behind.
When bikes lined up for race one just after lunch, an impressive 23 riders stared down the start straight, ready for gates to drop. And it was no surprise to see Polsoni's KTM take the MXStore holeshot, but after one lap it was KTM's Reece Hoffman who was in the lead position.
After two laps though, Polsoni moved in to the top spot, a position which has become very familiar to him throughout the Amateur Cup championship. Second fastest qualifier Wastell also managed to get by Hoffman to move in to second, while Hoffman was forced back to third position.
With four laps in the books, the running order saw Polsoni continuing to lead, while Hoffman had reclaimed second position ahead of Wastell in third. Bishop, and Kawasaki's Jonathan Wheeler completed the top five standings, while Lachy Steen, Justin Hill, Nathan Krause and Daniel Figueroa all held down positions inside the top ten.
But as race one progressed, it was clear that no one was able to get close to Polsoni's undeniable form, stretching his lead out to more than ten seconds with only one lap remaining.
And when riders crossed the line for the final time in moto one, Polsoni took the race one victory, followed by Hoffman in second and Wastell in third. Bishop and Newton took fourth and fifth places respectively.
Wheeler, Steen, Hill, Figueroa and Krause all wrapped up moto one inside the top ten.
When the final race of the year kicked off for the KTM Amateur Cup class, riders knew that straight after racing commenced that the 2016 champions would be crowned.
And with a victory on his mind, Polsoni once again launched in to the early race lead, ahead of Hoffman in second and Bishop in third.
With five laps run, once again no one could get close to Polsoni's KTM machine, meanwhile behind him, Hoffman and Bishop continued to maintain second and third positions, from Wastell, Wheeler and Figueroa.
As race two reached it's closing stages, Polsoni was in the box seat to go undefeated for the entire series – but with only one lap remaining, Hoffman found the KTM leader's rear wheel and made his move, snatching away the race lead from Polsoni, one which he could not reclaim.
And when the chequered flag flew for the final time yesterday, it was Hoffman who secured the final KTM Amateur Cup race victory, followed by Polsoni who crossed the line in second, while Bishop held on for third.
However, despite finishing in second position on the Round podium alongside Hoffman (1st) and Bishop (3rd) yesterday, the man of the moment was Polsoni at Toowoomba. Collecting the 2016 KTM Australian Amateur Cup title with an impressive 207 points, ahead of Suzuki's Joel Newton who wrapped up the championship in second, followed by Justin Hill whose consistency saw him awarded with third.
Brad Polsoni – KTM Australia – KTM Australian Amateur Cup Championship Winner
"I'm so pumped to wrap up the championship in Toowoomba. I almost went undefeated for the entire series, but I had to jump on the 125 for the second moto, so I did the best that I could," Polsoni shared.
"I've had a great series and the entire MX Nationals team have done an awesome job. The tracks have been good, and every round has been a lot of fun, so hats off to everyone involved with making the KTM Amateur Cup happen.
"Next year I think I might move up to MX2 or MX1, so this has been an awesome platform for me to dip my toe in the water, get some good experience, and race on the same tracks that the pros do. It's faultless and I'm really proud to have been a part of it."
KTM Australian Amateur Cup Round 9 results
1) Reece Hoffman 67 points
2) Brad Polsoni 67 points
3) Jesse Bishop 58 points
4) Callum Wastell 58 points
5) Jonathan Wheeler 51 points
6) Joel Newton 50 points
7) Daniel Figueroa 47 points
8) Justin Hill 46 points
9) Lachy Steen 46 points
10) Nicholas Davis 40 points
KTM Australian Amateur Cup Championship standings
1) Brad Polsoni 207 points
2) Joel Newton 151 points
3) Justin Hill 129 points
4) Kerrod Morrissy 126 points
5) Daniel Figueroa 108 points
6) Lachy Steen 101 points
7) Connor Cook 100 points
8) Nicholas Davis 89 points
9) Daniel Webber 79 points
10) Nicholas Russell 68 points