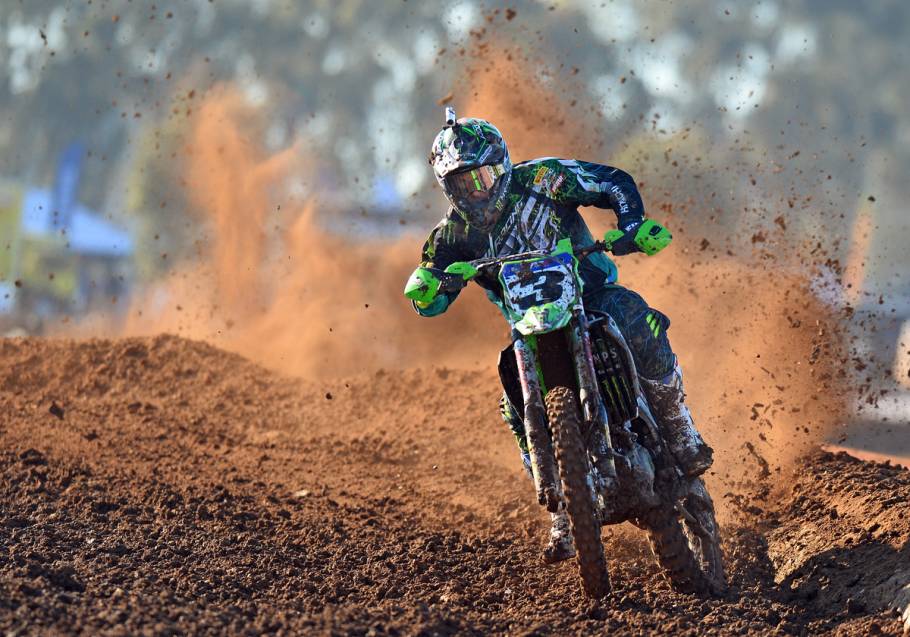 The NPS Monster Energy Kawasaki Racing team have their sights set on a title at the upcoming 2015 Australian Supercross Championship.
By Hayden Gregory
Under the watchful eye of Australian motocross legend Troy Carroll, team mates Adam Monea and Dylan Long have been preparing for the season opener at Bathurst in a week's time.
Adam Monea finished the motocross season on a high winning the final moto and securing third place overall in the championship. He will be looking to continue this hot run of form as he hopes to one up his performance of last year. Monea finished runner up in the 2014 supercross series.
"I one-upped my motocross racing this year so hopefully that's a sign that I'll do one better and take out the Supercross this year as well." Monea said.
"Myself and the team are always chasing bigger and better results. The new KX450F is unreal and the team has the bike set perfectly after testing so I think we're in for a winner this year."
Team mate Dylan Long had a breakout year in the MX Nationals as he replaced the injured Jake Moss midway through the series. The 20 year old even managed to score his first race victory aboard the factory KX450F.
"Riding the new KX450F for the first time was as if I had ridden it before," Long commented. "It was so easy to get used to and the changes made to the ergonomics mean that you can work it a lot easier around the track. The power is awesome, it's so light and you pretty much feel like you're on a KX250F but you've got the power of a KX450F and a quick one at that."
"We've already spent plenty of solid hours testing and it's payed off because now the bike feels unbelievable and it's the best fit I've had for a long time so I will be out there to put it right up the front."
Team Manger Troy Carroll is of the belief that these two riders could score impressive results in this year's supercross season. Both riders have had a strong showing in the MX Nationals and there is no reason for them not to be serious contenders as the gates drop in Bathurst.
"Both riders are fit and healthy and we been testing with the new KX450F," Carroll said.
"We are nothing short of excited to see strong progression from each rider after a brilliant performance in the MX Nationals. It's unfortunate that Jake Moss is still recovering from a leg injury but we are glad to have Dylan continue on and ride in his place."
"Adam is one of the favourites to take out the Supercross this year and if he stays injury free then we have everything in place for him to achieve that. Dylan is progressing nicely for his first ride on a factory 450cc. Results from testing on the new KX450F are positive and you can tell from his Supercross training that he is going to be one to look out for so overall the outlook is very positive and we are happy," Troy commented.
"The last five weeks have been very busy with a lot of development that goes into setting up a new factory racing bike and the team mechanics have been on the ball to have put together a machine that we are very, very excited to start racing with. There is a fair bit of difference between Motocross and Supercross setup and the new model is super responsive so we are really looking forward seeing what the riders can do with it."