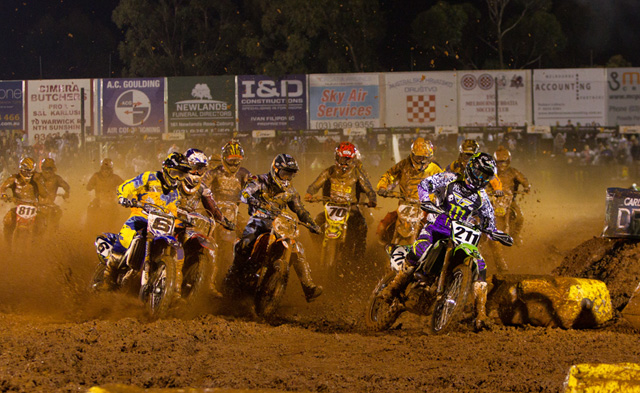 Super X will not go ahead in 2012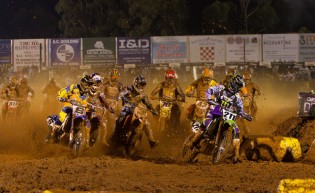 Wednesday February 15, 2012; Global Action Sports has today confirmed that Super X, the Australasian Supercross Championship, will not go ahead in 2012 or future years due to a number of factors leading to a substantial financial loss over the past four years.
Super X exploded onto the Australian market in 2008, taking the profile of supercross to a whole new level. Live television coverage of every round, which was a first for any series in the world, revolutionary new race formats, world class tracks at premiere venues around Australia and New Zealand as well as the biggest supercross crowds and international riders ever seen in Australasia, resulted in recognition around the world.
However despite the positive reception to the series, a successive decline in ticket sales from year one has left the series financially non viable after four consecutive years of losses and a multimillion dollar investment in the sport.
Managing Director of Global Action Sports, Michael Porra, said he was incredibly disappointed with this outcome.
"It is with very heavy hearts we have made this decision, but the bottom line is that there are not enough paying fans to support the huge expense of putting this series on. Even in year 2 with Chad Reed racing at every round we saw a significant decline in ticket sales where we averaged approximately 6,000 fans per round. This trend continued in year 3 and in year 4 we averaged only 3,500 fans per round resulting in a 7 figure loss.
"Australia is a very competitive market for action sports as well as mainstream sport and entertainment, and this combined with a very poor economy has definitely played a huge factor in this unfortunate outcome.
"We had a very ambitious vision for the sport of supercross in Australasia and have invested millions of dollars into this series, but unfortunately there appears to be no light at the end of the tunnel and we cannot afford to continue with these huge losses.  
"I have very much enjoyed my time getting to know the sport and along with my team, we have done all we can to try and make the series a success. I really hate the thought of giving up, but I am left with no choice.
"I would like to thank Motorcycling Australia, Monster Energy, Williams Event Management and everyone who has contributed to the series over the years and wish them all the best for the future," concluded Porra.
Kevin Williams of Williams Event Management who has been involved in the series since its inception said "I have had a great working relationship with Michael and the team at GAS over the last four years and shared their vision for supercross in Australia, so I am very disappointed with this outcome, but understand their decision.
"I would like to personally thank them for all of their hard work and investment in the Australian motorcycling industry. I have learnt a lot during my time working on the series and I know our industry will continue to benefit from the huge contribution they have made," concluded Williams.
Finally, CEO of Motorcycling Australia, David White, added "It is unfortunate that Global Action Sports cannot see their way clear to continue with the promotion of the Australian Supercross Championship, however we have to face reality and accept the company cannot continue promoting where there is not an opportunity for profit and to recover their past losses.
"Mike Porra had a vision for this exciting sport, but that vision could not be turned into commercial reality. He tried very hard to make it work, had some wonderful promotional and staging ideas, and absolutely gave it his best shot. Economically things were tight globally literally from the first event and this economic climate did not help. I thank Global Action Sports for their involvement and hope they may see their way forward to be involved in our events into the future."