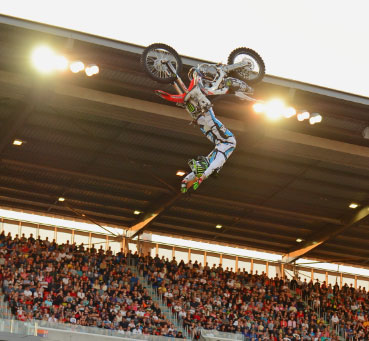 17,000 spectators turned out for Nitro Circus Live in Newcastle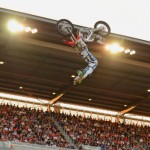 It was a show for the record books on Saturday night; with 17,000 excited fans packing into Hunter Stadium for the biggest show Nitro Circus Live has ever performed in Australia.  The crowd was completely blown away by the non-stop action, witnessing two of the most incredible world-first stunts ever performed on tour.
After a string of unsuccessful attempts leading up to Newcastle, anticipation was high for twenty-year-old snowboarder Brandon Schmidt, who had been striving to land an impossible, triple backflip off Nitro Circus Live's daunting, 50-foot-high Gigant-A-Ramp.  With the crowd at the edge of their seats, the kid from New Jersey, USA, launched himself off the ramp and landed the world-first in perfect, textbook fashion.
Not to be outdone by his friend, contraption kid Ethen Roberts decided to step-up his amazing hole-in-one stunt, where he launches off the Gigant-A-Ramp into an inflatable zorb ball, by adding a front flip.  Fans leapt to their feet as the twenty-three-year-old from Utah, USA, launched himself with pin-point accuracy off the ramp, into a front flip and landed inside the zorb for the world's first – front flip into zorb.
The adrenalin-charged spectacular featured 40 of the world's best action-sports athletes, including three of the Hunter region's greatest action sports stars, FMX rider Chucky Norris and BMX riders Jaie Toohey and Andy Buckworth.  All three riders put on great shows for their home crowd with Toohey landing his signature – backflip triple tailwhip and Buckworth landing his double front flip in a Newcastle Knights jersey.
But it was extreme wheelchair athlete Aaron 'Wheelz' Fotheringham, who showcased the Nitro spirit best of all, racing straight back to the top of the Gigant-A-Ramp after missing his first attempt at a front flip.  The crowd rallied behind the inspirational star, clapping in unison as he flew down the ramp and landed flawlessly for the enthusiastic fans.
The action-packed show capped off an incredible first tour for FMX star and 16-time X-Games medalist Nate Adams, who joined Nitro Circus Live for, four select shows during the 14-stop Australian Regional tour:
"I had an absolute blast and can't wait to join these guys for another tour again soon," said Adams.  "Nitro Circus Live is like one crazy, big, happy family and I know they'll keep pushing themselves and killing it for fans for the rest of the tour."
Newcastle was the eighth stop in Nitro Circus Live's 14-stop Australian Regional Tour, which will also visit Toowoomba, Coffs Harbour, Sunshine Coast, Townsville, Cairns and Rockhampton.
Tickets are on sale now through www.nitrocircuslive.com.  For all tour updates and behind the scenes content visit www.nitrocircuslive.com
For more information, hi-res images or to request an interview please contact:
Sophie Walton
02 9979 5322 / 0404 507 975
Editor's Note:
In 2010, the first ever Nitro Circus Live tour in Australia became the highest grossing action sports show in Australian history.
In 2011, Nitro Circus Live completed a record-breaking tour of New Zealand, which out-sold global performing acts like AC/DC as well as the sold out one-off show in Las Vegas.
In 2012, Nitro Circus Live's first European tour sold over 155,000 tickets including a record audience of 28,000 at Arnhem in the Netherlands and selling out the famous O2 Arena in London.
2013 Australian Regional Tour Schedule:
| | | |
| --- | --- | --- |
| DATE | CITY | VENUE |
| Saturday, March 9 | Devonport, TAS | Devonport Oval |
| Wednesday, March 20 | Geelong, VIC | Simonds Stadium |
| Saturday, March 23 | Latrobe, VIC | Latrobe City Sports Stadium |
| Saturday, March 30 | Wagga Wagga, NSW | Robertson Oval |
| Saturday, April 6 | Wollongong, NSW | WIN Stadium |
| Saturday, April 13 | Orange, NSW | Wade Park |
| Saturday, April 20 | Gold Coast, QLD | Skilled Park |
| Saturday, April 27 | Newcastle, NSW | Newcastle Stadium |
| Saturday, May 4 | Toowoomba, QLD | Toowoomba Showgrounds |
| Saturday, May 11 | Coffs Harbour, NSW | BCU International Stadium |
| Saturday, May 18 | Sunshine Coast, QLD | Stockland Stadium |
| Saturday, May 25 | Townsville, QLD | Dairy Farmers Stadium |
| Saturday, June 1 | Cairns, QLD | Cazalys Stadium |
| Saturday, June 8 | Rockhampton, QLD | Browne Park |
Sophie Walton
PR Manager
Nitro Circus Live Pty Ltd
Ph:+612 9979 5322
Fax:+612 9979 5311
Mob:+61 404 507 975