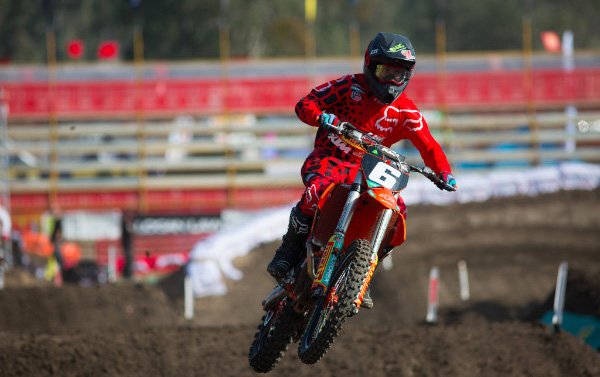 Raceline Pirelli KTM will field two riders at Round 2 of the Australian Supercross Championship at Bacchus Marsh this weekend, with Morgan Fogarty returning from injury, Jay Wilson continuing his SX2 Championship campaign, while team regular Jayden Rykers will not line up this weekend after suffering a training accident.
After making his Supercross debut for the team at Jimboomba, Rykers was optimistic that further training would assist in delivering positive results, however the Western Australian suffered a broken collar bone and shoulder injury whilst practicing that will rule him out for the next two rounds of racing.
With Rykers sidelined, experienced Wilson will hope that his time spent living in Bacchus Marsh will provide him with additional confidence this weekend, and that he'll be working towards an SX2 podium after falling just one position shy at Round 1.
"Since round one I've been working really hard in preparation for this weekend. We were so close to a podium at Jimboomba, so that's the goal for Saturday night," Wilson shared.
"My fiancé is from Bacchus Marsh and I actually lived here for a year so it sort of feels like my second home. It's not often that we get to race in small towns like this so I'm looking forward to getting under lights at a familiar track.
"Throughout the past three weeks we have focused on improving on a couple of things and also getting in some more off the bike training. I'm in a positive frame of mind and I know what the KTM is capable of, so I'll be doing everything I can to finish on Saturday night with a positive result."
For the team's youngest rider Fogarty, Bacchus Marsh provides a welcome location for him to make his 2017 Supercross debut, and shared that with his injuries now behind him, that he's looking forward to going racing once again this weekend.
"It's my first race back from injury and I'm feeling good. I'm still a little bruised but I'm ready to go racing," Fogarty shared.
"Bacchus Marsh is a home round for me which does make me more excited. I'm having a heap of mates coming to watch which will be cool.
"For me there's no expectations – I just need to get through this round and see where we stand so we can make improvements for the next round, all I want is to be getting better each weekend."
The second round of the 2017 Australian Supercross Championship will take place at Bacchus Marsh in Victoria this Saturday October 14.
To follow Raceline Pirelli KTM's progress this year, like 'Raceline' on Facebook or follow @raceline_motosport on Instagram.