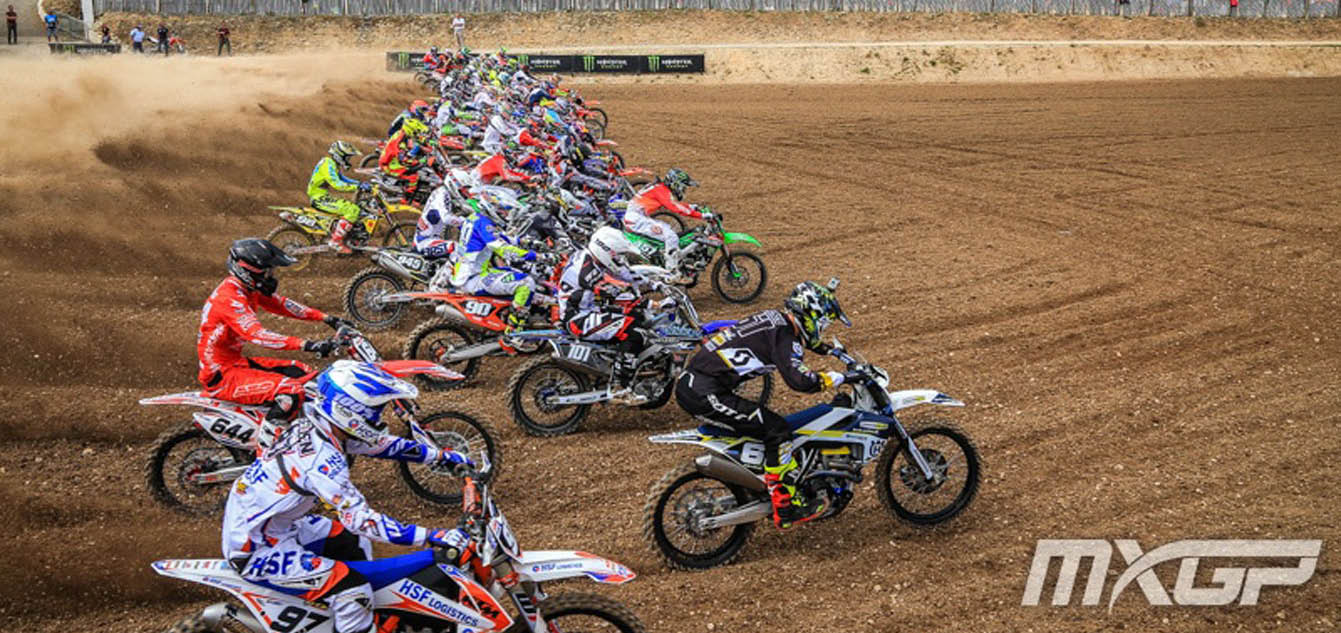 Hear from our stars following round ten of the World Motocross Championship.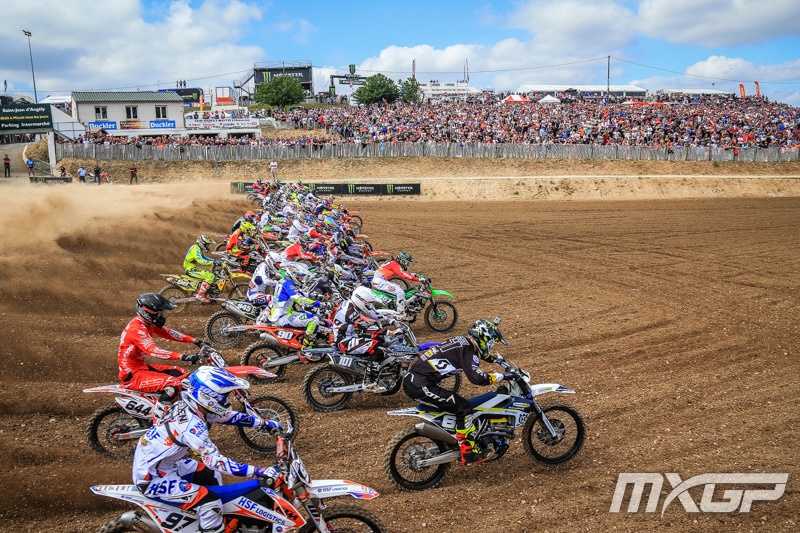 Romain Febvre (1st MXGP): "To celebrate my new contract by winning at home makes me very happy. I'd like to thank Yamaha with this victory today. To win a GP, especially the home GP, in front of the crowd is awesome. We had a good feeling in the morning and worked hard on the start for the track here at Saint Jean d'Angély. The mechanics and directors saw every detail in the paddock and every turn on the course and we won this all together."
Tim Gajser (2nd MXGP): "That was some good racing with Romain today – we were pushing so hard. I'm really pleased with the win in the first moto because I caught and passed Romain, but then he was really on my rear wheel and there was no space for a mistake. It was hard racing! But it was a big win so I'm very happy for that. In race two I made a better start and took the lead but we made some changes to the bike that didn't work as well. Again we were pushing so hard but towards the end of the race I had some problems passing lapped riders because the lines are not so easy for overtaking. I decided to close the gas a little and finish in second place. In the second half of the season it's not everything to go out there and give 100 per cent – sometimes you also have to be smart and know when to settle for position instead of risking crashing and losing points. We finished on the same points so the championship lead is the same, and congratulations to Romain to win his home GP."
Evgeny Bobryshev (3rd MXGP): "I'm happy with this weekend – with the win in the qualifying race and the podium today with third. Actually I had two quite boring races where I was just on my own for pretty much the whole time – behind Cairoli in race one in fourth, and then in third in race two. I want to congratulate Tim and Romain though because they were just so fast today. I was behind them at the start in race two and they just pulled away. I struggled a bit with the starts and couldn't find the lines and a proper flow, but we've had a strong and consistent and bring home good points to close up on third in the World Championship, so I'm happy."
Antonio Cairoli (4th MXGP): "It 'was another weekend not good for the standings unfortunately. In the first race I managed to take a good start and the third place is a result that satisfies me, also because I didn't had the speed to stay ahead. Between the two moto we worked on the bike and we have made changes that have gone in the right direction, because during the comeback, after the crash at the start in race two, I felt at ease, both with my riding and on the bike. The physical training is going well, if anything, the problem today was caused by too many mistakes and too many crashes; I am, however, satisfied with the speed and determination with which I reassembled in the second round. We must continue to work hard because right now in front they have a higher rhythm than our."
Clement Desalle (5th MXGP): "Saturday started pretty well. I surprised myself with the second position in the timed practice period and then I led the qualifying race for several laps. It was good mentally, but I had a bad line in one section and lost three positions there. Anyway fourth was a good gate for the GP races; in the first race my start was not so good but I came back sixth before two mistakes dropped me back to eighth; I wasn't so happy with my riding and we changed some settings for the second race. My start was even worse than the first one and I was eleventh after one lap but I had some good lines and came back fourth which is not so bad; the rhythm is really high now in MXGP and if you are not in the top five at the start it's tough to get on the podium."
Glenn Coldenhoff (6th MXGP): "It wasn't there with my times but I felt good on the bike. The first moto I took a very good start behind Tony in second place but in the beginning I couldn't find my rhythm and dropped back to finish ninth. The second moto was not so good out of the gate and I think I took a wrong line. Then I made a mistake in the second lap and many guys passed me. But I managed to take them all back. This was my strongest race of the year after a lot of hard work."
Max Nagl (8th MXGP): "It's been a very difficult weekend for me. I got food poisoning on Thursday so as soon as I arrived in France I went to the hospital and was forced to spend the whole day there. I decided to race this GP but the truth is that I was feeling extremely tired during the whole weekend because of the sickness. Even my reaction time and concentration were really bad and I think that's why I couldn't get the starts I'd hoped for. I had two bad starts and then I couldn't get a competitive race pace in any of the two motos. I tried many different things but nothing seemed to work so I'm happy with eighth overall from this GP. My goal now is to take some time off to help my body recover from the sickness and then immediately get back to work for the GP of Britain."
Jordi Tixier (9th MXGP): "It was much better this weekend than in Spain, with some good starts and that's helpful to get better results ! My second start was the best of the weekend, and it was great to race for several laps with Nagl, Clement and Guillod; I pushed really hard to stay with this group, but in the last part of the race I didn't have enough energy to keep this speed. I had such a long period without riding that I need some more time to recover, but the feeling is good and I know that in a few weeks I will be faster and stronger. I'm back in the top ten and that was a first goal, now I will take one day off to recover and then we'll move in the Netherlands to train with the team."
Jeremy Van Horebeek (11th MXGP): "I had an awesome start, and then I couldn't avoid the guy who crashed in front of me. It took me a minute to get the bike off of him, and it was just bad luck, because once the race is gone all you can do is chase and try to hold on to some points. I'm really happy with what I did today, but bad luck just ruled the day. I really hope my wrist gets better in the next two weeks, and I think a podium is coming soon."
Christophe Charlier (13th MXGP): "Overall, it's been a positive GP for me. Despite crashing in the qualifying race I rode great in both final motos improving on my speed as the racing went on. I got a good start in the opening moto and battled with the top guys to end up in 11th position. Then in the second moto I started in eighth place but a small mistake dropped me to 14th at the end of the race. I feel that my riding in both motos has been good and I'm happy we're making steps towards the right direction. I feel stronger now. The plan is to continue working hard in order to come back even stronger in the United Kingdom."
Tommy Searle (14th MXGP): "Four laps into the first race the rear brake line was damaged and I couldn't stop at the bottom of a hill so I crashed. I thought it was a stone at first but when it happened again I realised what had happened. I tried to continue but it was just too dangerous to ride a track like this with no rear brake so I had to stop. I got a good start in the second race but I made a small mistake which dropped me from fifth to eleventh. I got back to sixth again before I had more problems with the rear brake again; there were only two laps to the finish this time so I carried on to finish ninth. I hope for better luck in my home GP two weeks from now.
Jeffrey Herlings (1st MX2): "We made it ten in a row this season, I've only lost one moto where I finished second and we should be really happy. This track is not one of my favorites but my first moto was good, the second not so good but overall with the qualifying and the two motos we won all three races. I think we can look back on a very good weekend."
Benoit Paturel (2nd MX2): "After Spain I am on a good path. I hope I can continue, and I'm really happy about my riding this weekend. The public was incredible here, and even though I am from far away in Lyon, France is France! I had good starts today and a good rhythm. To lead the first moto for 25 minutes makes me very happy and I am grateful to the team for having all the professional preparations to take this result."
Jeremy Seewer (3rd MX2): "I'm happy to be back on the podium because I missed it in the last two GPs because of some crashes and some bad luck and bad starts. That's part of it! We worked hard on the starts and to almost have two holeshots was amazing for me. There was some great racing. I wasn't feeling so good in the first moto but I managed to finish third and in the second it was a great battle. A little mistake cost me third position but I pushed hard. I also had some bad luck by finding a tuff bloc in the middle of the track that cost me a few seconds; and on a track like this it is so hard to make it back."
Pauls Jonass (4th MX2): "I'm not the best rider on tracks like this but my speed was pretty good yesterday and I had a good start in qualifying. Today I didn't manage to get good starts. It was difficult to pass and you needed to take some risks. Maybe I was struggling a bit in passing guys but I finished with two fifth places and fourth overall. I put in two consistent races and I'm third in the points. Now we're going to sandier tracks and that's better for me, so I'm looking forward to the next GPs."
Dylan Ferrandis (5th MX2): "I'm disappointed with the results, I had two very bad starts as I was last in the first corner. I couldn't get good starts on this ground, and then I had to fight for the entire thirty-five minutes to come back in the top eight. I had no fun riding on this track, and everything seems to go wrong at the moment as I'm still waiting for my knee braces and equipment as the airplane company lost my luggage from Spain. Now we have two weeks to recover before Matterley; let's hope that they will do a good track preparation."
Aleksandr Tonkov (6th MX2): "I'm very satisfied with the race today, because my health has improved since my injury before Latvia to the point where I could train last week. But in the second moto I crashed and after that my brake was broken and I couldn't use as much speed on the hills here. We have two weeks now to work on my health and I think when we get to the UK I will be closer to 100 per cent than now. The breathing is still painful, but we are working with the team and the doctors and every day is a little bit of improvement."
Max Anstie (9th MX2): "It's always nice to race in France. The first race didn't go to plan. I didn't get a good start and then I crashed. Obviously I didn't have the best race in moto one, but came back a lot stronger in race two. We've made a few changes with the bikes in between the races and I think we made the right decisions. In the second moto I got the holeshot and had some really good battles with the top guys, making some great passes as well. I just finished behind Jeffrey, which was nice to get a little bit of confidence back. I'm happy with my performance in the second race and we can now go from there. It's a shame we've been a bit inconsistent but this second race was really good. We now head to my home GP and I'm looking forward to going back to Matterley Basin."
Petar Petrov (10th MX2): "I don't know how it happened but in the first moto I lost the silencer and then the bike had less power. I still finished ninth but I got a penalty of five places so I was classified fourteen. In the second moto I had a decent start and finally I felt comfortable with my shoulder and thumb and I could push to finish eighth. It's not that good, but it's a good way to start building up for top five results again. I learnt a lot about my shoulder and my thumb this weekend; I have now the confidence and the feeling I was missing last weekend and we have now two weeks to prepare for the UK."
Conrad Mewse (12th MX2): "We've worked hard after the last GP. We made some big improvements with the bike and with myself and that gave me extra confidence to push this weekend. Saturday went well for me and I got away with a 13th place in the qualifying race. I had my best race so far in the first moto. I got a great start and finished eighth. It was my career best result and I was really happy with it. Then in the second race I started outside the top 20, but pushed hard to finish 18th for 12th overall. I'm really happy with how the weekend went. I might have struggled to find my feet in the first rounds but now I've had one good race and one good GP so hopefully I can continue from there. Next up is my home GP and I know that if I can get good starts I can battle for top results."