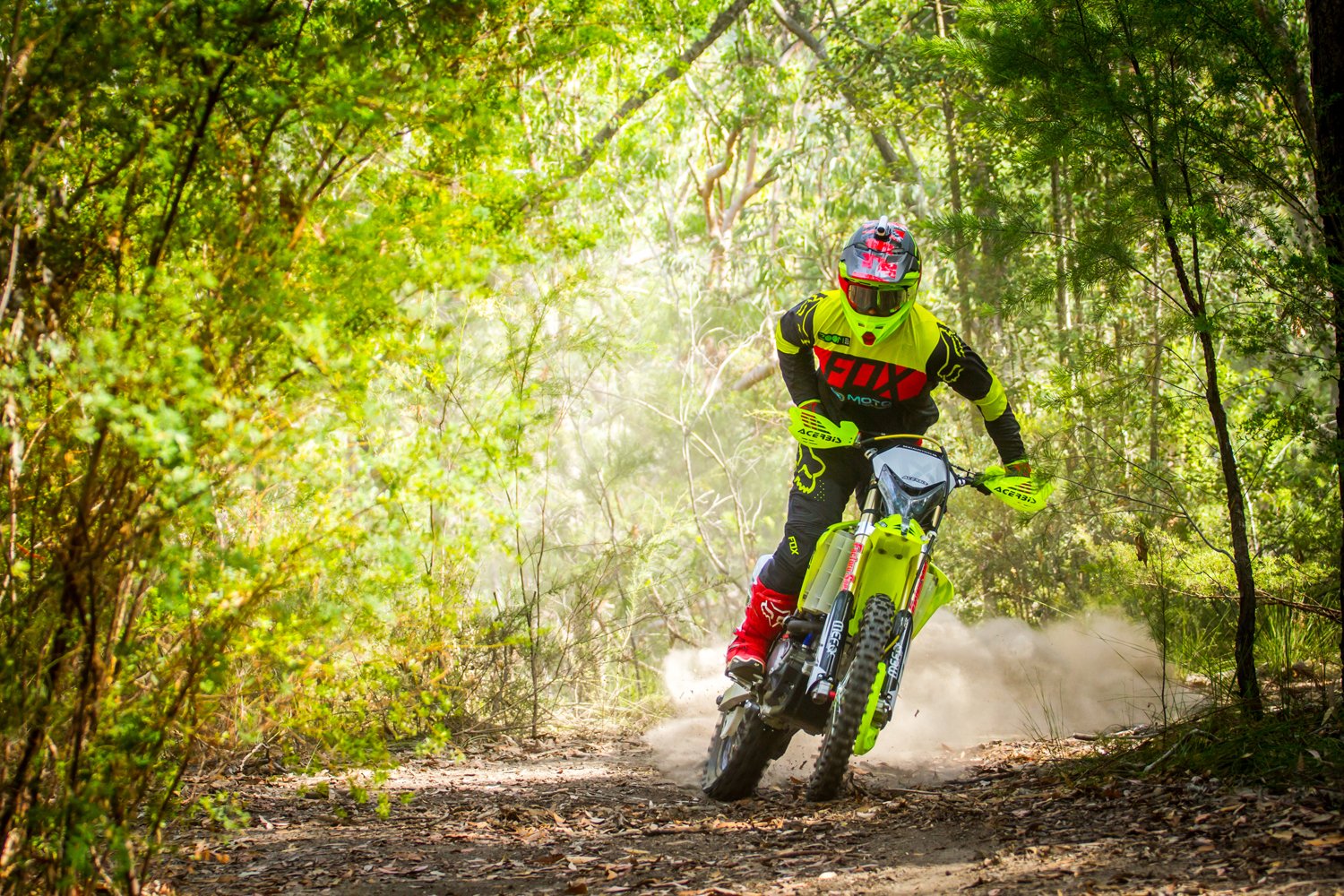 TRAIL WEAPON
We hit the dirt on MX1 Australia's hi-vis, high-bling Suzuki RMX 450 trail weapon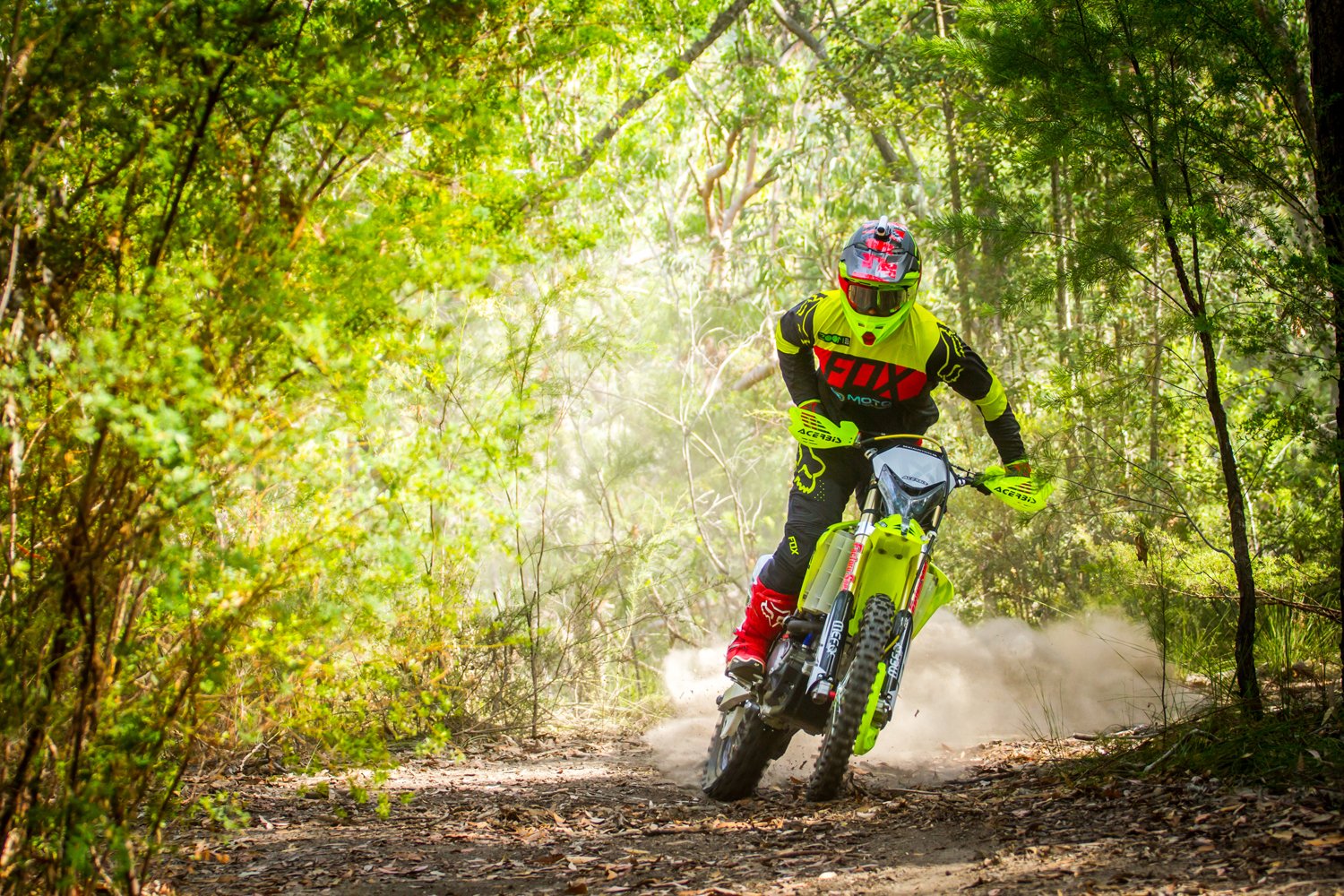 WORDS SHANE BOOTH
PHOTOGRAPHY MATT BERNARD
Here's a bike that will stop anyone in their tracks. If you catch this thing on the trail you won't be able to miss it; it has a very unique look thanks to the contrasting fluoro yellow and black plastic. It's the pride and joy of MX1 Australia, but don't mistake it for a showpiece — it's built for riding and is often out on the trails.
THE LOOK
This is where this bike gets your attention. The Acerbis fluoro yellow and black is such a great combination: it catches your eye and then holds your attention. The graphics are low key with all-black logos and clear backgrounds to let the bright plastic do its thing. Once you're looking you'll start to notice all of the other parts that have been bolted on, many of them very impressive pieces of billet alloy. The Acerbis fluoro handguards and front disc cover really set the whole look off with the bright front end through to black rear-end look. Black rims were a no-brainer here and look spot on. What I like is that aside from the fluoro plastic the parts silver where possible rather than everything being anodised in colour. For me, that's what really makes this package work so well.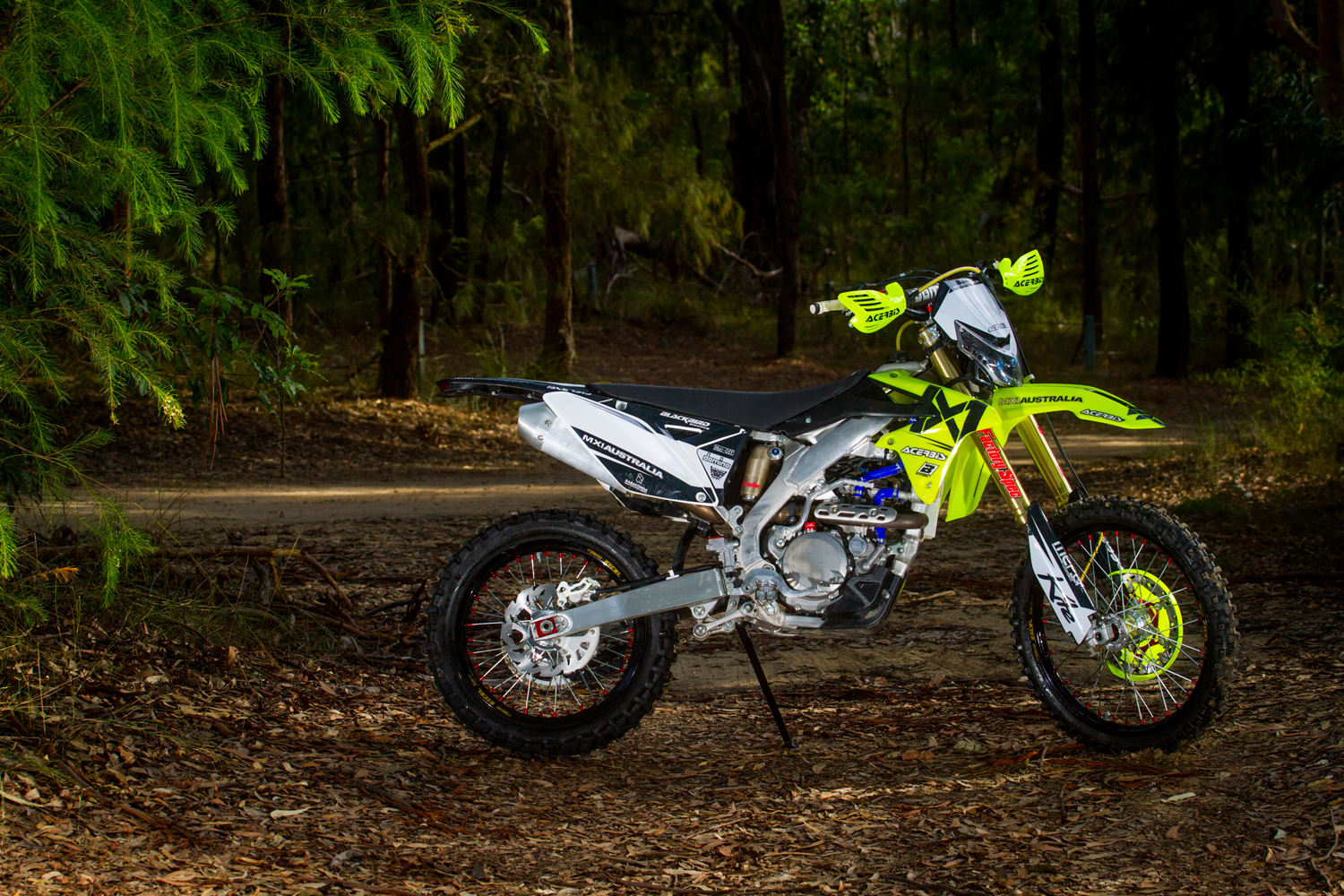 BRING ON THE BILLET
Look closely and you'll see that there's a truckload of Kite billet parts on this bike. Let's start with the triple clamps, a true work of art and very trick looking in their bare alloy state. I must say the silver is a breath of fresh air; I think after seeing this I'm a little colour anodised out. There's a red bar mount and stem nut but that's it. While we're on the silver look, the billet hubs and footpegs follow suit and look very impressive up close. There are a few small Kite parts that are anodised red, though: the chain adjuster blocks, spoke nipples, brake reservoir caps and engine plugs all add a tiny charge of colour to the bike but don't take over. All of these Kite performance parts are very impressive. In a market with plenty of cheaper alloy parts, it's nice to see some premium-quality billet again. Sure, you'll pay for it, but what you get is superior. You'll also be using the same stuff as plenty of factory teams.
THE BRAKES
So far most of the stuff mentioned has been purely cosmetic but this is where we start to talk performance improvements. The bike is fitted with Kite's air brake rotors, an oversized 270mm front disc and a standard rear. The way these discs are manufactured is what makes them different from most: the discs actually start as 12 pieces and are then assembled using aeronautical welding technology. This means the way the material heats up during use is much more uniform and that the disc cools much more efficiently. The way the material fibres run on the disc also helps with brake pad bite and feel. The end result is brake performance as good as anything I've ridden and, although I didn't ride for hours and hours on end, there was no fade with what I did do.
ENGINE & SUSPENSION
The engine has been left standard on the RMX essentially because there's more than enough performance for what it's used for. The crew at MX1 didn't feel the need to add any horses and are more than happy with that side of things. They did however send the suspension off the Factory Spec for a tweak. They were treated to a revalve and some heavier springs were added. The setup was fairly aggressive for a trail bike but, being comfortable on MX bikes, it suited me well. It wasn't harsh, just firmer than standard — and probably more along the lines of what you'd find in an off-road racer.
NO FLATS HERE
The bike is fitted with Mefo tyres and mousse tubes and this was something I was looking forward to trying. I've ridden with mousse before and in off-road conditions I think they're the go. They sure helped the bike handle the small stuff like tree roots and rocky edges, considering how firm the suspension was. Mousse just deadens the ride a little but in a good way — a little less deflection off things, which is nice on the trail. The relatively little-known Mefo tyres were fine to ride with; it was my first time using them and I had no problems there.
WHAT ELSE?
A very trick Trail Tech sidestand is fitted to this bike along with some practical protection in the form of an Acerbis bashplate. The Domino handlebars and grips are of the highest quality and very hard to fault. There's a blue hose kit, which is another nice touch. The headlight is an Acerbis unit that definitely stands out — probably a love-or-hate item but I think it works well on this bike. The taillight is also an Acerbis LED piece and, although hardly noticeable, is a very tidy little unit. Under the black rear fender it pretty much doesn't exist until it's lit up.
That just about covers it. It was a pleasure to ride and if you're keen on a trail bike that will be the envy of your mates, take some notes on this thing. You can't go wrong.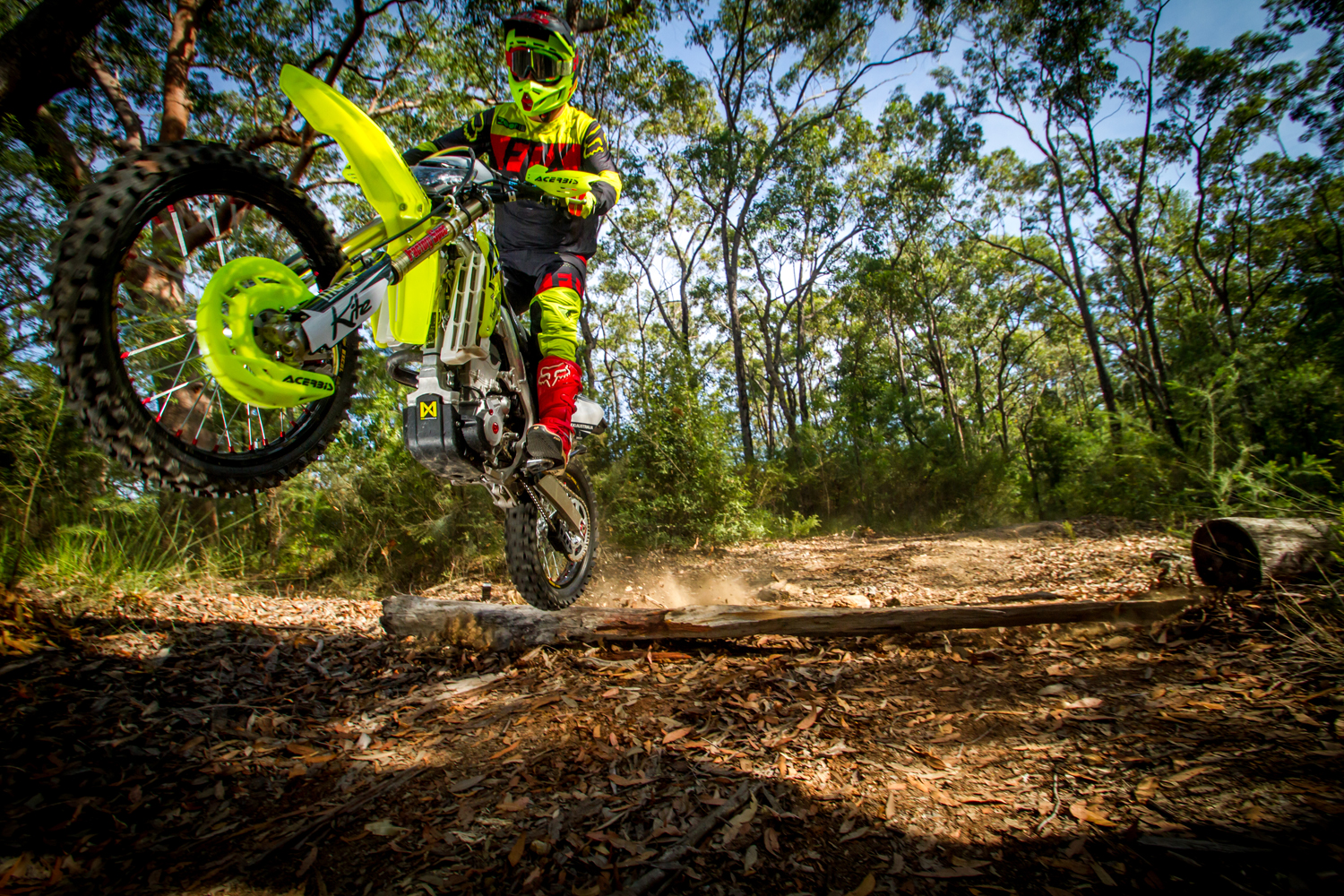 THE LIST
Here's the shopping list if you'd like to go ahead and turn your RMX 450 into a replica of this head turner.
Acerbis Flo Yellow Plastic Kits $199.95
Acerbis Flo Yellow Disc Cover $99.95
Acerbis Flo Yellow X-Force Handguards $69.95
Acerbis LED Vision Head Light $229.95
Acerbis 2.0 Chain Guide $99.95
Acerbis X-LED Taillight $89.95
Acerbis One Way Fuel Valve $11.95
Blackbird Racing Custom Graphic Kit $199.95
Blackbird Racing Gripper Seat Cover $69.95
Domino Racing A260 Grips $29.95
Domino Racing Grip Donuts $12.95
Domino HRB Handlebars $159.95
Kite Performance Parts Elite Wheel set $1399.95
Kite Performance Parts Wheel Spacer Front $29.95
Kite Performance Parts Wheel Spacers Rear $29.95
Kite Performance Parts Triple Clamps $599.95
Kite Performance Parts Triple Clamp Nut $14.95
Kite Performance Parts Engine Plug Bling Kit $69.95
Kite Performance Parts Brake Bling kit $69.95
Kite Performance Parts Air 270mm Front Disc $299.95
Kite Performance Parts Billet Front Caliper Bracket $139.95
Kite Performance Parts Air Rear Disc $199.95
Kite Performance Parts Billet Alloy Foot Pegs 60mm $149.95
Kite Performance Parts Radiator Hose Kit $99.95
Trail Tech Side Stand $239.95
Mefo Mousse Tubes Front $199.95
Mefo Mousse Tube Rear $229.95
Mefo Enduro Master Front Tyre $99.95
Mefo Enduro Master Rear Tyre $129.95
Moto Air Air Filter $29.95
Factory Spec Suspension Revalve $540
Factory Spec Suspension Spring $360
TOTAL SPEND $6208.50