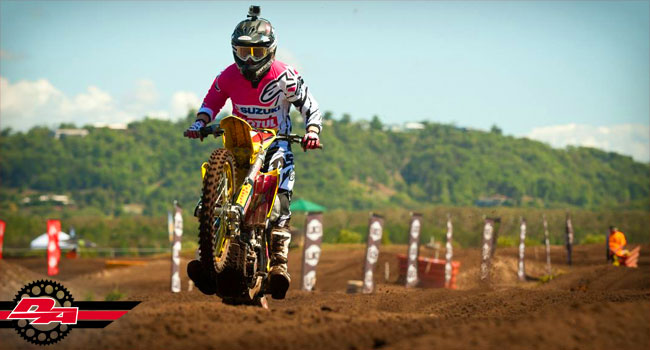 Mackenzie on the day, but Moss goes back-to-back
Moss rides smart to take crown at Coolum
FOR IMMEDIATE RELEASE
31 August 2014: Coolum, Queensland
A spirited effort from CDR Yamaha rider Billy Mackenzie handed the Scot the overall round win in the Monster MX1 class at the 2014 Monster Energy MX Nationals at Coolum, but the day belonged to Team Motul Suzuki Matt Moss who claimed the overall championship win.
Moss recorded sixth, fifth and eighth placings from his three races – enough points to go back-to-back and defend his MX1 Championship crown.
KTM Motocross Race Team's Kirk Gibbs claimed second on the day to hand him second overall in the championship, while Mackenzie's results secured him third overall for the series.
As the top five riders from qualifying set out onto the track in the Go Pro Superpole shootout, it was Mackenzie who clocked the fastest lap time with a 1:43.817.
Teammate Jacob Wright recorded the second fastest time with title contenders Matt Moss and Gibbs in third and fourth, while a crash on the lap meant that Jake Moss (National Pump Monster Energy Kawasaki) had to settle for fifth.
Moto 1
In the opening moto of the day it was DPH Yamaha's Kade Mosig who flew to a first corner lead, taking the holeshot from Mackenzie and red-plate holder Matt Moss.
As the dust settled over an intense opening lap, Mosig looked to take control of the race, with Mackenzie, Adam Monea (National Pump Monster Energy Kawasaki), Gibbs and the Moss brothers in hot pursuit.
Rising star Wright settled into eighth position before the drama really began to unfold.
On the second lap of the race, it was none other than series leader Matt Moss who went down, and as a collective gasp could be heard from all onlookers, he rejoined the race in 14th position.
Shortly after leader Mosig, who had looked impressive, was forced out of the race as his bike suffered mechanical problems and put him out under the Thor tower.
That put Mackenzie into the lead, and more importantly meant that things were falling into place for the title challenger in Gibbs.
Matt Moss was not about to give his quest for back-to-back titles up that easily and he slowly started to make his way back through the field.
After a few laps he was back into 12th position, and a lap later had pushed inside the top-10.
Mackenzie was flying up front and was well ahead of Gibbs, who had put a fair gap himself on third placed Jake Moss.
Wright in the meantime had worked his way into fourth position thanks to some smart riding and he began a short but intense battle with Jake Moss for third.
It was then that Gibbs made his charge – moving up to Mackenzie and putting plenty of pressure on the leader.  Coming into lap eight, he had not only passed the CDR Yamaha rider, but accumulated a big lead.
DPH Yamaha's other rider Sam Martin was looking solid in fifth spot before he was unfortunately forced to retire in the closing laps.
Over the next few laps Wright made his move – first passing Moss before getting past Mackenzie and making a charge for the leader.
Matt Moss continued to weave through the field, moving into sixth which is where he finished – claiming important championship points.
When the chequered flag was raised Gibbs held off a fast-finishing Wright –
Wright narrowed the gap significantly but it was too little too late as the KTM pilot claimed an important opening moto win.
Mackenzie finished third, Ben Townley (Penrite Honda Racing) finished fourth while Jake Moss rounded out the top-five.
Moto 2
In the second race for the day, Mackenzie again showed his starting speed grabbing the holeshot ahead of Matt Moss and Townley, while Wright was crunched in a pack heading into the opening turn and came out mid-pack.
Close behind the leaders were Lawson Bopping (SIC Racing), Monea and Mosig, with Gibbs back in eighth position.
Despite an okay start, Jake Moss went down at the end of the first lap and re-entered the race in 35th position with plenty of work ahead of him.
On lap four a mistake by Matt Moss pushed him back into fourth position while Gibbs was moving fast in the other direction, ending the lap in sixth.
Mosig made an incredible pass on Moss on the final corner heading into lap six – going wide and then opening the throttle to shoot into fourth, while a lap later Gibbs also moved past the red-plate holder into fifth.
Mosig put the opening moto disappointment behind him as he made his way past Bopping one lap later to get into third.
Up the front Mackenzie battled to hold onto his lead, and on lap eight the experience of Townley showed as he moved into first position.
From there the Kiwi held onto the lead – turning back the clock to take the race-two win, with Mackenzie finishing second and Gibbs landing a spot on the podium.
Mosig held onto fourth spot and Matt Moss clinched an important fifth place finish meaning he held a 22-point lead heading into the final race.
Monea, Wright and Bopping finished sixth, seventh and eighth respectively.
Moto 3
As the final race got underway, all eyes were on Matt Moss knowing he really just had to finish to make it back-to-back titles.
At the first turn race-two winner Townley went down, and he effectively had to start the moto from the back of the field.
Heading round the track on the first lap it was Jake Moss out in front from Mackenzie and Matt Moss, with Wright in sixth and Gibbs back in seventh.
After lap two, Matt Moss had eased back to seventh – clearly content to ride cautiously and get the race finish he needed.
On lap three Wright went down and slipped back to eighth behind Matt Moss, as Gibbs moved into third ahead of Bopping in fourth.
Gibbs worked really hard throughout the moto to finish the race in second position and take second overall on the day behind a brave Mackenzie who took the overall round win.
Jake Moss finished the race in third and Monea in fourth, but it was Matt Moss' day – finishing the race in eighth to claim back-to-back MX1 titles.
For a full list of results, visit www.mxnationals.com.au.
MX1 CLASS:
MX1 Superpole:
1) Billy Mackenzie – 1:43.817 (5 points)
2) Jacob Wright  – 1:44.048 (4 points)
3) Kirk Gibbs – 1:47.502 (3 points)
4) Matt Moss – 1:47.674 (2 points)
5) Jake Moss – 2:11.064 (1 point)
Round Results:
1) Billy Mackenzie 97 (30, 32, 35) 

2) Kirk Gibbs 97 (35, 30, 32)

3) Jacob Wright 82 (32, 24, 26)
4) Ben Townley 82 (28, 35, 19)
5) Adam Monea 77 (24, 25, 28)
6) Matt Moss 74 (25, 26, 23)

7) Jake Moss 70 (26, 14, 30)
8) Jay Marmont 68 (21, 22, 25)
9) Lawson Bopping 64 (23, 23, 18)

10) Brock Winston 63 (22, 19, 22)

Overall Championship Standings:
1) Matt Moss 789
2) Kirk Gibbs 776
3) Billy Mackenzie 734
4) Adam Monea 692
5) Jacob Wright 611
6) Jake Moss 599
7) Kade Mosig 528
8) Hayden Mellross 528
9) Sam Martin 481
10) Brock Winston 478
– ends –
IMAGE: Jeff Crow / Explorer Media
Media Enquiries:

Andrew Weiss

0402 447 783

andrew@eskimomediagroup.com.au

www.eskimomediagroup.com.au