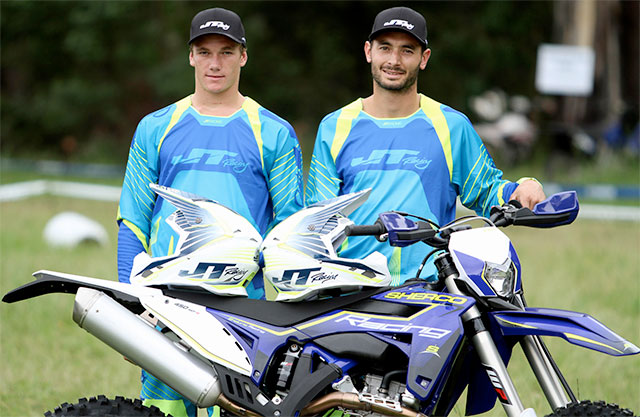 The new partnership will see Justin Carafa and Wil Ruprecht decked out by the brand.
By Hayden Gregory
Partnering up for the 2016 Australian Off-Road Championships the Motul Pirelli team will wear a combination of the Protek and Hyperlite Voltage race wear including the ALS 2.0 helmet.
"We are very excited about this newly-formed partnership between JT Racing and Sherco Australia," said Trent Cramer from JT racing. "This is the first time an off-road team has represented the brand in Australia and we wanted to be part of a growing brand and saw a great opportunity to build a long-term relationship with a very professional Sherco outfit."
In the past JT Racing has worked alongside motocross starts including Jeff Ward, Chuck Sun, David Bailey, Broc Glover, Johnny O'Mara, Ricky Johnson and Jean-Michael Bayle. The brand now has the opportunity to work alongside a relatively new team with Motul Pirelli Sherco only in its second year of competition.
Sherco Brand manager Stephan Tuff is excited about the partnership and is keen to kick off the MX Nationals in the new gear.
"JT Racing is an iconic brand," states Tuff. "And while it's known as the gear on legends like Jean-Michel Bayle we're breaking new ground in the Australian off-road scene this year and we're proud to have JT Racing behind us. The gear looks fantastic and it's built to perform, just like our race bikes."