Pirelli rider Todd Waters (Wilson CoolAir Motul Suzuki) took MX1 moto 1 win and 3rd overall for the day while CRF Honda rider Kyle Webster took 2nd in he MX2 category on Pirelli Scorpion MX.
Press Release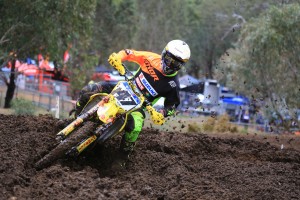 Pirelli riders featured on the podium in all three key classes of racing at the recent MX Nationals round at Broadford. Following a night of heavy rain and strong winds, riders were greeted with a muddy, rutted and difficult layout. In these very challenging conditions at the beginning of the day, Suzuki rider Todd Waters took his Suzuki to the holeshot off the start and continued to the race victory, showing his MX GP honed pace on the bike as well as the versatility of the Scorpion MX 32 in the muddy and rutted conditions. Todd chose to race on 80/100-21 MX32 and 120/90-19 MX32 to record the race win. Matt Moss completed the strong Pirelli showing, with a third place also in Moto 1.
In Moto 2 an unfortunate crash between Kawasaki rider Kade Mosig and Todd Waters saw Kade retire injured and Todd a little down the race order, but he fought back well over the 30 minute moto to finish 4th in Moto 2 for 3rd overall for the round and valuable points, behind fellow Pirelli rider Matt Moss who finished the race 3rd and overall 4th for the round. Pirelli riders filled 5 of the top 10 places overall.
We wish Kade also a speedy recovery from his injuries sustained at this round.
In MX 2 Broadford saw the emergence of Pirelli rider Kyle Webster (CRF Honda) as a serious front runner. Kyle chose Scorpion MX32 front and rear on his CRF 250, with his rear size a 110/90-19 for the tricky, changing conditions throughout the day for a 2nd overall for the round. Fellow Pirelli privateer rider Jayden Rykers took the fastest lap of the Moto 1, also choosing Scorpion MX 32 front and rear. Overall for the round 5 out of the top 10 riders chose to race on Pirelli in the MX2 class.
Don Nicholas – Pirelli Product Manager Link International, "We congratulate Todd on his race win and 3rd overall for the day, while Matt also continued his strong form and pace on the bike.  The Scorpion MX 32 continues to be the tyre to beat in the MX GP World Championship, and we continue to work hard with all of our riders and teams in Australia to achieve these same results in the Motul MX Nationals. Murray Bridge as the next round allows us to consider the Scorpion MX Soft 410 and Mid Soft Mud in the range of choices available to riders, and we look forward to the round ahead. It's also very pleasing to see Kyle Webster and his Honda on the podium in the MX 2 class, adding to the large number of privateer riders who choose to race with us as part of team Pirelli in Australia."