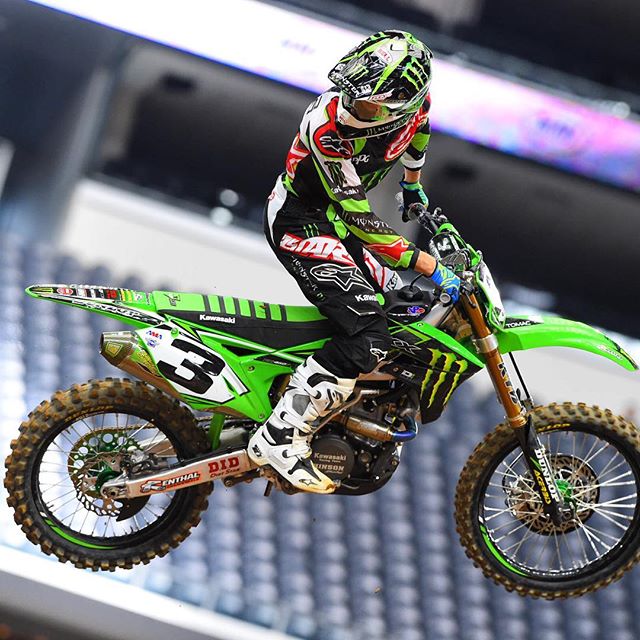 The Kawasaki SX1 and SX2 teams had a difficult night in Texas.
By Hayden Gregory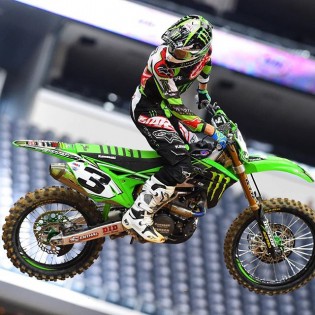 In the premier ranks Monster Energy Kawasaki racers Eli Tomac and Wil Hahn looked to build on the results of previous weeks. Both riders qualified for the main, Tomac through the semi and Hahn as the LCQ victor. Bad starts hindered both riders as gates dropped and they had to dig deep if they wanted to move through the pack.
Tomac clicked into gear showing the speed which we have come used to seeing in recent weeks. At the halfway stage he had worked his way into fifth place and that is where he would stay until the chequered flag.
"Considering how the night started, my fifth tonight wasn't bad," said Tomac. "Off the start I wasn't where I'd like to be but I passed quite a few riders straight away and rounded out around seventh, then spent the rest of the race working up to fifth. I had the speed early on but couldn't quite maintain it, so I'll be working on that and I'll keep working hard heading into the next round."
Wil Hahn struggled in the main after a crash left him back in the pack. He was never able to truly recover despite showing glimpses of good speed to finish in 15th.
"I didn't have the night I wanted," said Hahn. "Qualifying was good, I actually had pretty good speed all night, really everything we've been working on was better, I just didn't ride the way I wanted too and the way I need too. We'll go back home and keep working."
In the 250 class the Monster Energy/Pro Circuit/Kawasaki duo of Joey Savatgy and Chris Alldregde both made top ten finishes. It was a disappointing night for Savtagy who entered Arlington as the overall championship leader before an early crash in the main cost him valuable points. At the end of lap one Savatgy found himself back in 22nd climbing all the way back up to tenth for the chequered flag.
"Tonight didn't quite go as planned," said Savatgy. "We got off to a great start, winning my heat and grabbing the holeshot in the Main Event. Unfortunately I came together with another rider in the whoops and went down. I managed to get back up and made enough passes to salvage a few points though. We've got a break now, which is nice and it will give the team and I a chance to work on a few things to come back swinging."
Chris Alldredge rode well in the main, recovering from a slow start to climb up to eighth position by race end.
"Today went pretty well," said Alldredge. "I just couldn't put everything together how I wanted to. In the heat I pulled a really good holeshot but unfortunately dropped back a bit. I ran the pace to be up front, but made a couple mistakes the first lap. When the Main Event came around I didn't get off the line very well, but plugged away and got up to eighth. We're going to start doing some outdoor training and I'll be ready for Santa Clara in a few weeks."